Meet Pamela Poitier, Sidney Poitier's Daughter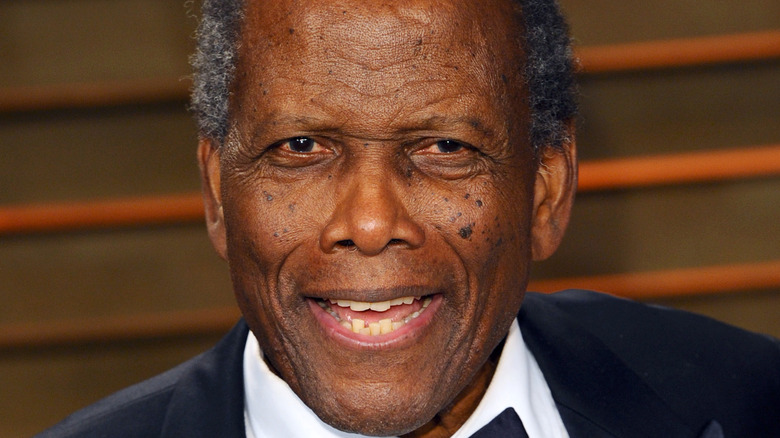 Anthony Harvey/Getty Images
At 94 years old, actor Sidney Poitier is a living legend. In 1964, Poitier became the first Black actor to win a best actor Oscar for his work in the 1963 film "Lilies of the Field" and is widely credited for paving the way for Black actors to appear in other leading roles (via Variety). Poitier would have other huge hits with films like "To Sir, With Love," "Guess Who's Coming to Dinner," and "In The Heat of the Night."
But in addition to having a career of great stature, Poitier also had a rich personal life. He was married to model Juanita Hardy, with whom he had four daughters: Beverly, Pamela, Sherri, and Gina (via USA Today). Poitier then spent nine years with "Porgy and Bess" co-star Diahann Carroll, before marrying Joanna Shimkus; the two share daughters Anika and Sydney.
Pamela Poitier initially followed in her father's footsteps. Born on April 12, 1954, Pamela made her feature film debut in 1980's "Stir Crazy" — starring Richard Pryor and Gene Wilder — as Cook's Helper (via IMDb). Pamela would later appear in films like "Liberty and Bash" and "The Jackal," as well as on the understudy for Antigone in the Broadway revival of "The Gospel at Colonus" (via Broadway World). Pamela also worked in location management on "Air America" and "The Five Heartbeats."
Eventually, it seems as though Pamela decided that Hollywood life wasn't for her, and she has since found purpose in her father's ancestral home of the Bahamas (via StAugustine.com).
Reconnecting with her Bahamian roots
As of 2012, Pamela was living on Cat Island in the Bahamas, where her father was raised (via StAugustine.com). Although Pamela was born in New York City, living on Cat Island gave her a chance to embrace an entirely different lifestyle. Along with filmmaker Bo Boudart, Pamela created the documentary "Islands of Life," which highlights the importance of preserving the ecological diversity of the Bahamas. The film initially appeared in the St. Augustine Film Festival and was later screened for students at R.B. Hunt Elementary School.
"I live off the grid. I get my electrical power from the sun, I catch rainwater on my roof, and I use composting toilets," Pamela told the children. "My mother was half Cherokee, and she raised me with a credo," she said. "That is that we don't own any part of this planet, that we're just passing through. And we're obligated to leave it better than it was when we go. We're going to depend upon all of you to help us clean up the Earth."
Pamela would work with children on Cat Island as well, leading acting classes to create the next generation of Bahamian actors (via Tribune 242).
"I decided to teach these classes to share my knowledge of Strasberg's acting method that I learned from Lee Strasberg himself..," she said. "Of course I have many hopes and dreams, such as I'd like to see theatre companies on every island that is inhabited in the Bahamas."