Here's What Kourtney Kardashian Studied In School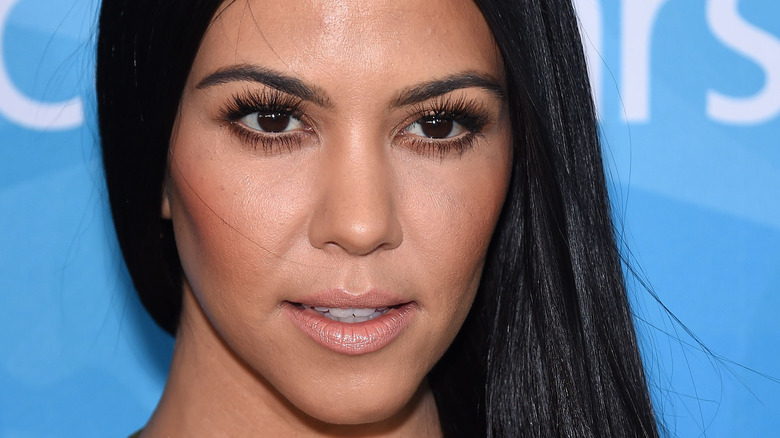 DFree/Shutterstock
On Instagram, Kim Kardashian posted the quintessential Y2K throwback with Kourtney Kardashian, complete with black tanks, thin eyebrows and low-quality editing. The iconic picture was accompanied by the caption, "College Years Baby!!! University of Arizona single handedly stopped me from turning into a wild party girl. I remember visiting Kourt on campus and being her designated driver I hated all of the wild parties so much that I stayed home and never wanted to drink or party EVER..."
Although Kim was never a student there, Kourtney attended the University briefly. She replied to Kim's caption, calling her out on her stories: "I remember feeding you jungle juice and someone else driving I won't name names and blasting Ruff Ryders" (via Entertainment Tonight). Kourtney pointed out that she did a lot more than partying at her school, "Lol wild party girl with the college degree." Read on to find out more about the oldest Kardashian sister's major and her time at school.
Kourtney Kardashian applied to law school
After Kourtney Kardashian went to an all-girls Catholic high school (via Us Magazine), she went to college at the Southern Methodist University in Dallas (via Marie Claire). She spent two years there before she transferred to the University of Arizona, where she majored in theatre arts and minored in Spanish. She admitted to Us Magazine that "I failed two classes in college because I was too nervous to give speeches," possibly pointing to the time she worked on her Bachelor's degree in theater.
Kourtney also applied to law school and then decided not to go, not unlike her sister Kim, who had announced that she was going to become a lawyer in an interview with Vogue before dropping the idea. Kourtney, however, stuck to the entertainment industry. She told Us Magazine, "My first job was working as a movie production assistant. I had to yell 'cut' and 'rolling' all day." Considering that she's a reality TV star, the oldest Kardashian sister may have made the right choice. After the show ended, however, Kourtney channeled her passion for wellness into her lifestyle brand, Poosh. It really goes to show, your GPA doesn't decide who you're going to be.