What Halle Berry Really Looks Like Under All That Makeup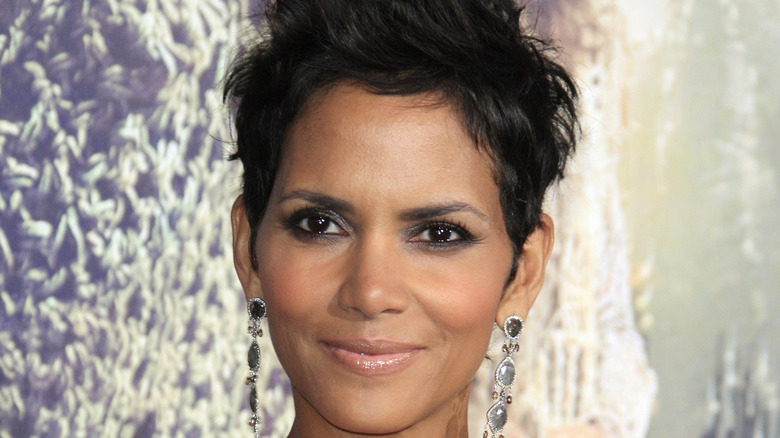 Joe Seer/Shutterstock
Halle Berry has enjoyed a lengthy and storied career in Hollywood, from her breakout role in Spike Lee's "Jungle Fever" to playing Storm in the original "X-Men" series and winning an Oscar for "Monster's Ball" (via IMDb). The celebrated actress had something of a resurgence thanks to take-notice turns in the likes of "John Wick: Chapter 3 — Parabellum" as well as leading the CBS sci-fi series "Extant." She might be older by Hollywood standards, but Berry shows no signs of slowing down. 
As Glamour reported in 2021, despite being in her 50s, the actress doesn't seem to age. That might have something to do with the fact that, by Berry's own admission, she's been looking after her skin her whole life. "I have taken care of this skin since I was 13, morning and night, religiously!" the stunning star revealed. "I've had a program, I've been consistent, and I've never wavered." 
That commitment goes a long way toward explaining how Berry looks so good without a stitch of makeup.
Halle Berry takes excellent care of her skin
In early 2020, Halle Berry took to Instagram to share a jaw-droppingly gorgeous no-makeup selfie showing off a hair mask from her good friend Taraji P. Henson's line. The comments were flooded with fans gushing over how beautiful Berry looked, with one simply writing, "Wow." 
Although the actress clearly has good genes, she's been open about how much work goes into keeping her skin in tip-top condition. Earlier that same year, Berry revealed her intensive four-step skincare routine on Instagram, sharing each product with curious viewers while noting in the caption, "Self-care is an absolute essential." Berry has also been known to share her DIY face mask recipes with fans (via Instagram). 
Evidently, everything she's doing to continue looking radiant is working. Mostly, though, Berry keeps her routine relatively simple, telling InStyle, "My routine of taking care of my skin is always the same. I use a cleanser, toner, moisturize, then use eye cream." Likewise, once a week, the actress indulges in a Red Carpet Facial, just to give her skin an extra kick. 
Although the "Extant" star looks fantastic without makeup, as she reasons, when you take good care of your skin, makeup goes on better, lasts longer, and you don't have to lay it on thick to get the desired effect. "I'm constantly changing, evolving, and aging, and I want to stick with what works for me and my skin now," Berry opined sagely.