NHL Player Jimmy Hayes' Net Worth At The Time Of His Death May Surprise You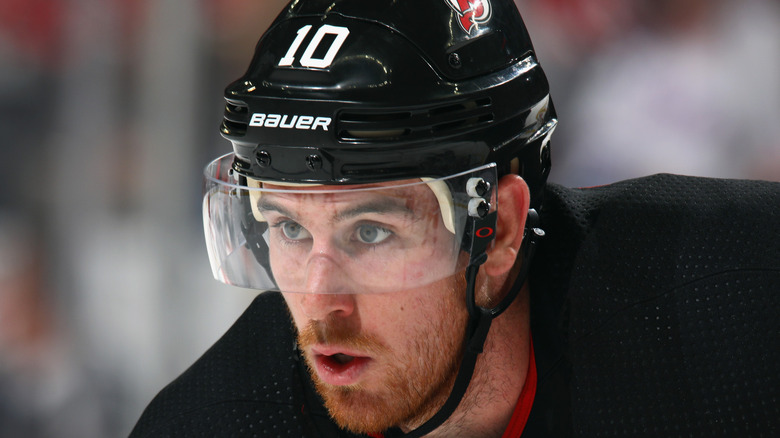 Bruce Bennett/Getty Images
The sports world was shocked by the news that former NHL player Jimmy Hayes had unexpected passed away at the age of 31. According to the Boston Globe, first responders were called to Hayes' Milton, Massachusetts home and he was pronounced dead at the scene. While his cause of death was not released, it is not considered suspicious. 
At 6-foot-5-inches, Hayes played hockey at Boston College and won silver medals with Team USA in the 2007 Under-18 World Junior Championship and the 2009 U-20s before getting drafted 60th overall by the Toronto Maple Leafs in 2008. In 2011, he was playing in the NHL with the Chicago Blackhawks before being traded to the Florida Panthers in 2013. He then went on to play for the Boston Bruins, the New Jersey Devils and the Pittsburgh Penguins' AHL affiliate before retiring in 2019. In total, he played 334 games in the NHL, scored 54 goals and 109 points.
After retiring, he launched a podcast with fellow former NHLers Shane O'Brien and Scottie Upshall called "Missin Curfew." Hayes was also working towards finishing his arts and sciences degree. "Jimmy was the best," said Panthers winger Frank Vatrano, who played for the Bruins with Hayes. "He could light up a room. He made everyone laugh. He was the first guy who took me under his wing, made sure I was comfortable, made sure I was invited to dinner with all the guys."
Jimmy Hayes earned millions as a pro hockey player
While he wasn't a household name like Mike Fischer or Jarret Stoll, Jimmy Hayes played in the NHL for seven seasons, earning an impressive net worth of $5 million before he unexpectedly passed away (via Exact Net Worth). Hayes was enjoying his retirement, hosting a podcast with two former NHL players and raising two children with his wife, Kristen. The couple wed in July 2018 and shared sons Beau and Mac. The family had just celebrated Beau's second birthday one day before Hayes' death and Kristen shared a video of Hayes jumping on a trampoline with the birthday boy (via People).
In addition to his wife and children, Hayes leaves behind his parents and four siblings: Genevieve, Eileen, Justine, and Kevin (via Boston Globe). Hayes' first cousins are NHL stars Matthew Tkachuk and Brady Tkachuk, while his uncles are former NHL star Keith Tkachuk and New Jersey Devils general manager Tom Fitzgerald. "Growing up in such a tight-knit hockey family, I'm sure Jimmy wanted to do exactly what he saw Keith and I doing as he was growing up," Fitzgerald said. "He not only did that, he became a true role model and inspiration for all the younger Fitzgerald and Tkachuk cousins. They all wanted to be just like Jimmy Hayes! He's the reason my two boys chose BC."