Everything You Need To Know About Ilona Maher, The Most Iconic Olympian On TikTok
The 2021 Olympic Games provided a much-needed distraction from all of the turmoil taking place in the world. While the Summer Games are usually very popular, this year the international competition faced a double-digit decline in viewership, as did other event programming (via Forbes). However, the Olympics gained a new method of coverage this year through the wildly popular video-sharing app TikTok (via BBC). Many Olympians used the app to share videos offering a behind-the-scenes look at what goes on at the Olympic village.
One of the most popular creators on the app is Ilona Maher. The Olympian has over 800,000 TikTok followers who watched the rugby player make videos about "hot" Olympians, test out the cardboard beds in the Olympic village, and answer questions TikTok users had for the competitors during the Games. While Maher is best known for her TikTok fame, we can't forget why the Vermont native gained notoriety in the first place. Here's everything we know about the rugby star.
Ilona Maher is one of the best rugby players in the world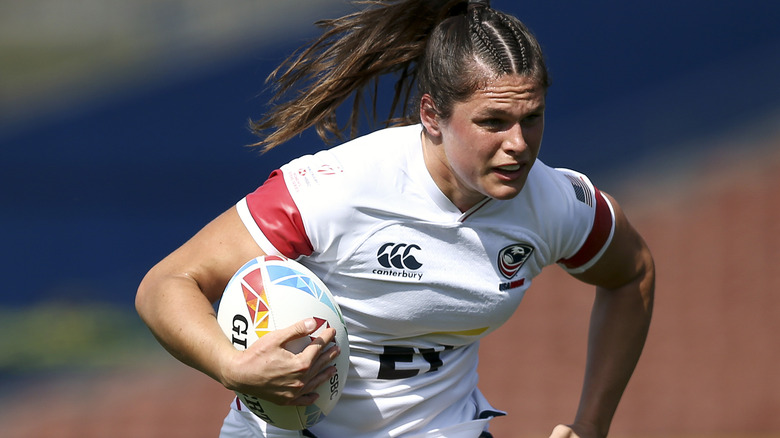 Hagen Hopkins/Getty Images
Before dedicating her talents to rugby, Ilona Maher played field hockey, basketball, and soccer (via USA Rugby). Maher played the sport at Quinnipiac University, where she earned All-American Honors and helped lead her team to secure three titles at the National Intercollegiate Rugby Association. Maher also won the MA Sorensen Award in 2017, which is reserved for the best women's rugby player in college. Aside from her impressive college career, the 5'10" star also competed at international tournaments, including the 2018 Paris Sevens Tournament and Rugby World Cup Sevens 2018. So far, she has competed in six World Series, as either a center or prop.
At the Tokyo Olympics, Maher helped her team make it to the quarterfinals (via NBC). Though the women's rugby team ultimately lost to Great Britain 21-12, they performed very well. In an interview with Access, Maher reflected on the upset and the TikTok videos she made following her team's disqualification. She said, "I'm in a lot of pain mentally and emotionally and I think it was kind of cool to let my followers know athletes have humor but we're human." She added that she's "healing" from the loss and making even more TikTok videos to distract herself.