Why You Need To Shop At HomeGoods For Fall Decorating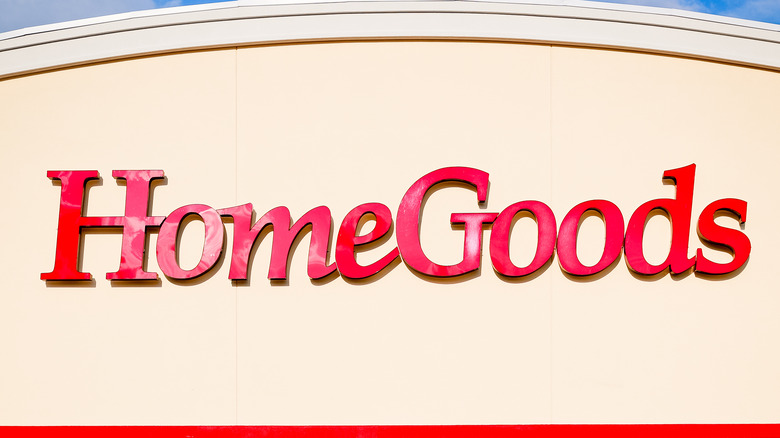 Helen89/Shutterstock
It may not officially be fall yet, but considering that Pumpkin Spice Latte season has already started at Starbucks (via USA Today), it's safe to say that it's never too early to start celebrating — or decorating for — fall. This year more than ever, celebrating and decorating are important because we've had so much time stripped away from us during the ongoing COVID-19 pandemic. It's important to find joy in the little things in life during this time to keep a sense of love and warmth alive inside you when the outside world isn't as hopeful.
This year, you should turn to HomeGoods for all of your fall decorating needs. HomeGoods is notorious for their low prices, and HomeGoods veterans know all the secrets to shopping at this store and how to best prepare before heading to their local shop (and if you don't, it's okay because we've got you covered). This fall, HomeGoods has all the decor you need to make your home cozy, festive, and even spooky, and to coincide with this, they've even collaborated with Amber Kemp-Gerstel, a finalist from NBC's "Making It," who's provided perfect tips and hacks on how to make your house the cutest this fall.
HomeGoods is unmatched when it comes to decor variety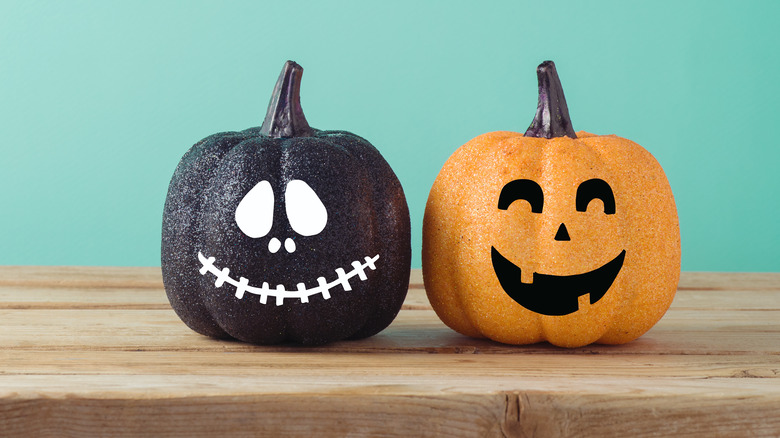 Maglara/Shutterstock
HomeGoods is always at the forefront of home decor trends, and this year is no different. According to Better Homes & Gardens, the chain of stores has already released their Halloween decorations in-store, and they're on trend as always. Last year saw neutral colors trending during autumn and Halloween, which honestly reflected the grim nature of the world at that point, but this year's trending color palette is brighter. As Better Homes & Gardens noted, you can find a lot of the same items from last year, but this year, more colorful options are sprinkled in. You'll find brighter oranges, and you can even find pink Halloween decorations. While pink isn't traditionally associated with Halloween, we are all here for it!
HomeGoods' fall decor options are vast, which makes them the perfect spot to hit for all of your needs. This year, they're selling a variety of autumnal pillows, traditional Halloween decor like witches, pumpkins, and stuffed candy corn arrangements, a plenitude of fall-scented candles, and even really fun, unique items like Halloween gnomes.
Their pumpkins are, of course, some of the most stunning decor options they offer. "This year, HomeGoods has a huge selection of gorgeous glass, ceramic, and wood pumpkins on the holiday shelves," Better Homes & Gardens explained. "Grab a sparkly gold gourd to add to a modern aesthetic, or pick up a neutral pumpkin that'll fit right in with any farmhouse Halloween decor."
HomeGoods' Halloween finds are taking over Instagram, and this is why
One thing to remember when shopping at HomeGoods is that no two store locations have the exact same item stock. What you can find at one store, you can't necessarily find at another. What this means is that you should check back to your local store often, and if you have multiple store locations around you, you should check them on occasion, too.
One of the best parts of decorating for any season is sharing what you've found, what you've made, and what you've built. HomeGoods shoppers have already begun taking to social media to share their favorite autumn/Halloween finds, and they're all both cute and festive. According to PopSugar, home decorators are loving HomeGoods' themed mugs (witch, please!), candy corn-colored cookie jars, fall kitchen goods like plates, napkins, and bowls, and even items that mash-up Disney and Halloween, such as a pumpkin jar that sports Mickey Mouse ears.
All of these items are to-die for, and people are sharing them using hashtags such as #homegoods, #homegoodsfinds, and #homegoodsfall. If you join in on the autumn craze, taking part in these hashtags can offer quite the communal experience.
The magic of HomeGoods is that you can endlessly customize your finds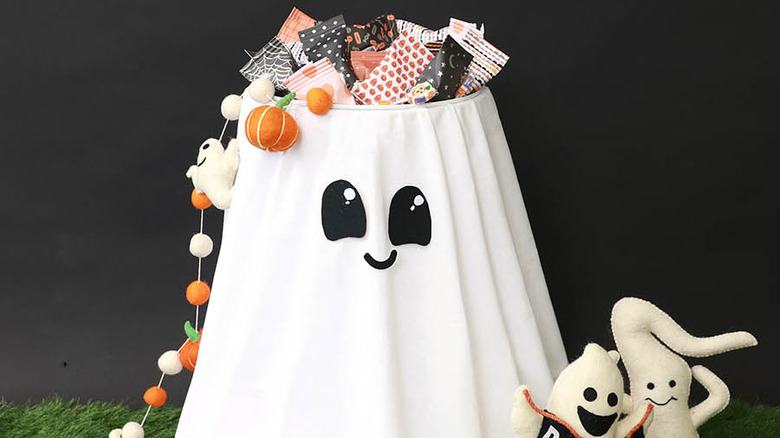 Amber Kemp-Gerstel
What makes shopping at HomeGoods so fun is the creative opportunities it breeds. We at The List were fortunate enough to see Amber Kemp-Gerstel, a finalist from NBC's "Making It" and a general crafting extraordinaire, in action as she made three brilliant Halloween decorations out of non-themed items from HomeGoods. She proved that you can turn any everyday item into a perfect holiday statement piece.
One of the most striking items she made is a Halloween candy bowl that she's dubbed the Squad Ghouls Candy Bowl, cheekily riffing on the phrase "squad goals." This craft needs only a few pieces, but becomes something elegant and unique. This craft simply involves placing a bowl on a planter and then taping a large white tablecloth over it to give it its ghostly appearance. She uses felt for the eyes and then makes it even cuter with garland around it and other cute ghost plushies at its base for its "squad." It's the cutest take on a candy bowl, and trick-or-treaters will love it.
Kemp-Gerstel also has tricks up her sleeves for adults — and, yes, they involve treats.
These two crafts will be the life of your Halloween party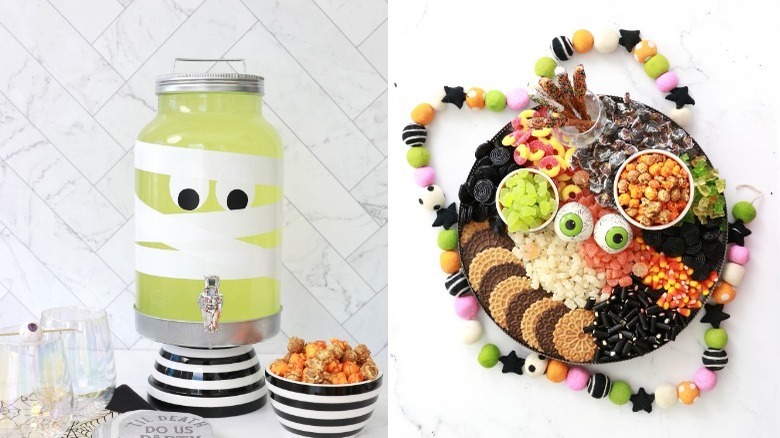 Amber Kemp-Gerstel
In addition to her Squad Ghouls Candy Bowl, Amber Kemp-Gerstel has created both a Boo-zy Beverage Dispenser and a Sweet and Spooky Charcuterie to keep everyone entertained and happy all autumn long. Her Boo-zy Beverage Container can be used for any drink (you don't have to include alcohol), and it's super cute and easy to put together. "Head to HomeGoods to find a large assortment of beverage dispensers in either glass or melamine that you can use as your canvas and add creepy characters to your dispenser such as mummies, Frankenstein and more," she explained during a HomeGoods event.
"Pro tip: look for one with smooth sides to make it easier to decorate with adhesive vinyl. I chose this classic glass dispenser for under $25 so that when the party is over, I can simply remove the adhesive vinyl and my beverage dispenser is ready to use for the next soiree," she continued.
Her Sweet and Spooky Charcuterie board is also simple to put together but enthrallingly effective. To make this one, Kemp-Gerstel uses a mixture of Halloween candies and dark foods to fit the Halloween vibe, and she arranges them in a way that elicits a strong color story. Once the snacks and candy are arranged, she adds large eyeballs and themed garland to cement the mood.
With tips like these, you're no doubt going to fall into a creative mood, and once you land there, only magical things can happen. Happy autumn!