The Truth About Nicole Kidman And Russell Crowe's Relationship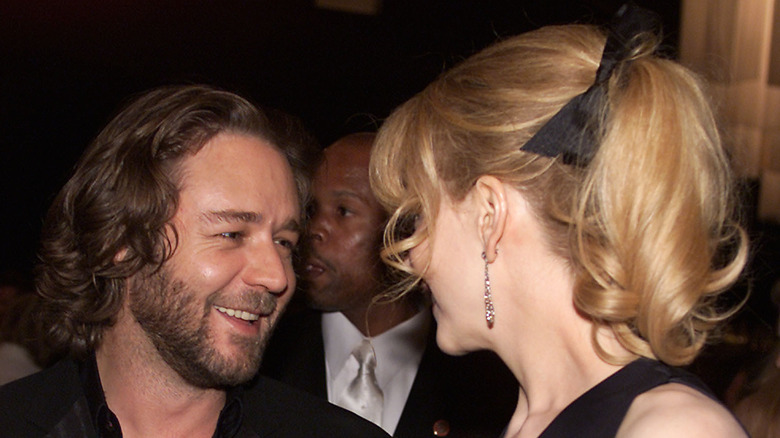 Kevin Winter/Getty Images
They're two of the most famous Australians in the world, but it wasn't until 2018's "Boy Erased" that Russell Crowe and Nicole Kidman actually appeared in a movie together. The beloved stars accurately portray a married couple in fellow Aussie Joel Edgerton's sophomore feature, which takes on the horrifying practice of conversion therapy and is based on Garrard Conley's devastating memoir of the same name (via The Guardian). Lucas Hedges plays the son of Crowe and Kidman's deeply religious parents. 
Although they convincingly played a couple in "Boy Erased," the two actors haven't been romantically linked in real life because Crowe was married to Danielle Spencer, mother of his two children, from 2003 to 2018 (via People). Likewise, Kidman enjoyed a high-profile relationship with Tom Cruise before moving on with country star Keith Urban, whom she's been happily married to since 2006 (via Good Housekeeping). However, is there reason to believe these two superstars secretly hooked up at one point?
Did Nicole Kidman and Russell Crowe have a secret romance?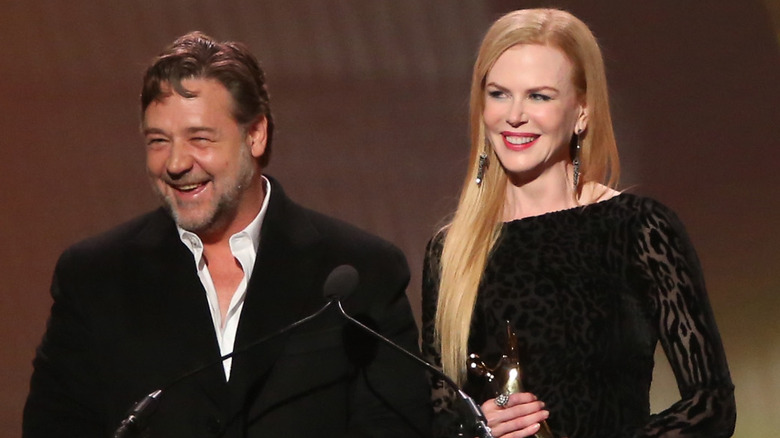 Jonathan Leibson/Getty Images
According to Wenn, via Cinema, although actress Nicole Kidman claimed she'd been good friends with fellow Aussie Russell Crowe "since I was about 19 or 20" and the relationship was always strictly platonic, the "Gladiator" star refuted her claims. When Crowe was alerted to what Kidman had said, by legendary chat show host Jay Leno, he quipped, "I think she is pulling your leg." However, the actor wouldn't be pressed on what had happened between them over the years, revealing simply, "I have actually been in a number of adult situations with Nicole. It gets lonely on the road." He appeared to be joking, but speculation something romantic was going on between them increased after Kidman and Crowe were spotted at the same exclusive resort. 
However, in 2018, Gossip Cop clarified tabloid reports about a "secret romance" between the actors as pure marketing material to sell magazines, explaining a story in Woman's Day magazine actually revolved around their long-time friendship. A reputed "insider" claimed Crowe wanted to pursue Kidman but "would never disrespect another guy's wife by acting inappropriately towards her." There was nothing to back up this claim, similar to when, a year prior, infamous tabloid the National Enquirer also wrongfully claimed Crowe was pursuing Kidman. The "Unhinged" star did joke to Marie Claire, of playing a couple in "Boy Erased," that he'd "waited a long time to be married to Nicole." However, these two are definitely just friends.