Why The Cut Audio From Biden's Recent Press Conference Has Twitter Talking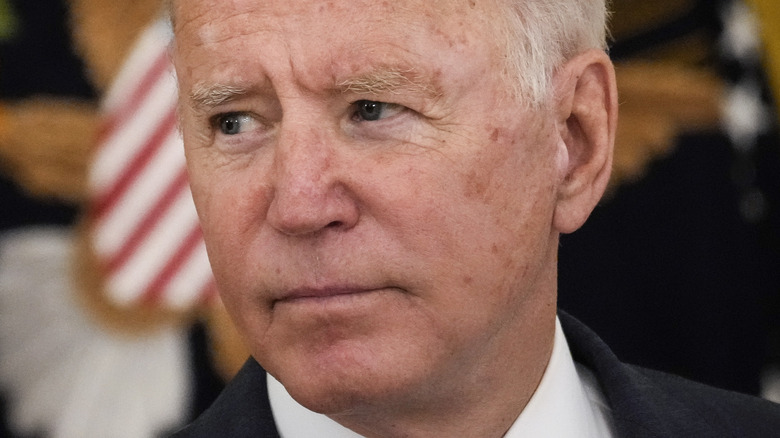 Drew Angerer/Getty Images
Since August 14, 2021, the Taliban have had Kabul, Afghanistan seized and under control upon President Joe Biden's decision to withdraw the American support that has been there since 2001 (per The Wall Street Journal). As a result, Afghan refugees have been attempting to flee and seek refuge, desperate for a route to safety. As of August 24, more than 70,700 people — including Americans, Afghans, and others — have been evacuated from Afghanistan, with flights to the U.S. reportedly taking off every 45 minutes, per The New York Times. 
But reports suggest that there could still be thousands of Americans in Afghanistan who need to be rescued, as well as tens of thousands of Afghans who have worked for the U.S. government since the first entrance into the country in 2001. According to CNN, President Biden intends on finishing the hurried airlifts and subsequent rescues by August 31, asserting that the mission is "on a pace to finish" by the planned date. Understandably, however, these numbers have the public concerned.
On Wednesday, August 25, President Biden met with the heads of several major companies, including Amazon, Apple, Google, and JPMorgan. Their meeting sought to discuss vital cybersecurity measures related to a series of recent high-profile hacks, per The Washington Post. During a public portion of the event, the public had questions to ask — but they weren't about cybersecurity.
Here's what President Biden actually said during the cut audio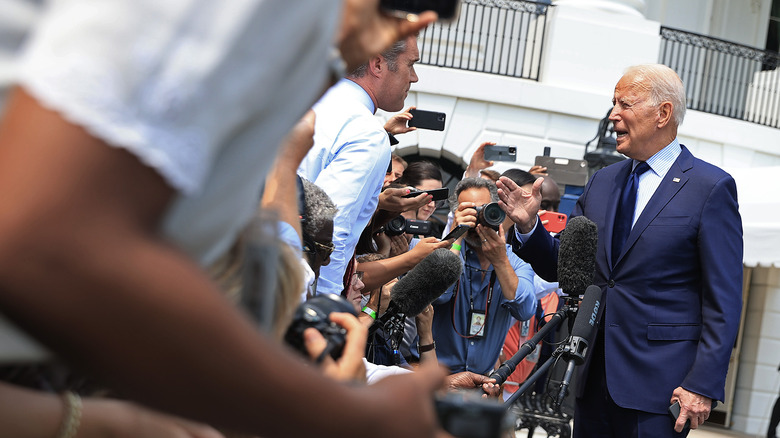 Chip Somodevilla/Getty Images
As President Joe Biden began to wrap up the event, a journalist yelled out with a question about Afghanistan. "Mr. President, if Americans are still in Afghanistan after the [August 31 withdrawal] deadline, what will you do?" The journalist would later be identified as NBC News correspondent Peter Alexander. While Biden initially ignored the question, Alexander was persistent and asked the same question again. It's at this moment that the audio goes quiet and cuts out, but we can see that Biden smirks and then appears to say something in the general direction of Alexander (via the New York Post). But thankfully for those curious about what Biden said, Alexander took to Twitter to fill us in.
The journalist tweeted, "I asked President Biden what he will do if Americans are still in Afghanistan after the 8/31 deadline. His response: 'You'll be the first person I call.' Took no questions."
Twitter users had their own take on President Biden's remarks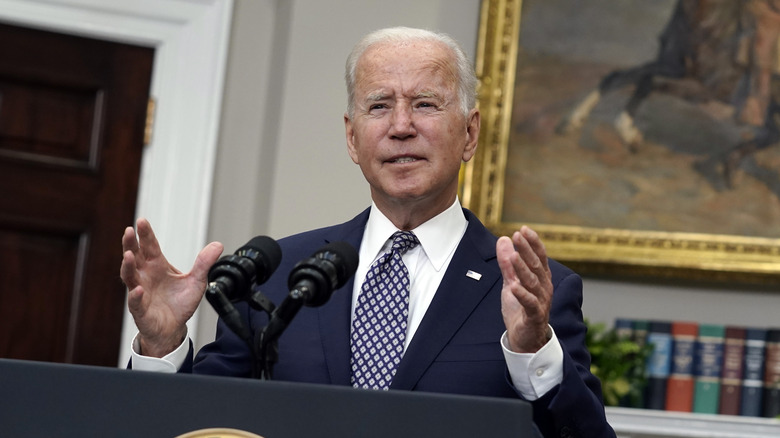 Bloomberg/Getty Images
President Joe Biden has always been known for his cheeky comments to the public and to journalists, which is perhaps one of the reasons that he has collected the fan base that he has. But not everyone is such a fan of the president's sense of humor. Journalist John Daniel Davidson wrote on Twitter, "Biden's behavior in this is becoming obscene." 
Another Twitter user, however, wrote that Biden was right not to respond to the question. "That's a question he should NOT answer. Sure, let's tell the enemy what the plan is." Someone else tweeted, "Curious why you thought you were due a response? Personally, I prefer safety and security come first." And yet another person, seemingly unconcerned about what's going on in the Middle East, tweeted, "Who cares? The US has bigger issues then Afghanistan. Covid should be the priority ... I could careless about the Airport in Kabul."