The Truth About Nicole Kidman's Relationship With Ex-Stepdaughter Zoe Kravitz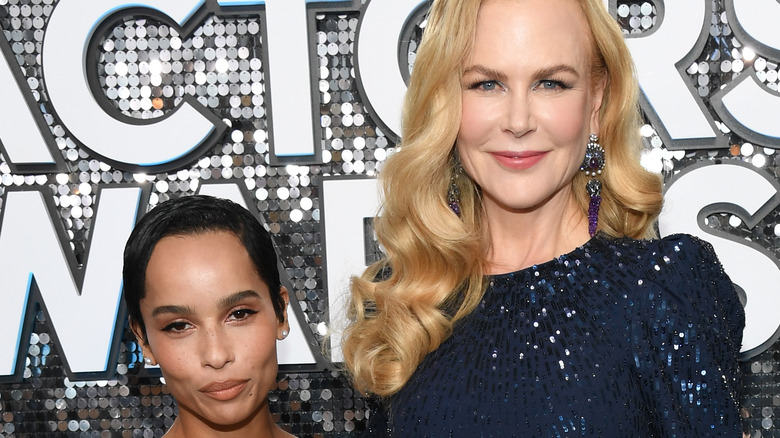 Kevin Mazur/Getty Images
Nicole Kidman and Zoe Kravitz are known for their independent acting careers and their shared time on the small screen, as both ladies starred in HBO's smash hit "Big Little Lies" in 2017 and 2019. Though it's clear that Kidman and Kravitz are close thanks to their time filming two seasons of the television series together, their history actually extends much further than some people think. According to the actresses, Kidman was previously engaged to Kravtiz's father, Lenny Kravitz, back when Zoe was a teenager (via Us). Crazy, right?
At the time, neither Kidman nor Lenny Kravitz openly discussed their relationship or their subsequent engagement. Kidman eventually confirmed their past romance in an interview with The Edit back in 2017 when discussing the "Big Little Lies" cast, saying "Well, I knew Zoe because I was engaged to her father" (via Us). If you thought this may have caused awkwardness between Zoe and Kidman on set, you'd be surprised to learn it was actually quite the opposite! The bond that Kidman and Zoe shared when the latter was younger only deepened when the two had the opportunity to work together for HBO.
Nicole Kidman has a great relationship with ex-stepdaughter Zoe Kravitz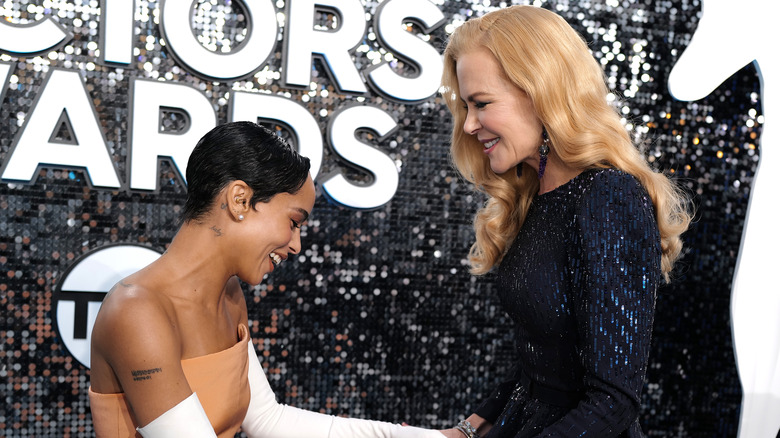 John Shearer/Getty Images
Even though Nicole Kidman's engagement to Lenny Kravitz was short-lived, she has nothing but kind things to say about the singer. "I love Lenny; he's a great guy," Kidman told The Edit (via Us Magazine). And Kidman's affection for the Kravitz clan extends to ex-stepdaughter, Zoe. Speaking with Elle for a profile on Zoe in January 2020, Kidman said, "I feel protective, like a big sister, toward her. She is carving her own path with confidence and grace." The Aussie actress went on to add, "She's a triple threat because she can dance, sing, and act. She is deeply feminine, and she always smells so good!" How sweet is that?
In that same profile, Zoe discussed the shared affection she feels toward Kidman, explaining that when they first met, "I was a grumpy teenager with her," as Zoe was only about 13 years old when her dad, Lenny, started dating the "Days of Thunder" star. She also mentioned that Kidman would take her to see movies when she was younger, and she was grateful to have the chance to reconnect with Kidman after all these years (via Us). 
Zoe went on to praise Kidman for her acting abilities, saying "She's so good that sometimes it was distracting. After every take I wanted to just stop and say, 'Wow.'" We're glad that these two still get along!