Why Fans Think Kylie Jenner May Have Dropped A Big Hint About The Gender Of Her Baby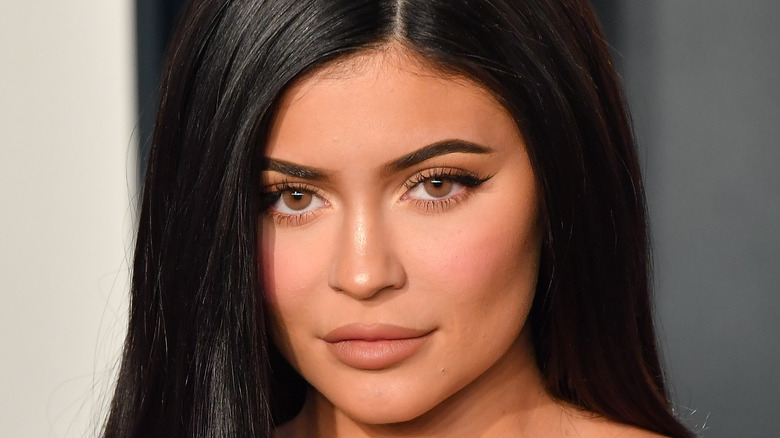 Allen Berezovsky/Getty Images
Even though Kylie Jenner hasn't confirmed it yet, numerous celeb news outlets are reporting that she is expecting her second child with Travis Scott, her (now on-again) boyfriend of several years. According to Us Weekly, the couple were actively trying to conceive for "almost a year," so this would come as very welcome news. Reportedly, Kylie wanted to give her daughter, Stormi, a sibling close in age (Stormi turned three in February 2021), so they could bond the way she and sister Kendall have. 
So far, Kylie has been keeping quiet on the topic — but then, she did the same thing the first time around. When she was expecting Stormi, she denied the pregnancy and hid her belly in public out of fear of being criticized for having a baby at the relatively young age of 21 (via The Sun). Only after she had safely delivered her baby did she reveal the truth. 
If Kylie is pregnant, she would be in the early stages, judging by recent photos. She might not want to make the news public until she's further along and the risk of miscarriage is lower. But fans are convinced that the rumors are actually true, and as evidence, they're reading a lot into one of her recent social media posts.
Fans say Kylie Jenner's Instagram caption was very telling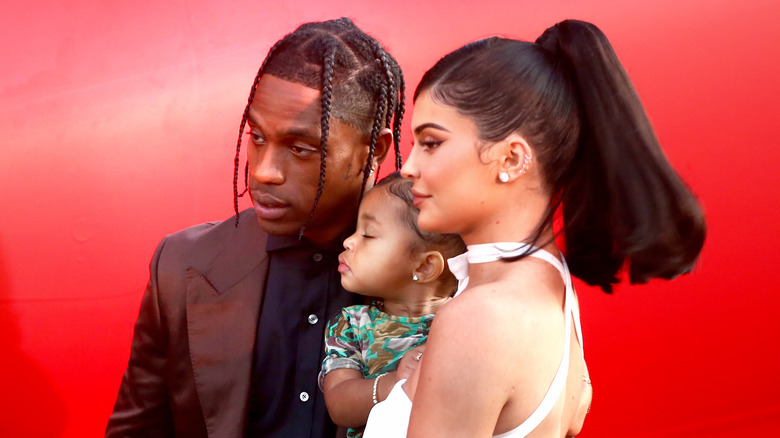 Tommaso Boddi/Getty Images
People who know their way around social media know that there are ways to share information without actually spelling it out. Emojis are just one of the ways to get one's point across, and Kylie Jenner recently used one that has the internet talking. 
In a post she shared on both her Instagram and Twitter accounts, Jenner treated her fans to three photos of Stormi posing for the camera. She captioned it "favorite girl" and included a blue heart. Fans immediately took it as a subtle announcement. Why a blue heart instead of a red one? And why refer to Stormi as her "favorite girl" unless she knew that there wouldn't be another girl on the way?  
Comments on her Insta post — which got more than 14 million likes, by the way — included, "So you're saying 'it's a boy'" and "KYLIE THAT'S A LOT OF BLUE!!!" But perhaps more telling was a reply from her Kylie Cosmetics account, which posted two blue hearts and a sparkle emoji as if to confirm the news. 
On the other hand, maybe Kylie is just having some fun with her fans to keep them from being too nosy. The Sun has reposted other recent photos of hers that feature an alcoholic seltzer drink and a raw-fish ceviche restaurant dish — both of which would be off-limits for an expectant mom. We'll just have to wait for a while until the is-she-or-isn't-she-and-is-it-a-boy? details are confirmed.