Kourtney Kardashian's Daughter Debuts A Bold New Look And Fans Are Divided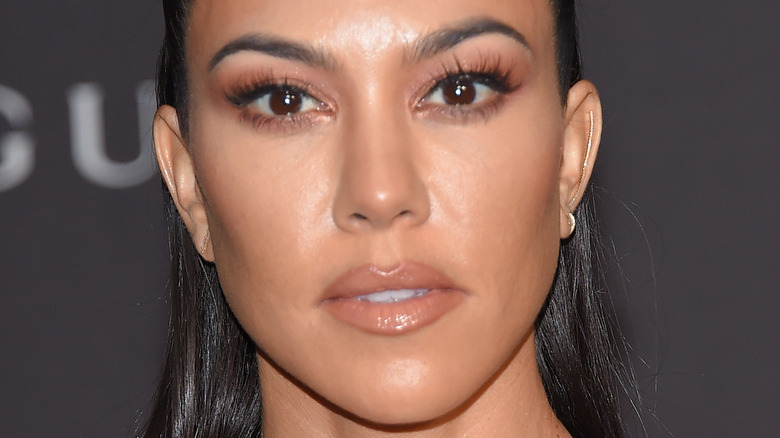 DFree/Shutterstock
Star mom of three Kourtney Kardashian is big on letting her kiddos express their own style. As she said previously about Mason dressing himself, "My son definitely has an opinion on what to wear. He gets himself dressed every day and likes to come out and show us his outfit, and we're not allowed to have a say in any of it" (via Moms.com).
Most recently, the 42-year-old allowed her 9-year-old daughter, Penelope Disick, to dye her hair bright red (via ET Online). Kardashian took fans along on the journey via Instagram, sharing photos of the process of transforming Penelope's tresses from brown to a more fiery hue.
Many of the star's 139 million followers were there for the change, with some likening the new look to Ariel from "The Little Mermaid." Another fan of the child's dyed locks said, "the coolest girl ever," while someone else said, "She is so pretty." "Awww love the hair," enthused another fan.
But not everyone was on board with Penelope being allowed to dye her hair at such a young age.
Some commenters shamed Kourtney Kardashian for letting Penelope dye her hair
In the comments section of Kardashian's Instagram post sharing the "after" of her daughter's hair transformation, some followers expressed their disapproval. "Why would you let your child go ginger?" questioned one. Likewise, another detractor asked, "Why ruin your kids hair?" A non-fan of the hair experiment commented, "You let her dye her hair? Kind of weird."
Someone else appreciated the look, but also said, "So prettyyy but I hope it's the temporary spray she has a beautiful hair already." One fan was more blunt, opining, "I don't think coloring hair at such a young age is good," and someone else blasted Kardashian, wondering, "what's wrong with todays parents?"
Kardashian is hardly the first celebrity mom to let her youngster dye her hair — and get shamed for it, with Jessica Simpson and Pink paving the way for the reality star to divide the internet with the controversial parenting decision (via People).