Why Joe Biden's Body Language During A Recent Press Conference Sent Twitter Off The Rails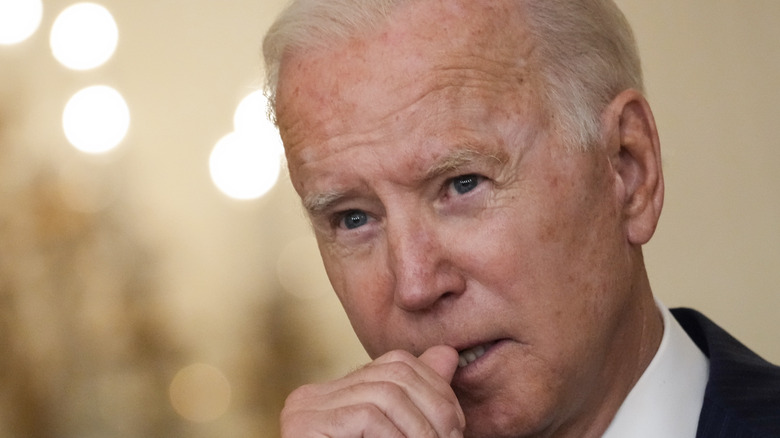 Drew Angerer/Getty Images
The old adage says an image is worth a thousand words. What the old adage doesn't cover, is what happens when the image is taken completely out of context and misunderstood, which is what happened when an image of President Joe Biden went viral on the night of Thursday, August 26, 2021. 
During a press conference held after the airport in Afghanistan's capital, Kabul, was bombed, Biden was photographed with his head bowed down as if in prayer. But as Fox News pointed out, what Biden was actually doing was listening to a question raised by one of the conservative network's own reporters, Peter Doocy, who is best known for his exchanges with Biden's press secretary Jen Psaki. Unfortunately, the image has become a symbol for the lowest point of Biden's months old presidency thus far. It has also had the effect of further polarizing both liberals and the GOP on the way over which the U.S. ended its 20-year long military action in Afghanistan (via Boston Herald). 
Both sides of the Twitterverse put their own spin on the photo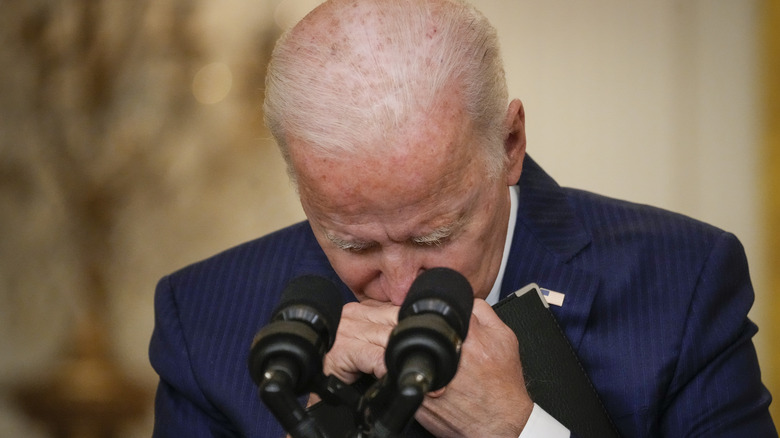 Drew Angerer/Getty Images
Because the Twitterverse wasn't about to let facts get in the way of a good story, the image of President Joe Biden went on to trigger a war of words between liberals and conservatives who chose to put their own spin on the image, making the rounds on both mainstream and social media. Leading the spat was Donald Trump Jr, who tweeted the photo with the caption, "This is what weakness looks like."
His comment appeared to trigger none other than his cousin, Mary L. Trump, who shot back, "This is what humanity looks like."
And even though one social media user found a way to bring context to the story, saying, "The context for that photo is he temporarily lowered his head during an exchange with Fox's Peter Doocy. Doocy asked him a question framed in bad faith; Biden retorted with a question back; Doocy was responding. Biden was listening and lowered his head in bemused irritation," another Twitter user managed to throw another disparaging remark Don Jr's way by saying, "It's the look of someone thinking before they speak. No wonder it seems so strange to you."
On the attack, Biden said 'We will not forgive. We will not forget'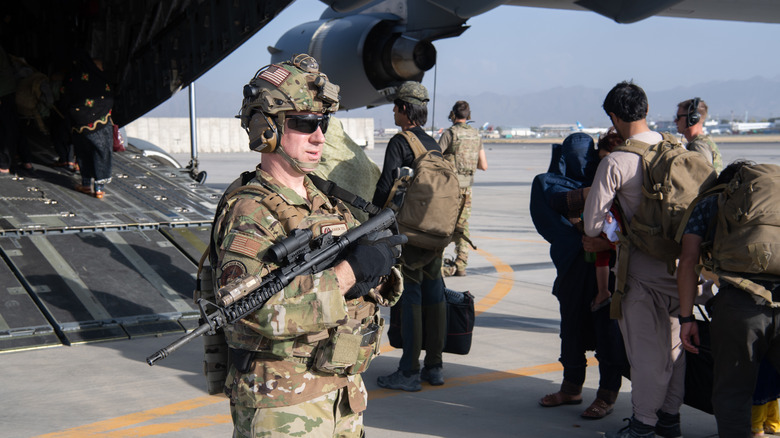 Handout/Getty Images
The social media spat may have undercut the seriousness of the events which unfolded in Afghanistan on Thursday, August 26, 2021, when at least 92 people — including 13 U.S. service people and 79 Afghans — were killed in two blasts that hit an area outside the Kabul airport, as of publication. A Taliban official said that death toll included 28 of its members, although a Taliban spokesperson has said none of its members had been killed in the attack (via Reuters). CNN's Jeremy Diamond revealed via Twitter that "[President Joe] Biden plans to contact the families of the 13 US service members who were killed in Thursday's suicide attacks outside of Kabul's international airport once next of kin notifications are complete." 
During his remarks at the White House, Biden referred to the fallen service people as "heroes" and said, "We will not forgive. We will not forget. We will hunt you down and make you pay," warning those who carried out the attacks (via CNN).
The Islamic State or ISIS in Khorasan, which is neither allied with the Taliban nor with the coalition of Western nations now involved in evacuations, has claimed responsibility for the attack, although CNN reported that no evidence has been found that confirms this to be the case.