Did Kelly Clarkson Trade Out Her Wedding Ring For New Bling?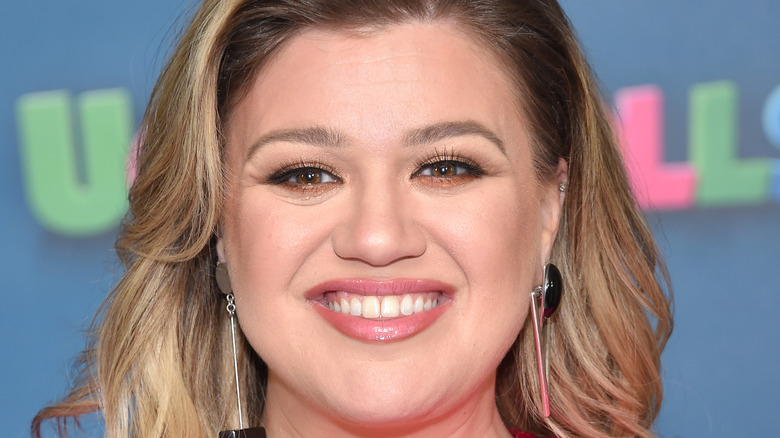 DFree/Shutterstock
Kelly Clarkson has sung about moving on from heartbreak on some of her biggest hits over the years. But the superstar has other ways of getting the message across, too. She appeared to subtly reference her divorce from Brandon Blackstock via her choice in jewelry during a recent television appearance. Earlier this week, the "American Idol" winner stopped by "The Tonight Show Starring Jimmy Fallon," and Radar Online noticed that she seemingly swapped out her wedding ring for a different precious gem.
On her 2007 single "Never Again," Clarkson wishes that the mysterious other woman in her relationship ends up with a green finger because of a cheap engagement ring (via YouTube). Her choice in jewelry in the present day — a black diamond on that very important finger — is an equally iconic reference to moving on. Clever fans noticed the large black diamond ring in a photo that popped up on Instagram following her television appearance. Although the singer shouted out the designer of several items she was wearing in the photo, she didn't go as far as to acknowledge the new bling.
The updated diamond comes shortly after Clarkson celebrated a win in her divorce proceedings.
Kelly Clarkson has been candid about her divorce from Brandon Blackstock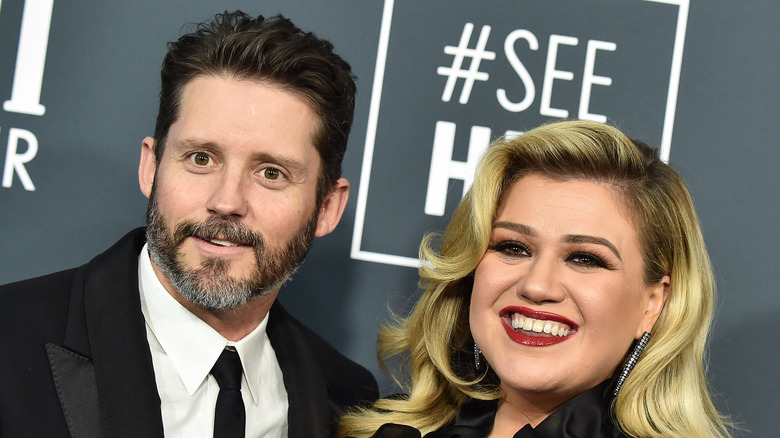 DFree/Shutterstock
In November 2020, Today reported that a judge granted Kelly Clarkson primary custody of the two children she shares with Brandon Blackstock. She celebrated another win in August 2021, when it was revealed that a judge agreed to uphold the couple's prenuptial agreement, which had been called into question. According to TMZ, the hitmaker found out about her victory on the set of "The Voice" and celebrated with some of her other judges, including Ariana Grande. The publication speculated that this means she'll be able to sell a ranch in Montana, which had previously been contested.
Clarkson has been up front about the struggles of the divorce since filing in June 2020. She opened up about the situation on the season premiere of "The Kelly Clarkson Show" later that year. "Definitely didn't see anything coming that came, but what I'm dealing with is hard," she said (via YouTube). "It involves more than just my heart, it involves a lot of little hearts." That was a reference to the host's children. Although she's kept her commentary classy, she has provided some insight into what may have happened.
Fans speculated that she hinted at a reason for her divorce when she revealed that she spent 2020 focusing on herself. Meanwhile, rumors are swirling that Clarkson is about to hit the dating scene again. If she does, she'll be doing so in serious style thanks to that new jewelry.