Why Iggy Azalea's New Makeup Collaboration Will Have You Dusting Off Your Low-Rise Jeans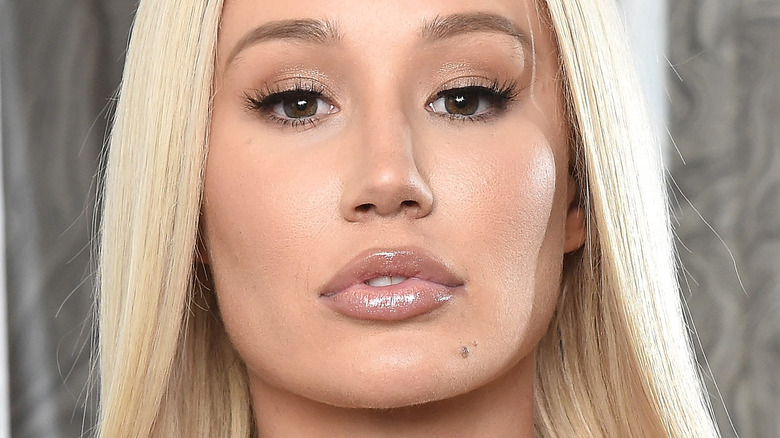 Gary Gershoff/Getty Images
It's time to blow up your inflatable furniture, pull out your velour tracksuit, and get ready to revisit the '00s because Iggy Azalea is dipping her toes into the beauty industry with a nostalgia-inducing drop. Fellow superstars like Rihanna and Jennifer Lopez have their own brands; however, the "Black Widow" rapper is entering the lucrative industry with a high-profile collaboration. She hopped on Instagram earlier this week to reveal she teamed up with makeup brand BH Cosmetics for her "Totally Plastic" collection. "You know since I designed it this thing is full of cute 00s vibes," Azalea vowed. "Your gonna gaggg!!!!"
That proved true once BH Cosmetics unveiled the collection on Instagram. Better yet, although the "Totally Plastic" collection was due August 29, it's already available on the brand's website. The drop includes a variety of tantalizing products, including the three crown jewels that make up the "Totally 2000's" eyeshadow trio. Fans can choose between three nine-shade palettes — "Blue Fur," "Purple Platforms," and "Pink Sunglasses." All boast monochromatic color stories and throwback-worthy shade names. If you have enough eyeshadow in your collection, you might prefer some of the other products.
The "Totally Plastic" drop also features the "Totally Snatched" six-shade face palette, "Oral Fixation" lip glosses, "Too Good 4 U" lashes, and "Devil's Advocate" eau de parfum. Are you looking for more? Make sure to check out tools including a brush kit, mirror, beauty sponges, and a travel case. Talk about a totally fetch collab!
Iggy Azalea's love of '00s culture inspired the 'Totally Plastic' collection
All it takes is a passing glance at the collection's aesthetic to get the references to Y2K stylings. The eyeshadow palettes are encased in plastic packaging, and the lip glosses come complete with a puffy fur-ball like one you'd see hanging from a pair of low-slung jeans in the early '00s. Iggy Azalea opened up about her appreciation for the era in a chat with New Beauty. "I've never been able to let the nostalgia of the 2000s go," she gushed. "So I'm glad that everyone is on-board with this now because it's my time to shine!"
She listed frosted, iridescent shimmers as a favorite from the era and commended how the trend has evolved in recent years. The Aussie hitmaker also opened up about her love for the aughts and listed the likes of Pink, Destiny's Child, Christina Aguilera, Britney Spears, and other celebs as style icons in an interview with People. Azalea also talked about her creative goals with the project. Chiefly, that was to make "the cool girl stuff that I would've wanted when I was that age and that, quite frankly, I still want now at 31." With its accessible price point and on-trend aesthetic, it's safe to say her first collab will b a surefire success.
Iggy Azalea won't be done with the beauty industry after 'Totally Plastic'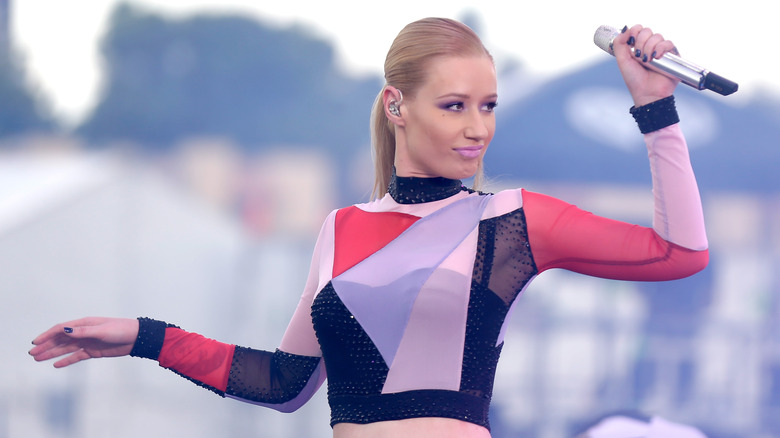 Isaac Brekken/Getty Images
It sounds like "Totally Plastic" is anything but a one-off release. If anything, this is likely just the start of Iggy Azalea's beauty industry takeover. The musician, who just released her album "The End Of An Era," told Us Weekly that she plans on focusing on the makeup world with a "hellbent" focus for the next year or two. And she made it clear that this isn't just some quick cash grab. "When I thought about doing a makeup collection, I really wanted to approach it from the standpoint of, 'What can I bring to makeup that would be different or interesting,'" Azalea revealed.
Of course, she's no stranger to world-building as evidenced by the vibrant music videos and photoshoots throughout her music career. Ever since she dropped her "Fancy" music video in 2014 (via YouTube) — an obvious homage to 1995's "Clueless" — Azalea has positioned herself as an extremely visual artist. Makeup provides her a slightly different medium and a way to play a character other than herself.
"With makeup, I didn't want to do it from the perspective of, 'This is Iggy's makeup line and this is what Iggy likes,'" she explained. "It's more about what is an interesting world or character or narrative that I can develop that people would feel excited by." Based on that, we'd say now is the time to get ready for bedazzled tastes of future nostalgia on the horizon!