What Heidi Klum Really Looks Like Underneath All That Makeup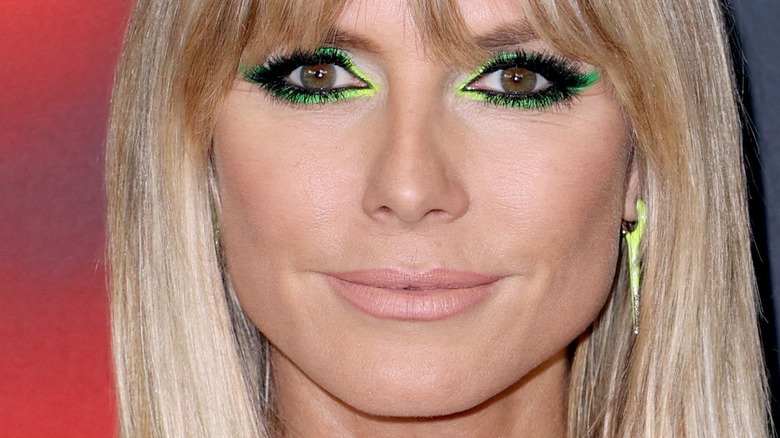 Kevin Winter/Getty Images
When she was just 18-years-old, Heidi Klum won a contest in Germany and started on the path to becoming one of the most famous models in the world (via Biography). At the age of 48, the TV personality and mom has still got it!
Of course, we are used to seeing the star in full makeup on the set of "Project Runway" or "Making the Cut" (via IMDb). That said, what's underneath all those products is still stunning, as evidenced by a barefaced selfie Klum shared on Instagram in 2021.
So what is the star's secret for that youthful, glowing skin? Genetics obviously plays a role. But as she told Redbook in 2018, her beauty routine starts from the inside out. "I'm a big believer in your are what you eat," Klum professed.
And when it comes to skincare, well, the model's go-to product will likely shock her fans, with Klum saying, "I think it's best to keep it simple. I wash my face with baby shampoo — if it's good for babies, it has to be good for me, too. It even gets off my TV makeup and false lashes."
Heidi Klum says her beauty is all natural
Heidi Klum has rejected rumors that she has had any work done on her face, saying "I've been too scared, to be honest with you" (via Distractify). "I would have a hard time looking in the mirror and seeing something that I'm not used to seeing," she added.
As far as maintaining her skin enough to be able to rock a makeup-free selfie, well, perhaps it has something to do with her minimalist approach to products, telling Elle in 2020 that on a daily basis, she opts for foundation, mascara, brow gel, and a touch of cheek color. That's it!
Klum also believes in the simple and relatively-inexpensive step of wearing SPF every day. But don't think she doesn't also take advantage of pricey treatments, telling Elle a favorite is "a body scrub at Beverly Hot Springs."
At the end of the day, Klum doesn't need makeup to look like the model she is, and is often spotted out and about sans a lick of eyeliner in sight (via Daily Mail).