Why Joe Biden's Insensitive Gesture At The Fallen Troops Ceremony Has Critics Lashing Out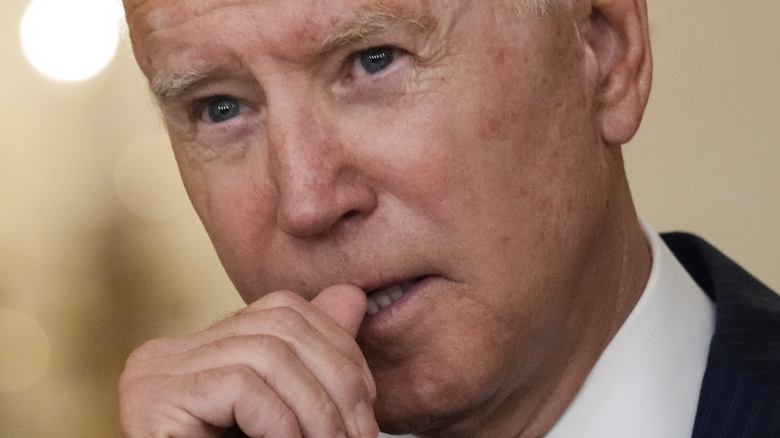 Drew Angerer/Getty Images
Joe Biden is already feeling the heat over his decision to pull U.S. troops out of Afghanistan, which went very badly by most estimates (via Financial Times). On Thursday, 13 service members were among those killed in attacks at the Kabul airport, per The Wall Street Journal. Now, one moment during the dignified transfer of those brave men and women at Dover Air Force Base has Biden at the receiving end of more backlash as he appeared to look at his watch during the ceremony (via New York Post).
The insensitive moment was caught by news cameras, and quickly dissected on social media and by news media all over the world, including on Sky News Australia. Blink and you'll miss it, but as the President is standing by his wife, Jill Biden, he seems to glance at his wrist to see what time it is.
"Joe Biden had one job today. One. To stand on a tarmac. He didn't have to say one word. He didn't have to move or do anything ceremonious. Just stand still and pretend like you're Commander-in-Chief. Dip***t checks his watch like he's got somewhere better to be," one particularly vicious tweet read.
And there were many more tweets like that one.
Twitter is outraged after the moment is caught on camera
After Joe Biden appeared to look at his watch while fallen service members arrived on U.S. soil after being killed in Kabul following the troop withdrawal, Twitter ripped into the embattled leader.
"The man responsible for the deaths of 13 service members checks his watch while their caskets are being carried into the trucks right in front of him. Apparently Joe Biden had better things to do. Disgusting!!!" someone blasted Biden.
"Utter disrespect," another Twitter user commented about the gesture. "Shameful, pathetic and sad," said someone else. More tweets followed with similar sentiments.
Meanwhile, CNN reported on the dignified transfer, but according to the news outlet, Biden was watching the procession "intently" the entire time, "locking eyes" with the soldiers who were carrying each casket. The Boston Herald wonders if he was looking at this watch, or straightening his sleeve. 
Despite other accounts or theories, Twitter seems pretty convinced it saw the President checking to see what time it was at a very inopportune moment.