The Worst Type Of Earring For Sensitive Skin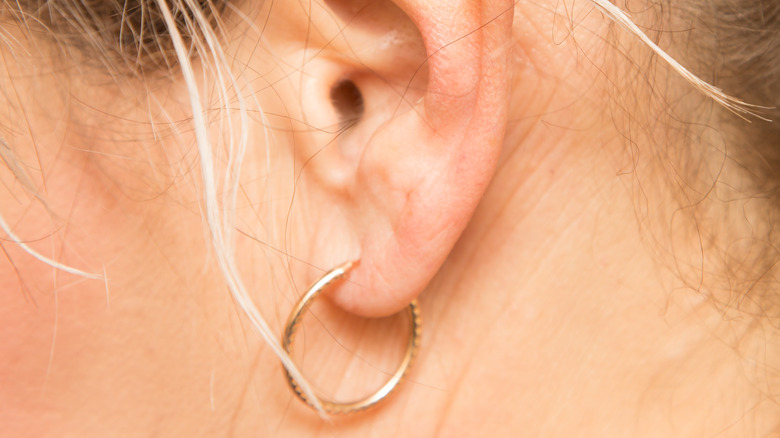 schankz/Shutterstock
Earrings are some of the most classic facial decorations out there. They have been around for over 5,000 years, and are some of the oldest known forms of body modification (via Kolo Piercing). They can be placed in many locations of the ear, such as the cartilage, rook, daith, and more, but the most common type of ear piercing is on the lobe. Best Life reports that up to 90% of women have lobe piercings, and, as society progresses, more and more men are choosing this form of self-expression as well. 
There are many types of lobe earring to choose from, such as hoops, studs, and more. However, up to 70% of women and 60% of men report having some level of sensitive skin, per a reporte titled "The Prevalence of Sensitive Skin," which is why one must choose wisely when selecting a pair of earrings to avoid allergic reactions or infection. And many experts agree that there is one specific material you should avoid wearing in your ears if you have sensitive skin.
Nickel is a no-no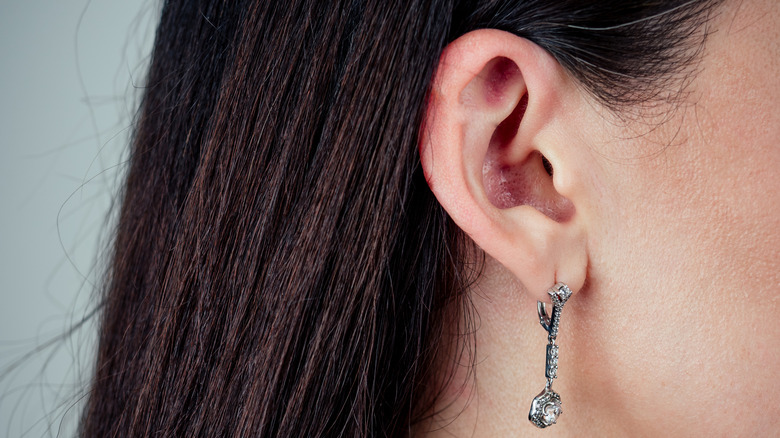 yurakrasil/Shutterstock
Although nickel is one of the primary metals used in most earrings today, it is known to cause itching, irritation, redness, soreness, rashes, bleeding, and even headaches. About 10% of people in the U.S. have sensitivity to nickel material, according to the Cleveland Clinic. And although there is no cure for the nickel allergy, the best way to alleviate your symptoms is to avoid wearing the metal altogether, especially if you have sensitive skin. But if you're determined to wear jewelry in your ears, there are safer alternatives that you can turn to that are less likely to cause a reaction.
The Mayo Clinic recommends hypoallergenic material for those who have sensitive skin. This includes stainless steel, surgical silver, and titanium. However, these materials do not completely eliminate allergic reactions, they just significantly decrease the chance of them. Healthline reports that titanium earrings are the safest way to go for those who have sensitive ears. This is because it is nickel-free, lightweight, durable, and comes in many different customizable colors. This way, you can keep your ears looking blinged up while keeping them healthy.