Pajama Sets You Can Rock While Working From Home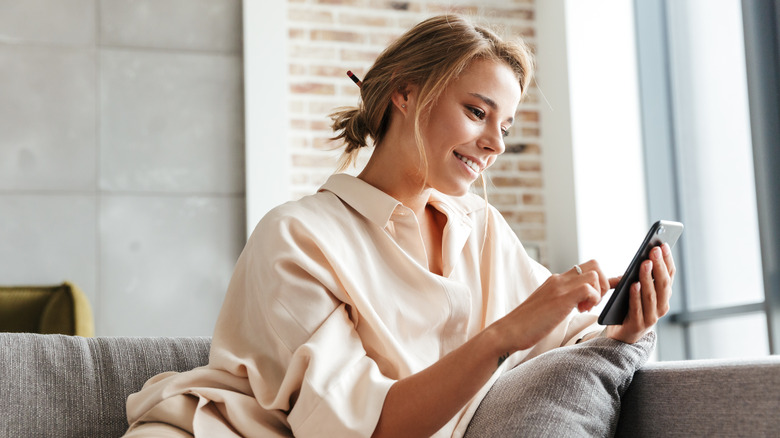 Dean Drobot/Shutterstock
With the COVID-19 pandemic still at the forefront of the world, many companies are continuing to keep their offices closed and their workers tele-commuting and working from home (via CNBC). While working from home may be complicated for some — like, if you live with roommates or a significant other who is also working from home — it's great for other people who enjoy being able to work from their couch or their bed. 
One of the bright sides to the pandemic and working from home is the ability to go to a meeting in something way more comfortable than slacks and pumps. In fact, many people who work from home are rocking sweatpants downstairs, with a blazer upstairs. Think of it as a "work from home mullet," just with fashion instead of hair. 
Many people even work from home in their pajamas, trying to hide the fact that they're super comfy while still working for corporate America. If you're one of those employees who is looking for a way to stay comfortable but professional on your next Zoom call, you're in luck. There are some pajama sets that are perfect for this kind of dilemma. 
Pajamas you can rock while working from home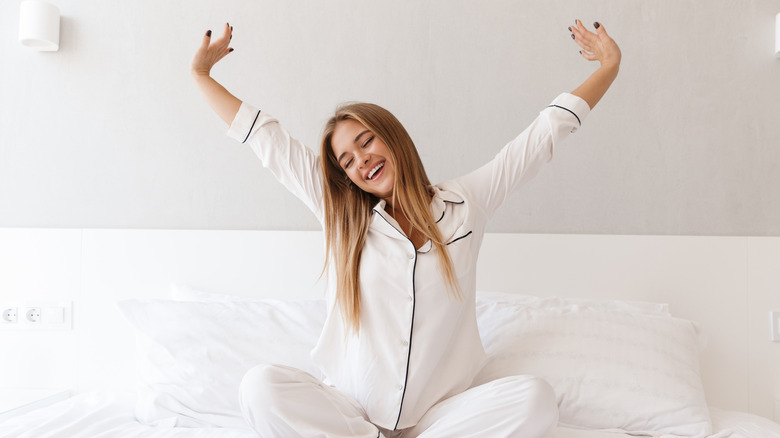 Dean Drobot/Shutterstock
The key to a good pajama outfit that you can work in is that your top doesn't necessarily look like a stereotypical "pajama top." Definitely keep your washed out Nirvana t-shirt in your drawer for a later day, and stick to these cute sets that can double as an actual outfit. 
First, this matching set from Nordstrom, Moonlight Short Pajamas, are perfect for those summer days you're working in your apartment. The shorts keep you cool, but the top is chic enough that it still looks like you're wearing a professional blouse. Because it's a darker color, it doesn't matter what you spill on it, and the color keeps it looking fresh. 
Fashion site Who What Wear totally recommended this Sleeper Linen Lounge Suit, and we can see why. The shorts and top are adorable with an airy feel and a bright pattern, plus the ruffles on the sleeves are to die for. The top, also, can pass as a work blouse and even if you want to go casual for the office when you return, this shirt would look great with a pair of pants. 
Mission Lane also makes a comfortable and casual Sunrise to Sunset Stripe Set that is great for a work from home day. The top is perfect to wear to a Zoom meeting while still keeping it totally comfy and cool. The neckline makes it look more "work chic" and less "pajama lounge," so you can remain comfortable, but look totally ready for that presentation!