Here's What Emma Watson Studied In School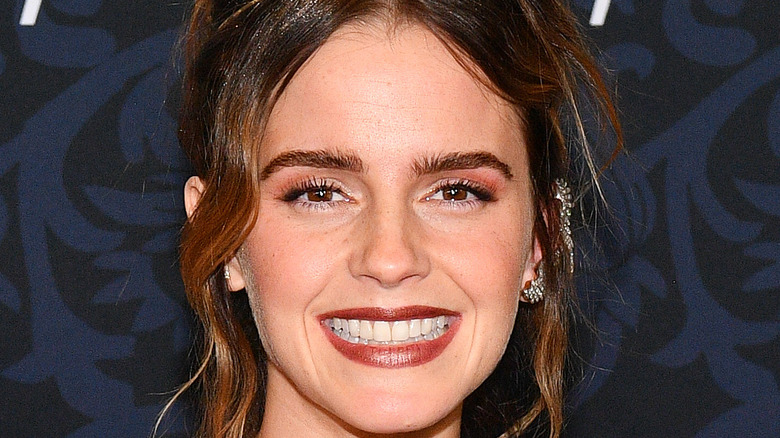 Dia Dipasupil/Getty Images
On top of being an impressive actress, outspoken activist (via UN Women), steadfast feminist, and all-around beautiful person, did you know that Emma Watson is also a brilliant scholar? That's right — there's a reason Watson was cast as the impossibly brilliant Hermione Granger in "Harry Potter" and played her so well. But what exactly did it take for her to become who she is today?
While many young actors decide to skip schooling in order to pursue careers in acting, Watson was not one of them. As a child, while filming the "Harry Potter" series, Watson attended The Dragon School, an independent preparatory school in Oxford, England, until 2003, and then attended the Headington School, which was another school of the same caliber, per Vanity Fair. Sources say that she was even tutored in between takes when filming "Harry Potter." Throughout her years of schooling, she received nearly perfect grades, particularly in English literature, geography, and art advanced level exams (per Tradeschool.com).
So where did the young actress choose to attend college?
Emma Watson enrolled at Brown University in 2009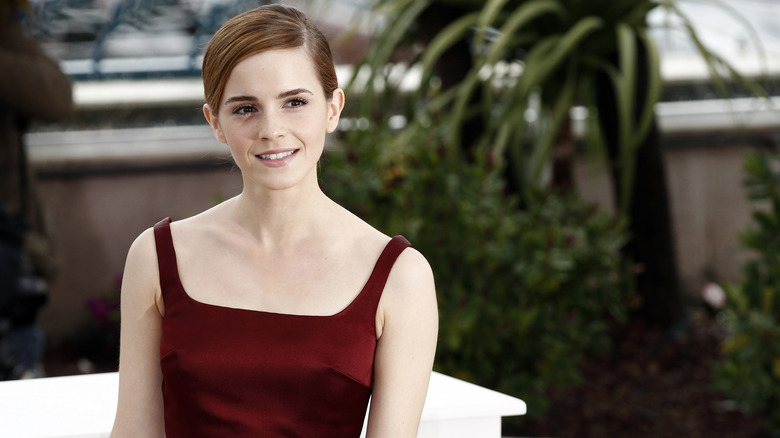 Andrea Raffin/Shutterstock
As she got older, Emma Watson's dedication to her studies remained just as important as ever. She ultimately decided to attend Brown University, an incredibly prestigious Ivy League school in Providence, Rhode Island, with an acceptance rate of only 7.7%, as of 2021 (via Gossip Cop). She would go on to receive her bachelor's degree in English literature and graduated in 2014, per Marie Claire. 
While the academics were challenging, Watson told Rookie in 2013 that she loved the experience. "Really, I've kind of been in charge of my own education since I started out on Potter when I was 9 or 10," she explained. "And I liked that I could design my own major if I wanted to, and I could take independent studies if I wanted to on subjects that weren't necessarily in the curriculum. I did an independent study on the psychology and philosophy of how and why we fall in love, which was awesome."
But it wasn't all a walk in the park for Watson because being famous while attending college came with its own challenges.
Being a student came with its challenges for Emma Watson
Can you imagine how cool it would be to attend school with Emma Watson — Ms. Hermione Granger herself? Well, as it turns out, nearly everyone at Brown University felt the same way. Watson told The Sunday Times (via E! Online), "On the first day, I walked into the canteen and everyone went completely silent and turned to look at me. I had to say to myself, 'It's okay, you can do this. You just have to take a deep breath and gather your courage.'" 
Despite Watson's attempt to be as "normal" as possible, her fellow peers would poke fun at her and make references to "Harry Potter" around her. According to the New York Daily News, academically, Watson was pretty similar to Hermione Granger, as she would regularly volunteer in classes and call out the right answers. An insider said that Watson was "really smart" and that her classmates would allegedly "respond [to her answers in class] with a quote from 'Harry Potter.' The most popular choice was 'Three points for Gryffindor!'" 
But the struggles of being a celebrity in college surpassed just casual hazing in classes — and even resulted in Watson being "stalked" by students at Brown as well as surrounding universities. She eventually had to have bodyguards with her when she attended public events, such as sports games and performances.
Yet, despite the challenges, Watson graduated with her degree and couldn't have been more thrilled about it.