The Unlikely Person Who Inspired Nikki Haley To Get Into Politics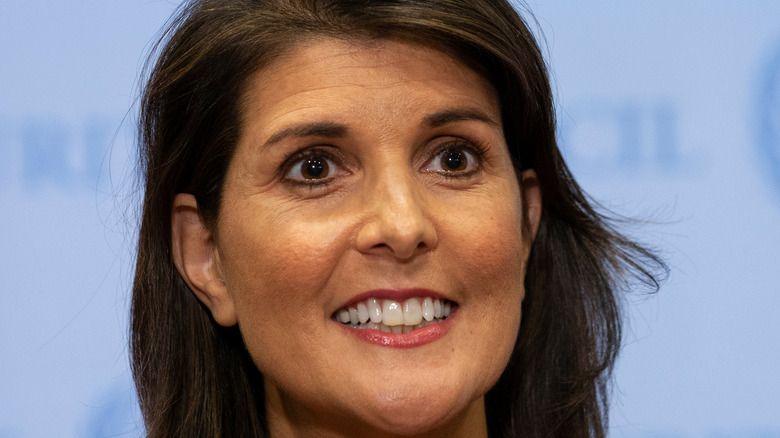 lev radin/Shutterstock
In the Republican party, Nikki Haley has been a trailblazer for women in leadership. As South Carolina's first female governor, she was an inspiration to many women, regardless of political affiliation. Her election to the highest state position in 2010 also made her another first — South Carolina's first Indian-American governor, according to Biography.com.
Haley's story can be seen as both inspirational, aspirational, and unique, as she is an American Southerner born to Sikh immigrant parents from Punjab, India. Born Nimrata Nikki Randhawa Haley, she comes from ambition and works with ambition. Her mother owned her own business, an upscale clothing company, Exotica International, which Haley helped turn into a multimillion-dollar venture just out of college, where she earned a degree in accounting. Haley kept moving up the ladder, working with her local chamber of commerce and eventually becoming the president of the National Association of Business Owners in 2004 (via Biography.com). 
That's also around the time she heard another successful woman give a speech — which ultimately led Haley to embark on a career in politics. Keep reading to find out who that famous woman was.
Nikki Haley looked to another famous woman before taking the political plunge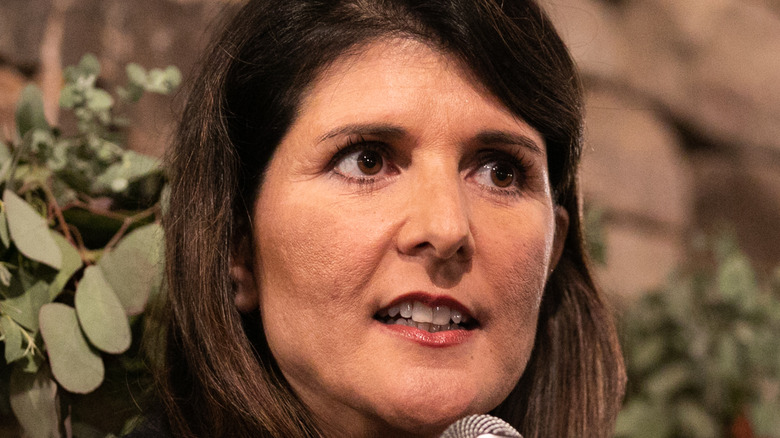 Jessica Mcgowan/Getty Images
The year was 2003, and Nikki Haley was contemplating a run for a South Carolina legislature seat. She told Vogue that, at the time, she wasn't even sure if she was a Democrat or a Republican, but, after talking politics and policy with friends, they had news for her. She recalled: "Once I started talking about my views, they were like, 'God, you're a Republican!'"
However, one particular woman in politics — who is decidedly not a Republican — ultimately convinced her to run for office. Haley attended a speech given at a local university by the then-Democratic senator from New York, Hillary Clinton, and Clinton's words had a major impact on Haley. "She said there will be all of these reasons that people tell you you can't do it," she told Vogue. "She said that there's only one reason for you to do it, and it's because you know it's the right thing. I walked out of there thinking, I've got to do this."
Haley did run for office and, in 2004, won a seat in the South Carolina House of Representatives. By 2010, she made it into the governor's mansion, and, by 2017, President Donald Trump appointed her as the U.S. Ambassador to the United Nations.
Despite Clinton being her inspiration to enter the political fray, Haley assured Vogue that, policy-wise, she is definitely more like Margaret Thatcher, the conservative first female prime minister of Great Britain.