The Face Wash You Should Be Using For Aging Skin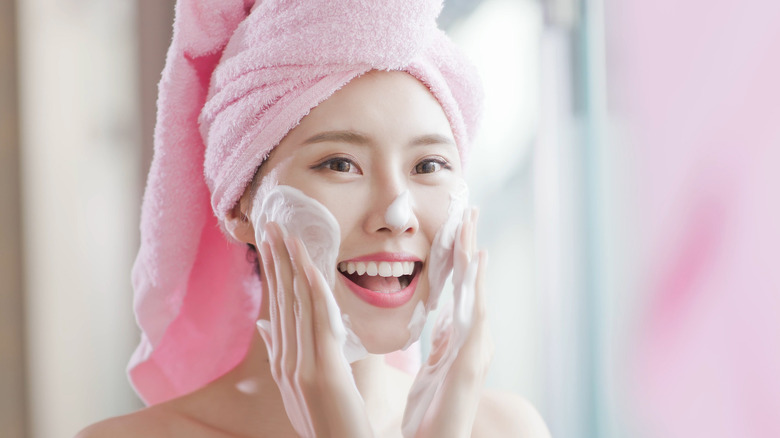 aslysun/Shutterstock
Despite some of your best efforts, as you age, your skin begins to change. You might find that as you get older — think 30s and 40s — your skin may start to not look as youthful as it once did, as noted by StyleCraze. You might notice that it lacks the plumpness and smoothness that it once had, and you may also notice that your skin looks a little duller and less elasticated than it did in your 20s. You may also see areas of pigmentation starting to show up.
The causes of these changes can go beyond just the aging process itself, with the accumulation of environmental factors taking a toll on your skin, such as dirt, chemicals, and sun damage. The good news is that just because you have noticed that your skin has started to age, that doesn't mean that you can't reverse some of the damage and revive your skin.
According to She Finds, the key to ensuring that you are providing your aging skin with everything that it needs is to take cleansing seriously, and using the right face wash to protect and nourish your complexion. While many skincare companies constantly tout facial cleansers that claim to get rid of wrinkles and other signs of aging skin, dermatologists recommend simply using a gentle face wash to cleanse your skin, and that's where Cetaphil Gentle Skin Cleanser comes in.
What's so beneficial about Cetaphil's Gentle Skin Cleanser?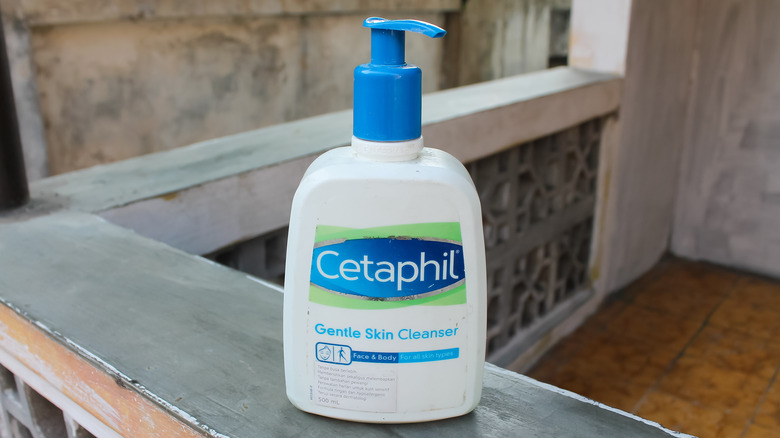 Restu Ariyadi/Shutterstock
As per Allure, Cetaphil Gentle Skin Cleanser is a mild face wash that gently dissolves grime, oil, and makeup that sits on the skin, without stripping the skin of its natural oils. The gentle formula makes it suitable for use on all skin types, and is a bargain to boot. She Finds reported that while Cetaphil Gentle Skin Cleanser doesn't make unrealistic claims about instantly transforming skin overnight, this gentle cleansing wash is formulated to cleanse the skin without the use of irritants.
Board certified dermatologist, Dr. Sheel Desai Solomon, told The Strategist of the face wash, "It works on every skin type, even sensitive skin." She continued, recommending it "to patients who struggle with acne and sensitive skin and also to people who suffer from eczema and rosacea."
This foaming cleanser is formulated to offer balance and hydration to skin, while also offering a deep cleanse for your complexion. It's designed to be suitable for skin of all ages, including aging skin. Prevention reported that the "low suds" formula is perfect for gently washing away skin impurities without taking moisture with it. The formula is also unscented and non-comedogenic, which means that it won't cause your pores to clog.