What Emma Watson Really Looks Like Under All That Makeup
Jesse Grant/Getty Images
Emma Watson might have found worldwide fame as a kid, but she's never been one to chase the spotlight. As Vogue UK notes in a profile of the British star, Watson was just 9 years of age when she was plucked from obscurity, out of a whole lineup of kids assembled in her school gym, to join what would soon become the "Harry Potter" universe. As the actress admitted, looking back on her extensive career, "It's so bizarre and otherworldly, what happened to me." However, unlike several others of her ilk, Watson uses her voice to promote something besides herself. 
Two decades after she was first introduced to the world as the lovable nerd Hermione, Watson isn't just an established actress in her own right but a dedicated activist, too. She's a UN Goodwill Ambassador, launched her own gender equality initiative, and donated £1 million to survivors of sexual harassment in the wake of #MeToo, among many other things. Watson explained, "I feel uncomfortable taking up as much space as I'm taking up and not speaking about [politics and social justice]. It just doesn't feel right anymore." 
Naturally, going makeup-free is the least of her worries. 
Emma Watson focuses on letting her true beauty shine through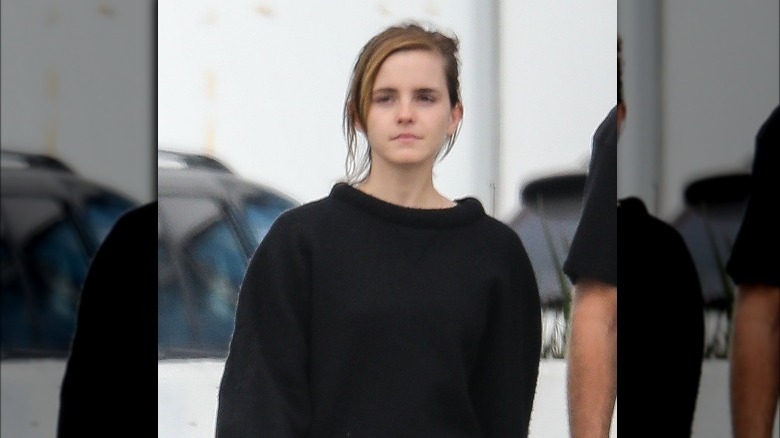 Backgrid
Like many other women, Emma Watson has been wearing less and less makeup as she's gotten older. Chatting all things beauty with Into the Gloss, the "Harry Potter" breakout explained, "The object for me when applying makeup is you should be able to see as much skin as possible. ... I think the look of natural skin is beautiful." Watson has several low-key picks for her daily routine, including some simple cheek and lip stain that "doesn't really look like makeup," according to the actress, alongside a little bit of concealer and powder to take away shine. If she's got an important event coming up, Watson might break out some red lipstick but, otherwise, she keeps her look relatively natural.
Likewise, the "Little Women" star is strict about washing her face at night no matter what else is going on. Watson acknowledged, "People are amazed by this, but it's just one of those self-care practices that I really enjoy." After struggling with acne throughout her teens, the actress relishes having a positive relationship with her skin. 
Overall, though, Watson is adamant, "Beauty is a construct and we know this because it is constructed differently all over the world. I think realizations like this made me take the whole thing a lot less seriously," as she told Vogue Australia. Going makeup-free isn't a big deal, because the British star is focused on feeling like her best self rather than being perfect.