How Target And Function Of Beauty Are Making It Easier To Achieve Your Personalized Hair Goals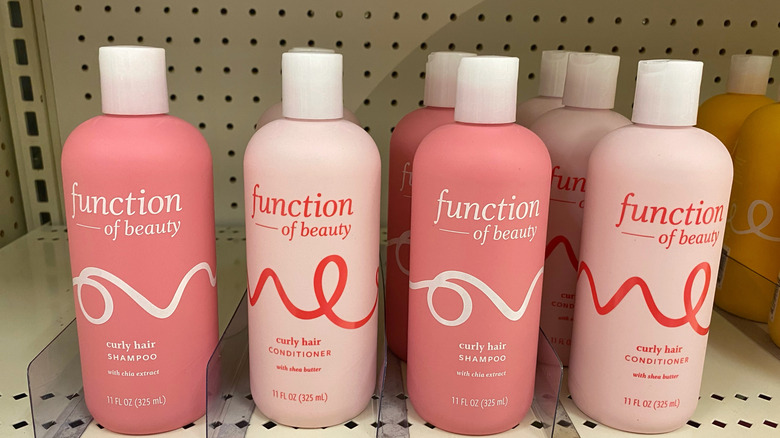 Mary Elise Photography/Shutterstock
It seems like personalized hair care is the beauty trend of 2021. Per Allure, choosing hair care products can be rather daunting, as there are always so many products to choose from. Every store has a wide range of hair care products designed to meet varying hair needs, from hair specific products to products that combat differing issues, such as dryness or dandruff. With so many hair products on offer, it's easy to feel overwhelmed with the number of choices available to you.
That's where customizable hair care products can come in handy. A customized approach to hair care means having a product that's been formulated specifically for your hair needs. Brands like Form Beauty and Function of Beauty are leading the trend and helping provide customers with personalized hair care success.
Per Insider, personalized hair care brands like Function of Beauty work by using answers to a hair quiz to design a bespoke hair product formula that is personalized to target your specific hair concerns. One issue when it comes to customized beauty products, however, is the price; these types of products are often far more expensive than regular beauty products. According to Allure, Target and Function of Beauty are changing that, by offering customized Function of Beauty hair care products in stores at lower and more affordable prices. Keep scrolling to learn more about their partnership. 
Target and Function of Beauty are changing the hair game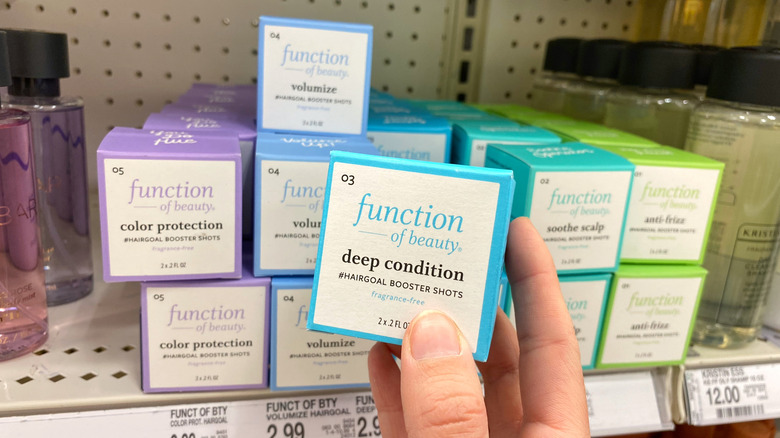 Mary Elise Photography/Shutterstock
Per Insider, the launch at Target allows customers to order personalized Function of Beauty hair care products both online and in store, and uses mix-ins that are then added to base formulas designed for each hair type.
The first step, according to Insider, is selecting a shampoo or conditioner base for your hair type. There are four bases available for straight, wavy, curly, or coily hair. "Booster" packets of specialized formulas are available to buy to add into your hair product, allowing them to be customized further. It's these "boosters" that make the products bespoke, as they're designed to offer solutions to various hair needs such as adding volume or shine, strengthening hair, or adding more curl definition.
Designed with affordability in mind, the Function of Beauty products available at Target are far more budget-friendly than ordering via the Function of Beauty website. It's just $9.99 for an 11-ounce base bottle of product at Target, with booster packs costing $2.99 each, whereas the Function of Beauty website charges $39 for an 8-ounce bottle of hair product. The collaboration between Target and Function of Beauty is aimed to allow customized hair care to be accessible and affordable, so you can more easily achieve your personalized hair goals. If you're looking for something that does just that, this partnership may be the best option for you.