What Millie Bobby Brown Has To Say About Her Nail Art On Stranger Things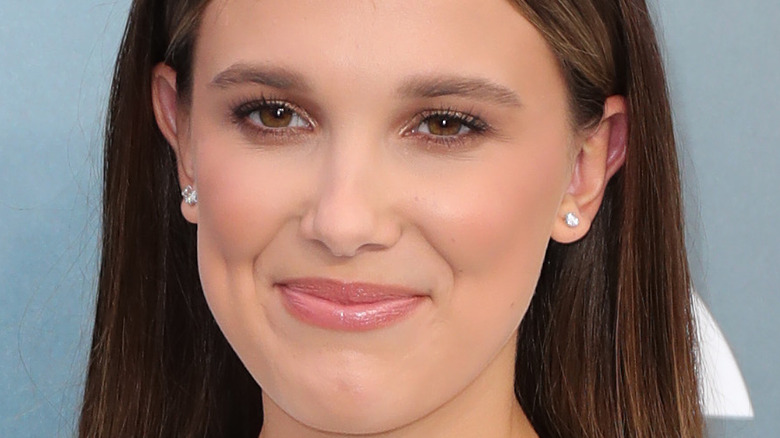 Leon Bennett/Getty Images
One of the breakout stars in recent years, it's simultaneously hard to believe that Millie Bobby Brown is still in her teens and that she, along with the rest of the "Stranger Things" kids (can we still call them kids?) is growing up so fast. While her recent projects have included the mystery movie "Enola Holmes" and the "Godzilla" franchise (via Collider), it was the Netflix show that really turned her into a household name.
In the role of the mysterious Eleven, we've seen the actress grow up on screen, alongside other up-and-coming names like Finn Wolfhard and Gaten Matarazzo. The character, who grew up in a laboratory as a test subject, gradually learns how to adapt to regular life as a pre-teen in 1980s Indiana, and — while Brown herself has become something of a fashion icon (via Elle) — Eleven's stylistic choices tend to reflect what's going on in her life at that time. Take her hair, for instance (via Screenrant). One such fashion decision relates to Brown's nail art, and this is what the teen star had to say on the matter.
She can't wear nail art when filming
Despite Millie Bobby Brown enjoying a manicure and some cool nail art (as well as castor oil on her eyelashes) she isn't allowed to have it when she's filming "Stranger Things." Speaking to Elle, she describes nail art as being "so in right now," and describes not being able to display it during filming as "depressing." 
"I love love love getting my nails done; it's one of my favorite things to do," she said at the time, "But yeah, while filming, I can't have any nails at all. Most of my characters don't. 'Godzilla vs. Kong,' I had army green nails for that, which was nice. But today, I have a mint green tip, which is really exciting — except I have to take it off when we start filming! So sad!"
Will we get to see Brown show off her nail art more in future roles? We'll have to find out. It's been suggested, per Harper's Bazaar, that there's going to be a fifth (and possibly final) season of "Stranger Things" — could an older Eleven display some '80s-themed nail art?