JoJo Siwa Reveals How She Really Feels About Breaking Ground On DWTS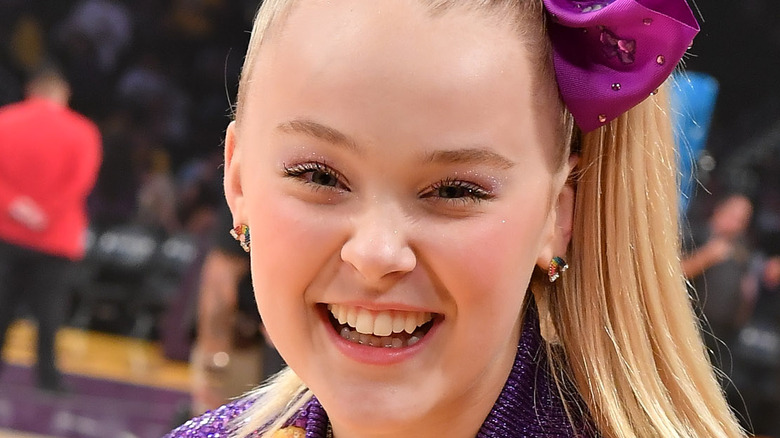 Allen Berezovsky/Getty Images
Former "Dance Moms" star JoJo Siwa is no stranger to the limelight, thanks to her bubbly, outgoing personality and of course, her wildly popular YouTube videos, which truly catapulted the young star to A-list fame at an early age (via Celebrity Net Worth). In January 2021, Siwa made headlines after she came out as part of the LGBTQIA+ community after months of fan speculation, and has continued to serve as a role model for tweens and teens everywhere.
"I still don't know what I am. It's like, I want to figure it out. And I have this joke. Her [Siwa's girlfriend's] name is Kylie. And so I say that I'm Ky-sexual," Siwa told People in April 2021. "But like, I don't know, bisexual, pansexual, queer, lesbian, gay, straight. I always just say gay because it just kind of covers it or queer because I think the keyword is cool. I like queer. Technically I would say that I am pansexual because that's how I have always been my whole life is just like, my human is my human."
"I never wanted [my coming out] to be a big deal," the "JoJo's Juice" star continued, adding, "I've known since I was little." Siwa has continued to make headlines ever since coming out, and her latest decision is history-making. 
Here's how JoJo Siwa feels about making history on Dancing With the Stars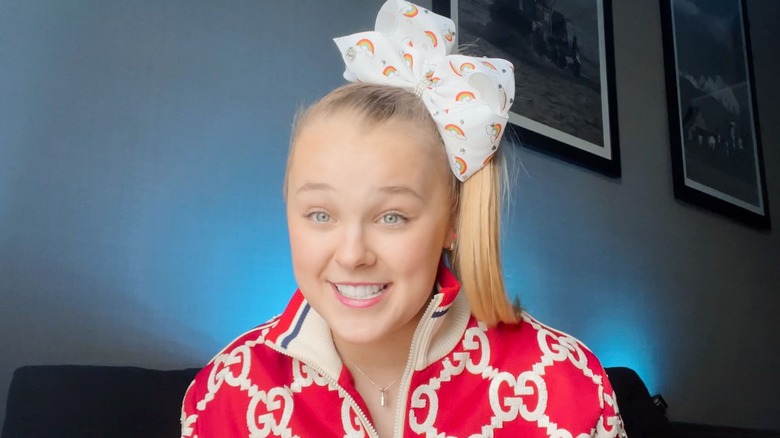 The 32nd Annual Glaad Media Awards/Getty Images
JoJo Siwa made history after she was cast on Season 30 of "Dancing With the Stars," becoming the first-ever contestant who will dance with a partner of the same sex. While guest co-hosting Entertainment Tonight on August 30, 2021, Siwa couldn't contain her excitement while talking about her upcoming stint on the long-running dance competition show, saying, "When I read the email it was like, 'Would JoJo prefer to dance with a girl or with a boy?' And I was like, 'Wait, that's an option? Let's absolutely do it!'"
"It was a like, 'Whoa, I'm changing the future' [moment], because I have such a kid demographic," the "Dance Moms" alum added. "It's making it acceptable, and I love that and I'm so proud of that."
While it's unclear as to who Siwa will be paired up with, the 18-year-old star revealed that her top "three favorite" dance pros are Britt Stewart, Jenna Johnson, and Lindsay Arnold. "I actually start rehearsals tomorrow!" Siwa dished to Entertainment Tonight, adding, "I meet [my partner] tomorrow."
JoJo Siwa revealed that she's nervous about this one thing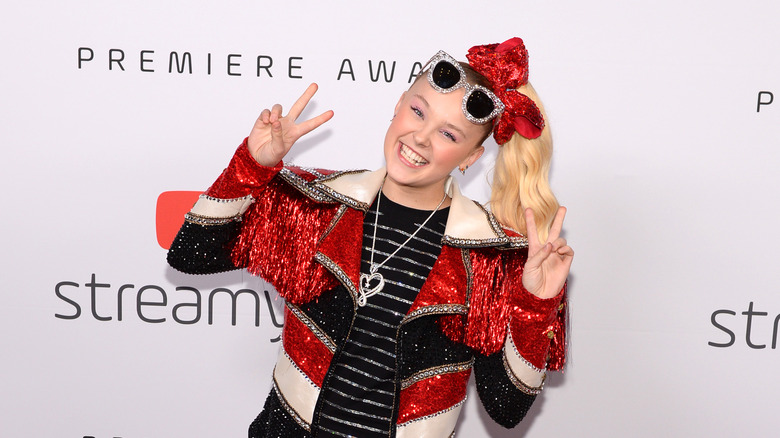 Andrew Toth/Getty Images
Although it's clear that JoJo Siwa is excited to break barriers on Season 30 of "Dancing With the Stars," the former reality television star revealed that there's one thing that's making her nervous to perform on the big stage: her background in dance. "I'm not gonna hide that I'm a dancer. I was a dancer my whole life," the bow-loving blonde told Entertainment Tonight. "Am I very out of practice? Absolutely. I perform all the time, but it's different, you know? I don't have to strengthen my legs, and ballroom is different. I've never taken ballroom."
"It's gonna help me in a way, but it also is a disadvantage," Siwa continued. "Because I guarantee you the judges are one hundred million percent gonna judge me harder than they do everybody else."
Siwa isn't the only one excited to compete on the upcoming season of "Dancing With the Stars" — her fans are equally pumped to see her make history on the dance competition show. "I haven't watched #DWTS in years but I'm going to watch it because we'll see two women dancing together," one excited Twitter fan wrote, while another added, "I'm ecstatic for Jojo Siwa on DWTS this season
She's gonna bring some light and sass on the ballroom floor for sure
Hopefully she'll be paired up with Britt because she did so great on her debut season as a pro last year."