Ellen's Next Great Designer Season 2 - Details We Know So Far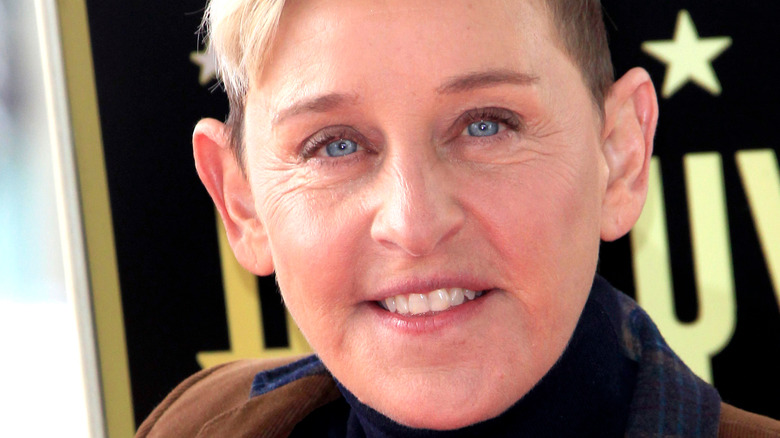 Kathy Hutchins/Shutterstock
Since launching in May of 2020, HBO Max has released a steady stream of original content (via Business Insider). In addition to dropping many beloved scripted series like "The Flight Attendant", "Genera+ion" and "Love Life", the streaming giant has released a steady stream of original reality series. One of the most intriguing series to drop on the platform is "Ellen's Next Great Designer." Comedian Ellen DeGeneres leads the competition series, which features seven furniture designers competing for a $100,000 dollar prize (via Next Season On TV). Each episode showcases the creatives tackling various furniture-making challenges from their studios. The award-winning designers worked with wood, metal, stone, fabric, glass and many other materials.
Actor Scott Foley serves as the series' host and also judges the completion alongside acclaimed interior designer Brigette Romanek and award-winning artist Fernando Mastrangelo. With season one over, fans of the series are anxious to learn if and when DeGeneres will return for season two. Here's everything we know so far.
When will season two of Ellen's Next Great Designer drop?
While season one of HBO Max's "Ellen's Next Great Designer" garnered a great deal of attention, HBO Max has yet to officially if the streamer intends to renew the completion show. "Ellen's Next Great Designer" initially premiered on HGTV as "Ellen's Design Challenge" in 2015 and ran for two seasons (via Reality Blurred). After the series was canceled, HBO Max revamped the series with a six-part season one. However, it's taking a while to decide if it wants to continue with the program.
If DeGeneres has an opportunity to return for a second season, "Ellen's Next Great Designer" will most likely premiere in the spring (via Apartment Therapy). Season one dropped the first two episodes on April 22nd, with each additional episode premiering weekly, until the finale. If the show gets renewed, it will most likely see a similar second season premiere date and episode release format.
Who will be in the cast?
Since HBO Max has yet to reveal whether or not the furniture design series "Ellen's Next Great Designer" will return to the platform, there isn't much information available about the potential second season. Though we're not sure exactly who would compete in Season Two, we know that it would be another group of top designers from around the country. Season One featured designers Christina Z. Antonio, Arielle Assouline-Lichten, Erica Sellers, Alejandro Artigas, Mark Grattan, Paul Jeffery, and Urvi Sharma (via Apartment Therapy). HBO Max would most likely gather another group of seven extremely talented designers, from big cities like New York, Los Angeles, and Phoenix.
As for the judges, Scott Foley would most likely return alongside, Brigette Romanek and Fernando Mastrangelo. Foley also made an excellent host and would be crucial in this role in subsequent seasons. Finally, Ellen DeGeneres would have to return to the show, as she is the executive producer, and injects much-needed humor into the intense conception.