The Truth About David Harbour And Winona Ryder's Friendship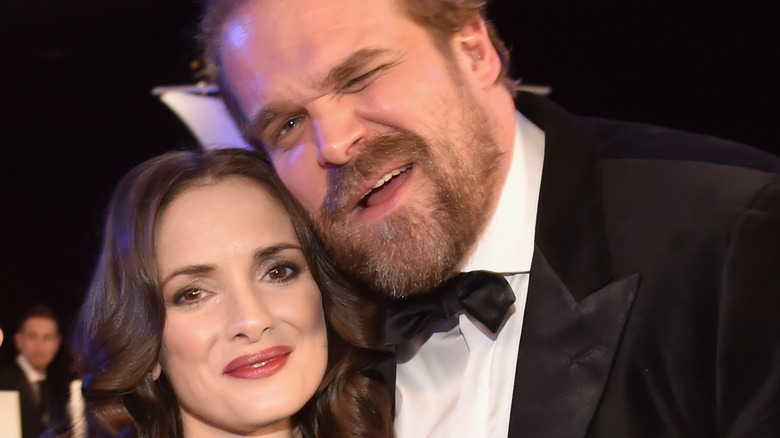 Kevin Mazur/Getty Images
Netflix first blessed us with its captivating original series, "Stranger Things," in 2016, and fans of the hit sci-fi show set in the 1980s have been following the cast's moves ever since its debut. Of course, the majority of the cast is made up of rising young stars, including Millie Bobby Brown, Finn Wolfhard, Noah Schnapp, Gaten Matarazzo, and Caleb McLaughlin, as well as Joe Keery, Natalia Dyer, Charlie Heaton, and Priah Ferguson (via IMDb).
In addition to the all-star cast of young up-and-coming actors, "Stranger Things" stars a few seasoned vets in the entertainment industry, including David Harbour and Winona Ryder, and in an interview with People, Harbour revealed what the cast is like and how they act around each other on set. "We are a very dysfunctional family, of the mild dysfunction," Harbour told the outlet in January 2018.
"The one thing I can say about the 'Stranger Things' cast that I don't often feel when I do television and movies is that every single actor on that show that I've interacted with is a good-hearted person," the "State of Affairs" alum continued. "That's so rare to find, especially in our business, where there are pitfalls of narcissism and self-importance."
David Harbour revealed he 'adores' Winona Ryder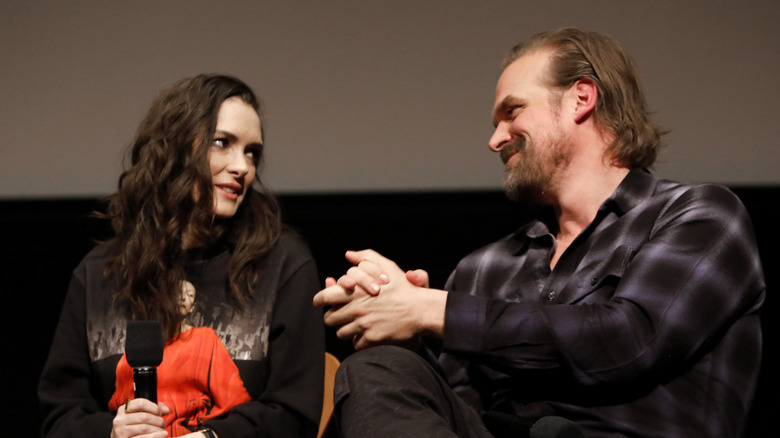 Rachel Murray/Getty Images
While David Harbour and Winona Ryder's characters are close on-screen, the actors are just as close — if not closer — off-screen, as Harbour revealed in an interview with E! News in July 2019 (via YouTube). "I adore her. I think she's incredible. She's one of a kind. She is the most unique person I've ever met. First of all, she's brilliant. Her mind is just brilliant. She has an encyclopedic knowledge of all this stuff, especially film. She knows so much about film history and performances, and I just love talking to her about that," Harbour gushed to the outlet.
Continuing to sing his co-star's praises, Harbour called Ryder a "warm, warm person," and likened her to himself in that they are both "messy" people. "Even though she's a big movie star, she's very human, and I love that about her. I find it really refreshing to work with someone like that," Harbour admitted. 
Harbour also revealed that when he was younger, Ryder was his ultimate crush, and he's absolutely thrilled to have such a close friendship and working relationship with her. "She was my high school crush with 'Heathers' and 'Beetlejuice,' and she's such a great person to work with," he admitted to the Los Angeles Times.
David Harbour has nothing but nice things to say about Winona Ryder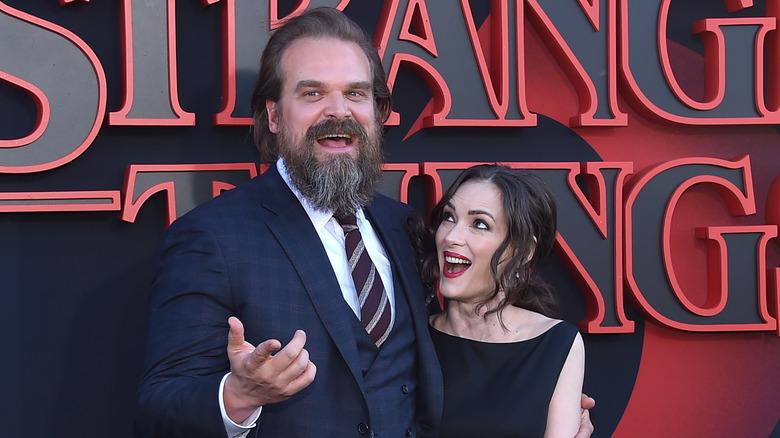 DFree/Shutterstock
David Harbour is no stranger to praising his co-star and former high school crush, Winona Ryder. In fact, in an interview with the Los Angeles Times, Harbour told the outlet, "I do feel like there are moments where you fall in love with Winona," adding, "It feels like a marriage, where we're willing to go the distance in that way that gets really uncomfortable. I want to do a scene with Winona where I get so messed up that I have to go back to my trailer and cry."
During a panel in Phoenix, Arizona, Harbour also got candid about his and Ryder's relationship, revealing that they act like an old married couple more often than not. "Winona gets very personal very quick ... So we were almost like an old married couple right after I'd met her," he said (via CheatSheet).
Harbour went on to say that while he and Ryder "bicker," they often share "really lovely moments" with one another. Saying that his performance as an actor wouldn't work without her, Harbour credited her with rounding out his own acting capabilities. "Without her and her performance, my performance doesn't make sense if that was another actress," he said. "I'm so grateful for what she brings, and all the heart and passion that she brings to her work."