The Best Affordable Loungewear Sets For Women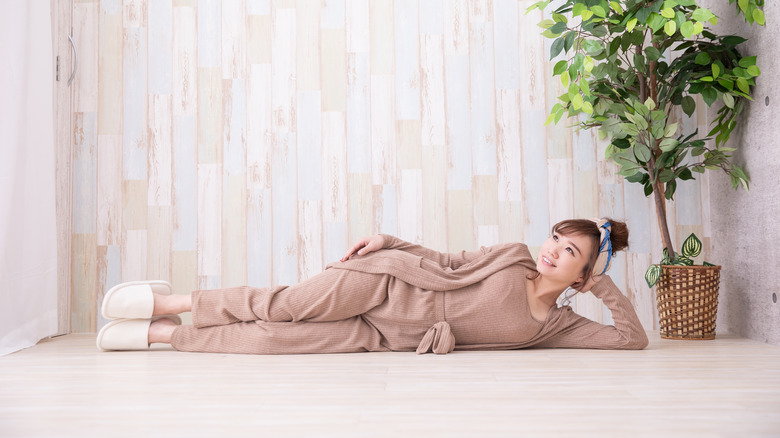 buritora/Shutterstock
We may receive a commission on purchases made from links.
Who doesn't love to relax? And what better way to kick things back than with the proper loungewear? Especially since remote work is the new normal lately, the demand for cozy, casual clothes to chill in at the comfort of your own home has skyrocketed. "Working from home is the present and the future, and more time at home, in general, is going to continue to be the trend. That's opened up a lot of space in the fashion realm for adaptation to more comfort-driven, practical wardrobe options," Astar Davidson, who has worked in the athleisure merchandising and retail industries, told Reader's Digest.
Since loungewear is all about convenience, it makes sense that there are many options that would come in cute matching sets as well, to save you the hassle and extra step of mixing and matching. And especially if you're going to be chilling at home, it's best to save your hard earned cash. Here are some of the best affordable loungewear sets to check out if you're feeling low maintenance.
Walmart and PrettyGarden have budget friendly sets to relax in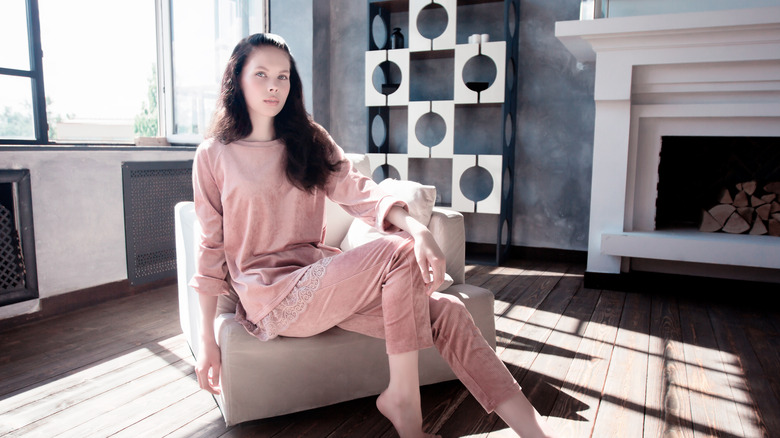 thelavrova/Shutterstock
The Lissome French Terry Set ($13.99) can be found at Walmart, the ultimate budget friendly superstore, and comes in six lovely colors from a teal green, a muted and neon pink, a feminine lavender, a deep sea blue, and a classic black, so you can make the proper selection according to your aesthetic. It has breathable fabric and a relaxed loose fit, but perhaps the best part is the pockets for days. Although technically labeled as pajamas, this set is what you make of it and can be worn all day (we promise no one will know).
The PrettyGarden Crewneck Loungewear Set ($31.99) comes in a whopping 34 styles, so you'll wanna order multiple that'll match your every mood. The loose fit in booth the sleeves and leggings allow for optimal movement, and its lightweight fabric won't drag you down, according to Bustle, making it perfect for kicking it during those air conditioned days. 
Asvivid, Fixmatti, and Boohoo come with even more cozy, stylish, yet affordable options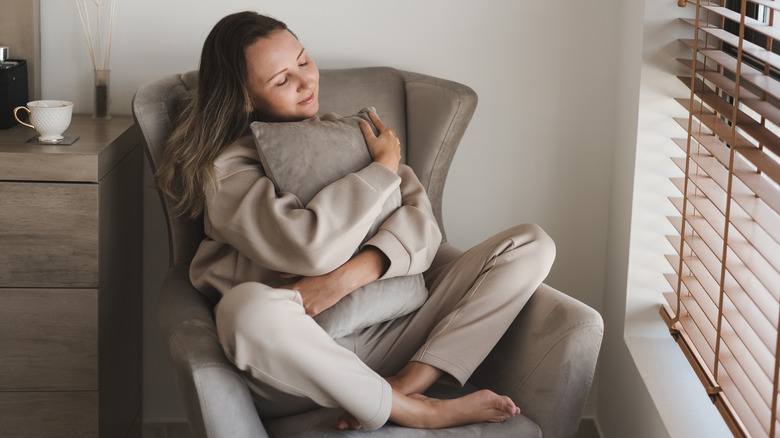 VeronikaSmirnaya/Shutterstock
The Asvivid Tye Dye Printed Long Sleeve Set ($37.99) comes in 18 groovy tie-dye colors that make a bold statement. With an adjustable drawstring waistline and fitting elastic cuffs, this set is the perfect blend of stylish and flattering (via Today).
The Fixmatti Long Sleeve Sweatsuit Set ($34.99) comes in an assortment of 32 versatile colors, various patterns and sleeve options that can meet your everyday self care style. With its minimalist design made with stretchy polyester and spandex, this set is perfect for everyday use that can be worn over and over again, making it a worthwhile purchase.
The Oversized T-Shirt And Biker Short Two-Piece Set ($30) from BooHoo comes in three humble colors. A muted pink, a neutral orange-ish cream, and a midnight black. Its baggy, short sleeved top paired with casual biker shorts will trick people into thinking you're being active, even while lounging (via PopSugar).