What Amanda Knox Has To Say About Her Nickname Foxy Knoxy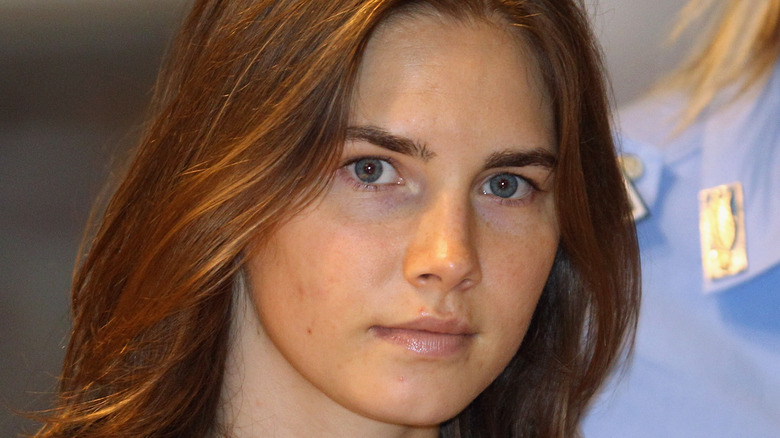 Oli Scarff/Getty Images
Amanda Knox came to international prominence when she was wrongfully convicted of the murder of her roommate, fellow exchange student Meredith Kercher, while they were both studying abroad in Italy. As NPR details, Knox was ultimately exonerated thanks to "stunning flaws" in the criminal investigation, but she spent four years behind bars regardless. Unfortunately, although it's been over a decade since her release, Knox is still dealing with the repercussions. In 2021, the release of Matt Damon vehicle "Stillwater" brought her trials and tribulations with the Italian court system back into the public consciousness thanks to the undeniable comparisons between the movie's plot and Knox's own life.
Knox took to Twitter to decry filmmaker Tom McCarthy for, essentially, using her story without permission or even empathy for her struggle. "Does my name belong to me? My face? What about my life? My story?" she demanded to know. As Knox explained to NPR, "Whenever I encounter the world, I am constantly in conversation with a horrendous thing that happened, that I had no control over, that I had no agency." She added, "And the identity of Amanda Knox is always, always, always viewed through that lens." Part of that identity revolves around her allegedly being too hot to be a murderer, something that earned Knox the offensive nickname "Foxy Knoxy." Understandably, she has some thoughts.
Amanda Knox didn't feel the nickname accurately reflected who she was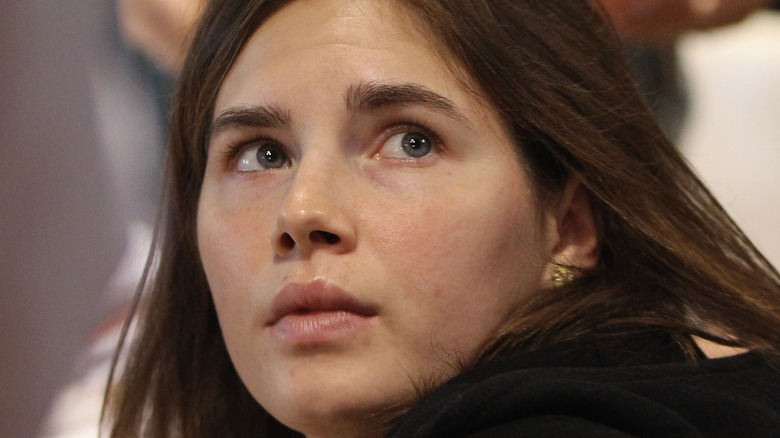 Oli Scarff/Getty Images
As People reports, during an appearance on Whitney Cummings' "Good For You" podcast, Amanda Knox opened up about her experience being the most famous person in the world while simultaneously battling murder accusations. In particular, she took the opportunity to shoot down her infamous "Foxy Knoxy" moniker. "People made a big deal about 'Foxy Knoxy' and [were saying], 'She's the girl that everyone wants,' and it's like, 'That is not me!'" Knox revealed. When Cummings wondered whether the scandal would've been such a big deal if she had a less rhyme-worthy name, Knox stated firmly, "No."
As she explained, the arrogance was projected onto her, since, "I was not walking around the world being like, 'Oh, I'm the prettiest girl in the room.' That did not occur to me. Also, I was never treated that way." In fact, in Italy, the translation amounted to "evil fox" or "cunning fox." Kercher was found dead in the apartment the two women shared, in Perugia, back in 2007. Knox was just 20 when she was found guilty alongside then-boyfriend Raffaele Sollecito. They were freed from prison and acquitted in 2011, before being convicted again in absentia in 2013, and then acquitted once more in 2015. 
Although Knox still struggles with the public perception of her, as she told People in 2018, "It's humbling to be here in the position I'm in now, where I can help other women reclaim their narrative."