The Entire Dog The Bounty Hunter Scandal Explained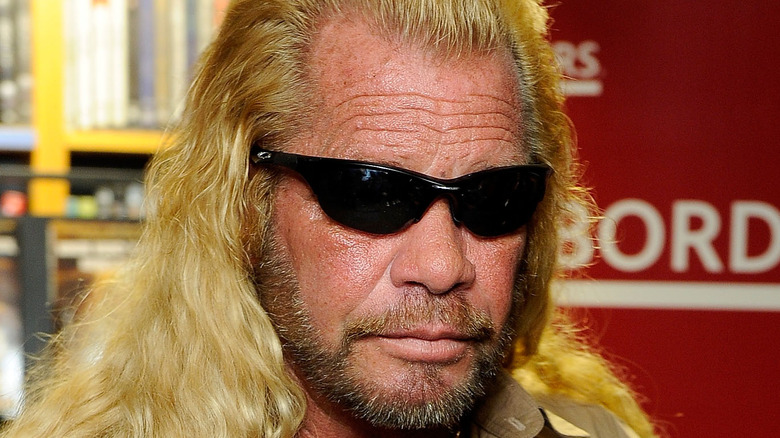 Jemal Countess/Getty Images
Dog the Bounty Hunter just can't catch a break. Last month, the reality star, whose real name is Duane Chapman, came under fire after two of his daughters revealed they weren't invited to his upcoming wedding. Cecily and Bonnie Chapman complained to TMZ that they'd been left off the guestlist for Chapman's nuptials to the brilliantly-named Francie Fane and, worse still, had no idea why they were snubbed (the girls lost their mother, Beth, to throat cancer in 2019). The Chapman sisters did offer some speculation, however.
Cecily reasoned that she and Bonnie remind their father too much of Beth, and they live similar lives to her, which might put Chapman off including them in his big day. Their brother Garry, however, is included on the guest list. Bonnie doubled down in a lengthy Facebook post, revealing a text from Fane confirming she'd been left out of their upcoming nuptials due to her "choice to participate in social justice and BLM protests with The System," a social justice show from Unleashed TV (via Instagram). 
Bonnie also tellingly referred to her disappointment over her "father's progression into his old racist ways," which is something Dog the Bounty Hunter himself is now being forced to reckon with. 
Dog the Bounty Hunter stands accused of racism and homophobia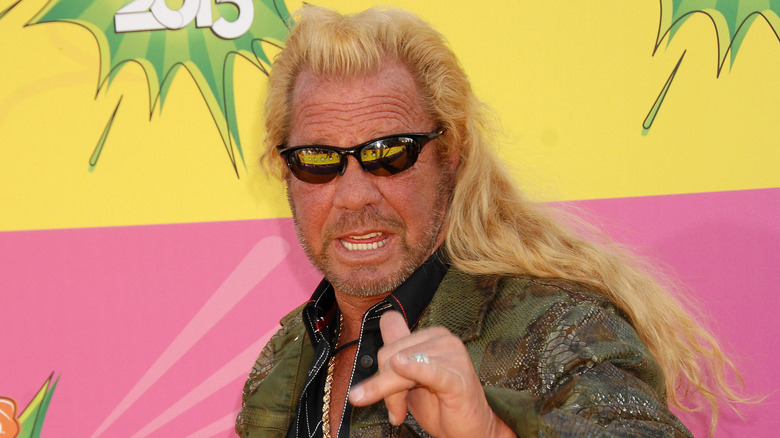 Ga Fullner/Shutterstock
During an interview with ET, Duane Chapman, better known as Dog the Bounty Hunter, faced down widespread allegations of racism. Confirming to interviewer Kevin Frazier, who is Black, that he does support Black Lives Matter, Chapman explained, somewhat dubiously, "I have never been a racist. I'm 33 1/2 percent Apache." 
The reality star was accused by daughter Bonnie but also faced backlash over a leaked phone call with his son, during which Chapman openly used the N-word several times (via People). When Frazier challenged him over his use of the slur, he admitted, "I thought I had a pass in the Black tribe to use it, kind of like Eminem." The reality star also argued its use was prevalent in prison and in Texas, where he lived for a long time, even describing the slur as "a compliment." 
However, Chapman also reasoned, "To say a racist name doesn't qualify to make you a racist." Frazier was having none of it, saying, "If you use that word, and you use it in your regular everyday life, it makes you a racist." Dog countered he had "more Black friends than Eminem," but Frazier insisted that doesn't make it okay. 
The former A&E star also denied accusations of homophobia, again pointing to queer people in his proximity. Chapman did eventually apologize, however, stating, "My sincerest, heartfelt apologies go out to every person I have offended for my regrettable use of very inappropriate language."