Why A New Photo Of Kelly Ripa Has The Internet Talking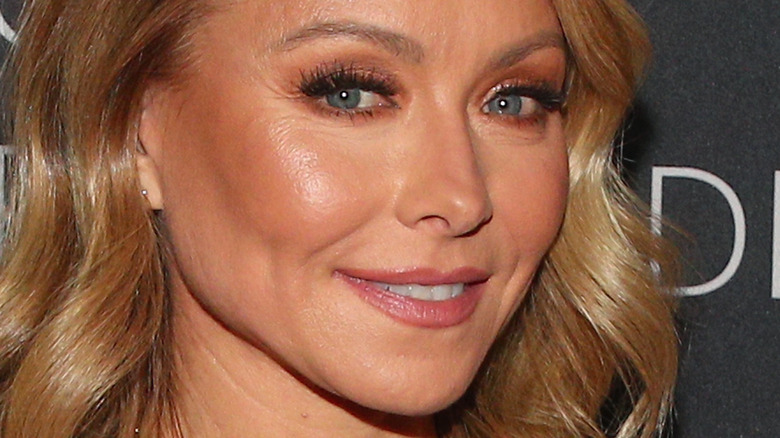 Astrid Stawiarz/Getty Images
Kelly Ripa is 50 years old, but in a new Instagram photo of the TV host and her husband, Mark Consuelos, she could easily pass as 25. The image was captured on the beach Wednesday, and quickly got fans speculating in the comments section about how Ripa — and her longtime spouse — managed to look so youthful.
"Teenagers !!!!" Carson Kressley complimented the couple, a sentiment that was echoed in other comments, with someone even saying the celebrity duo could pass as 15. But a suspicious fan then asked, "How is it you look 10 years younger Kelly? must be a relaxing holiday!"
"Sunset lighting is the best!" replied another one of Ripa's fans, but someone else wasn't convinced. "As beautiful as she is it's def a filter!" the Instagram user speculated, according to E! News. While many of the star's fans quickly defended her, even Ripa herself was prompted to reply to the comment. And let's just say her response was basically epic.
Kelly Ripa denies she used a filter on her photo
Taking to the comments section of her beach Instagram share, Kelly Ripa denied that she was using a filter on the photo to appear younger, writing, "if it was a filter i would look amazing. It's just the angle and sunset light."
Of course, Ripa is known for her youthful appearance, but she has admitted to having some help. The star does not hide that she receives regular Botox injections (via Cheat Sheet). The mom of three told Elle about the treatementin 2013, "Every seven months or so my eyelid skin rests on my eyelashes. So I feel like it makes my makeup artist's life easier, and it makes my eyes look a little more open on TV, which is where I happen to work right now."
The star is also devoted to sunscreen, and told Prevention last year, "Ten years ago, I was washing my face with soap and water — the harshest soap possible and the hottest water possible. And now it's really about making up for all of that by being gentle with my skin and prepping it before I put makeup on."
In the end, there's no doubt Ripa takes care of herself — whether she used a filter on her selfie with Consuelos is still up for debate.