The Truth About Millie Bobby Brown And Winona Ryder's Relationship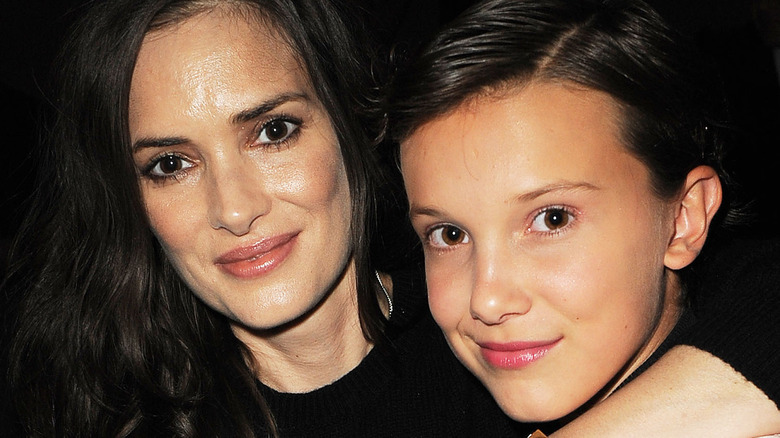 Chance Yeh/Getty Images
In the first season of "Stranger Things," Joyce Byers (Winona Ryder) was understandably more concerned about finding her son than looking out for Eleven (Millie Bobbie Brown). However, toward the end of the season, Joyce's mothering instincts quickly embraced the lost girl, which continued well into the developing story.
As of Season 3, Joyce has become a mother figure to Eleven — similar to Eleven's close father-daughter bond with Hopper (David Harbour). While it's not yet known where exactly their characters will end up in Season 4, the bonds Eleven has formed with her adoptive family will be hard to break by any creature from the upside down.
These characters are the closest they've ever been, but what about the actors who portray them? Is the connection between Winona Ryder and Millie Bobbie Brown as solid as it's become on the show? It turns out that the duo has created quite a unique bond as two actors, with Ryder regularly giving Brown advice on everything from how to deal with the pressures of the industry to advice for that awkward mid-growth stage when she was growing out her hair again after having it shaved for "Stranger Things." Keep scrolling to learn the truth about their relationship.
Winona Ryder made Millie Bobbie Brown feel more comfortable about her haircut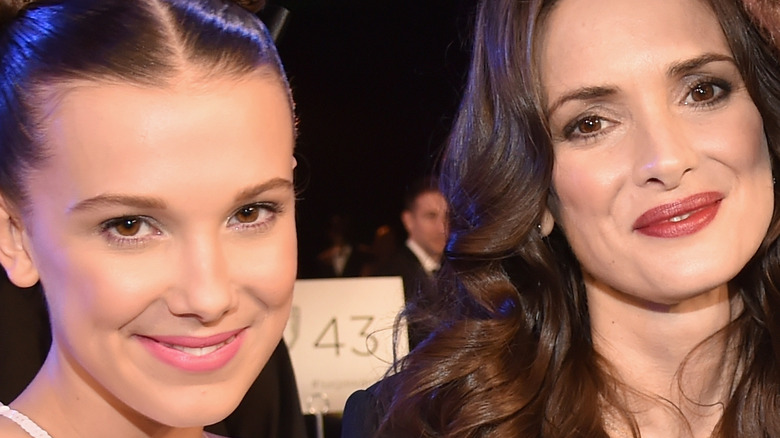 Kevin Mazur/Getty Images
Thanks to her role on the BBC series "Intruders," Millie Bobbie Brown wasn't much of a stranger to the film set. However, her role as Eleven on "Stranger Things" required her to shave her head, which was definitely new for the child star. At the time, Brown described the cut as "the most empowering moment of [her] whole life," per W magazine. It made her realize that her old self was gone, and her new objective was "to inspire other girls that your image or exterior part is not what ... is important."
And since Winona Ryder herself also shaved her head for "Girl, Interrupted" in 1999, she gave the young actor some advice to make the process less scary. "[She] cut her hair when she was younger so she always told me there's going to be a stage where it's going to have that really weird mid-length," Brown said on the red carpet for the 2020 Screen Actors Guild Awards, per Entertainment Weekly. At least Brown wasn't alone in the experience. 
Both actors have had similar experiences when it comes to crying on cue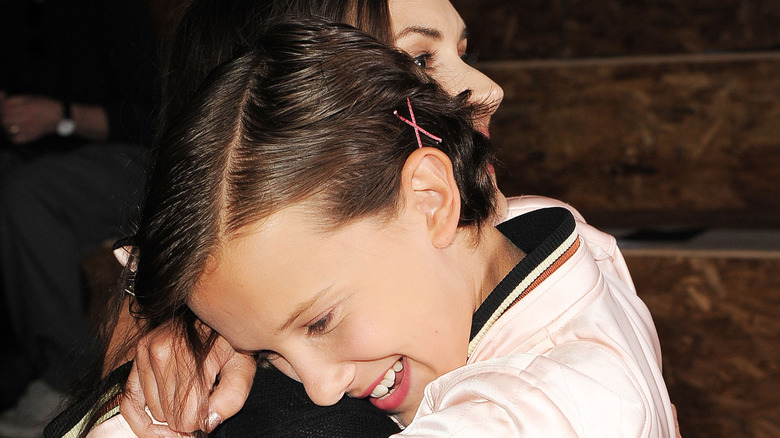 Chance Yeh/Getty Images
Despite being from completely different generations, Winona Ryder and Millie Bobbie Brown have bonded over shared experiences and similar advice they've been given when it comes to crying on cue. Ryder reminisced on "one of the best pieces of direction" she was ever given during an interview with AV Club, which originated from her time filming "Square Dance" with Jason Robards and Dan Petrie. Basically, she had to cry in a scene, and instead of the director giving advice on exactly how to do it, he told her not to cry. "And I was like [Cries.] immediately," Ryder explained. "So it's almost this weird thing of trying not to."
Brown recalled a similar experience on "Intruders," when the show's writer told her to picture her dog dying to stir up her emotions. She then complimented Ryder's ability to showcase raw emotion on "Stranger Things." She recalled, "When I used to go off set [on "Stranger Things"], and I would come back on, and I would see Winona filming, it was heartbreaking. Even my mom was like, 'I can't even watch it, it's horrible, really, isn't it?' Just the reality of things."
It seems like these two have quite a lot to bond over, and Brown is certainly learning from the best.