How Many Grandchildren Does Alan Alda Have?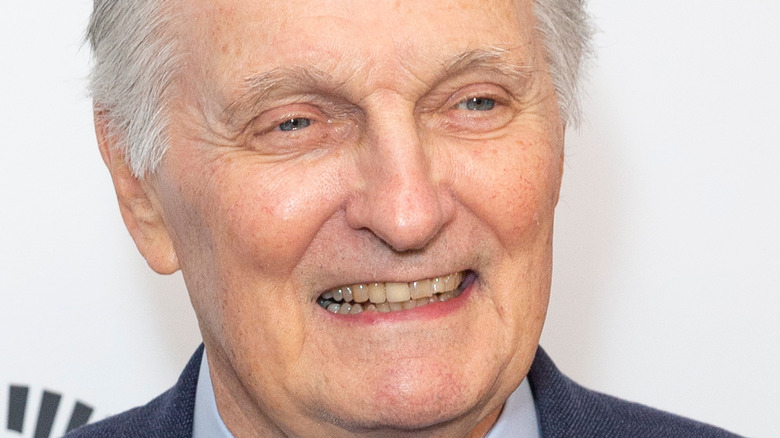 lev radin/Shutterstock
Alan Alda may forever be known as Hawkeye Pierce from "M*A*S*H*," but to his family, he's just a regular husband, dad, and grandfather. Born Alphonso Joseph D'Abruzzo, Alda has starred in some of television's most iconic shows, including "ER," "The West Wing," "30 Rock," and "Ray Donovan" (via IMDb). He's also had a variety of film roles in movies like "The Aviator," "Crimes and Misdemeanors," and "Marriage Story" as well.
In between his more than 60 acting credits, Alda also found the time to raise a family. The actor met his wife, Arlene Weiss, at a dinner party after a rum cake fell on the floor and they both started eating it. Describing themselves as "inseparable after that" on Twitter, Alda added that he "was captivated by her even earlier in the meal when I heard her at the end of the table laughing at my jokes. She had me at Ha." The two have been married since 1957, and have three daughters together — Eve, Elizabeth, and Beatrice (via Closer Weekly). 
The actor is absolutely loving life as a grandfather to his eight grandchildren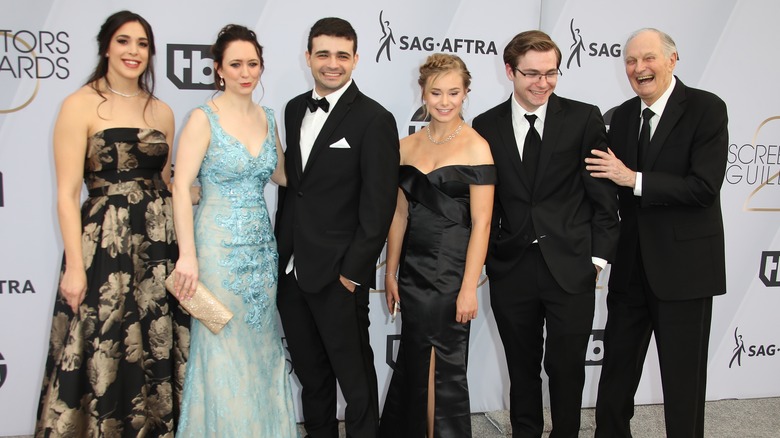 Dan Macmedan/Getty Images
Alan Alda's three daughters have since given him eight beautiful grandchildren. He absolutely adores the time he spends with his grandkids, telling Closer Weekly that laughter is of course the best medicine. "We like to laugh," he said during the seventh season of his podcast "Clear+Vivid." "Everybody is good at making everybody else laugh and [it's always] entertaining to hang out together."
Ever the typical grandad, he doesn't mind spoiling his grandkids every now and then either. "I don't think of it as spoiling. They know we love them," the actor explained. "I think you can't express too much how you care for someone, it doesn't spoil them."
Alda is also extremely proud of them for what they're achieving at such a young age. "One decided to be an actor and is doing well, another one is working for a PR firm and is doing very well," he explained. "They all met their own interests." As for the budding actor, who happens to be Scott Alda Coffey, Alda is more than happy to give him help and advice on the industry. "I will often talk about acting with him, sure," he said.
Alan Alda often gives advice to his grandsons about acting
Scott Alda Coffey shared some of this valuable Alan Alda advice with Backstage, describing how his grandpa would act as a director to the kids when they'd make films with him. "All these lessons and experiences, I take with me into every audition and every role I get," Scott explained. "I've been so lucky to grow up with such a brilliant teacher and role model."
The veteran actor is the same with his other grandson, Jake Alda Coffey. Jake actually gave a little insight into the advice he's received as well. He even shared an anecdote on TikTok, where Jake explained how Alda has always been there for his family. "Growing up, he was a family man. He'd always make sure me and my family were supported," he said, adding that as a kid they'd film movies with Alda for fun. "When I told him I was interested in pursuing screenwriting, he'd go out of his way to read each script and give me helpful, honest feedback on each one," Jake said.