The Truth About Amanda Knox's Husband, Christopher Robinson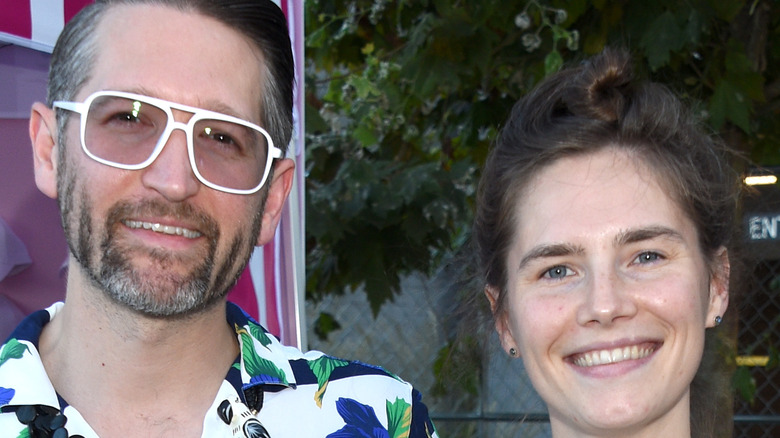 Gregg Deguire/Getty Images
We may receive a commission on purchases made from links.
In November 2007, British student Meredith Kercher was tragically murdered in her flat in Perugia, Italy. Per the BBC, American student Amanda Knox and her then-boyfriend Raffaele Sollecito were convicted of Kercher's murder in 2009. After four years behind bars, Knox and Sollecito had their convictions overturned and Italy's highest court later fully acquitted the pair in March 2015. 
Since then, Knox has attempted to move on from the tragic events in Perugia and went on to marry her husband, Christopher Robinson. But, what is the truth about Knox's husband?
As The Sun reported, Robinson is a poet and author, and was previously a finalist for the Ruth Lilly Fellowship, the Colorado Prize for Poetry, and the Yale Younger Poets Prize. In 2015, he and his best friend Gavin Kovite, a Baghdad veteran, released their debut novel, "War Of The Encyclopaedists," which tells the coming-of-age story of two friends whose lives go in different directions after graduating.
In 2018, Robinson and Kovite teamed up again to publish their second novel, "Deliver Us," which tells the story of a Black social media activist who fronts a campaign against Amazon and the company's new fleet of delivery drones that threaten to "magnify existing racial inequalities."
How did Amanda Knox and Christopher Robinson meet?
After being released from prison, Amanda Knox broke up with her ex-boyfriend, Raffaele Sollecito, and completed her undergraduate studies at the University of Washington, earning a degree in creative writing. As Distractify reported, Knox first met Christopher Robinson after writing an article for the West Seattle Herald in which she reviewed her future husband's book, "War of the Encyclopaedists." After eventually meeting in person, the pair reportedly hit it off very quickly and later moved in together in Seattle. 
In November 2018, Robinson asked Knox to marry him during a space-themed proposal, asking his now-wife, "Will you stay with me until the last star in the last galaxy burns out and even after that?" (via Youtube). 
Speaking publicly about her engagement to Robinson, Knox told People at the time, "I very much love Chris and feel like he is my partner ... He would be a wonderful dad and we talk about it all the time. So I look forward to that part of my life that I had always taken for granted growing up and then had to let go of in prison."
Amanda Knox and Christopher Robinson had an elaborate space-themed wedding
According to The Sun, Amanda Knox and Christopher Robinson eventually tied the knot in February 2020 during an elaborate space-themed wedding in Washington. During the ceremony, Knox opted for an intergalactic-style wedding look and the couple's guests arrived at the wedding wearing fancy dress costumes such as warriors, captains, and princesses.
On August 4, 2021, Knox and Robinson revealed they were expecting their first child together on the couple's Labyrinths podcast and also announced the launch of a new mini-series, telling listeners, "That's right, we're pregnant, and we've been recording audio of our own experience since day one. Stay tuned for our next mini-series, 280 days, where we take you on an intimate journey from conception to birth."
The happy news arrived just one month after Knox shared that she had suffered a miscarriage. Speaking of her heartbreaking experience, Knox said, "I did feel incredibly disappointed that was the story of my first-ever pregnancy ... I thought, like, I knew exactly what I want to do with my first pregnancy, and to have it not come to fruition not through choice felt like a betrayal." 
Per Distractify, Robinson also opened up about his wife's miscarriage and revealed that the loss made him "more determined" to have a baby with Knox.