Fans Are Ecstatic That This Star Is Returning To Grey's Anatomy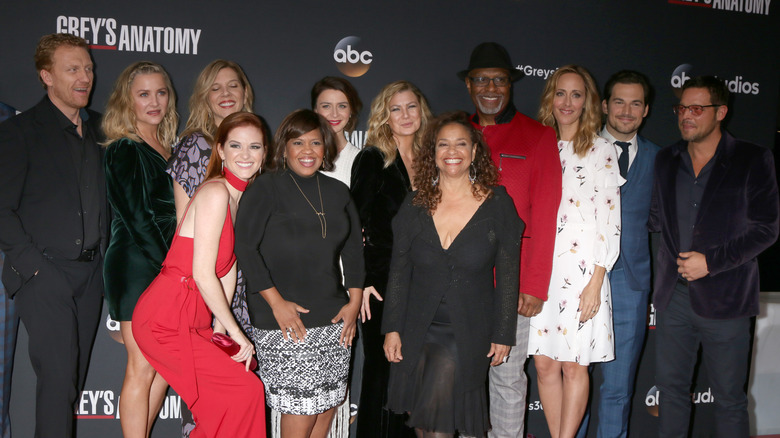 Kathy Hutchins/Shutterstock
Just weeks after we learned that Peter Gallagher would be joining the cast of "Grey's Anatomy" for its 18th season, there has been another exciting addition at Grey Sloan Memorial Hospital. Unlike Gallagher, who is set to play a new character, Dr. Alan Hamilton, this character will be familiar to fans of the long-running ABC drama. Meanwhile, you may also recognize her from a former spinoff of "Grey's," "Private Practice."
If you guessed that we are talking about Kate Walsh, then yes, rejoice, because you're right (via IMDb and People). Indeed, Dr. Addison Montgomery will once again be operating alongside her ex husband's widow, Dr. Meredith Grey, and the rest of the esteemed physicians at the fictional medical center.
Remember, we first met Addison in season 1 back in 2005. She has appeared on the show off and on for years, but not regularly since season 3. We last saw Walsh on "Grey's" in season 8 in 2012 (via Deadline). So yeah, it's been a minute!
Kate Walsh shared the exciting news of her return personally
Walsh previously said she'd love to reprise her "Grey's Anatomy" role, telling People, "If they could get it done, I'd be happy to come back." It seems her wish has officially come true, with the 53-year-old taking to Twitter to announce the news personally under the show's account. "I'm so excited to be home again," Walsh said in the video, adding she was looking forward to joining Shonda Rhimes, Ellen Pompeo, and the rest of the cast, and teasing fans, "Just wait until you see what she has in store for you."
Of course fans basically imploded with happiness, with one tweeting, "I'M ABOUT TO FAINTTT OMFG MY FAV FINALLY COMING BACK AHHHH THE ORIGINAL GIRLBOSS WE ARE SO SO READY WELCOME BACK ADDISON MONTGOMERY."
Others immediately started speculating about what Addison returning to "Grey's" could mean. One fan tweeted, "plot twist* Imagine if McDreamy is alive, and had a whole secret life with Addison and they both come back and drop that bombshell @shondarhimes has the powers to hurt us like that."
Meanwhile, it's worth noting that Kate Burton, who plays Mer's mom, Dr. Ellis Grey, is also set to return this season. What could it all mean? We'll have to wait to find out when the show hits our TVs on September 30, 2021 (via Good Housekeeping).