Here's What Cardi B Looks Like In Real Life Vs. Instagram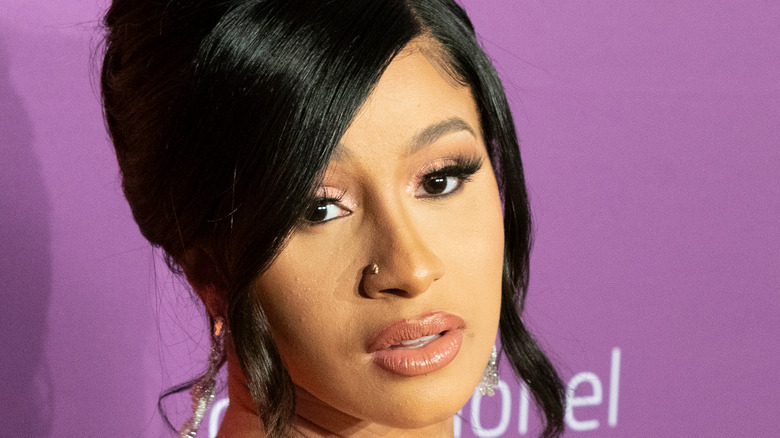 lev radin/Shutterstock
Cardi B shot to fame so quickly — and entrenched herself as America's brash sweetheart so confidently — that it's hard to remember a time when she wasn't beloved. 
The no-nonsense rapper initially came to attention as a cast member on "Love & Hip Hop: New York," but her onscreen antics and super popular Instagram account made it clear that Cardi's personality was too big to be contained by reality television (via The Guardian). Whether you came to know her from "Love & Hip Hop," social media, or her chart-topping music, there's nobody quite like Cardi. In fact, her universal appeal stems from how unapologetically herself she is.
When it comes to looking her best, the "Bodak Yellow" hit-maker has been refreshingly open about the many cosmetic procedures she's undergone over the years, including some dodgy black market butt injections back in the day (via Self). In conversation with Mariah Carey for Interview magazine, Cardi admitted to feeling "vindicated" now that she has access to the best hair and makeup people in the business and no longer has to worry about her insecurities. 
Like most celebs on Instagram, the rapper understandably only puts the most fabulous photos up for public consumption. But, underneath it all, Cardi is just as beautiful.
Card is just as stunning without makeup and filtering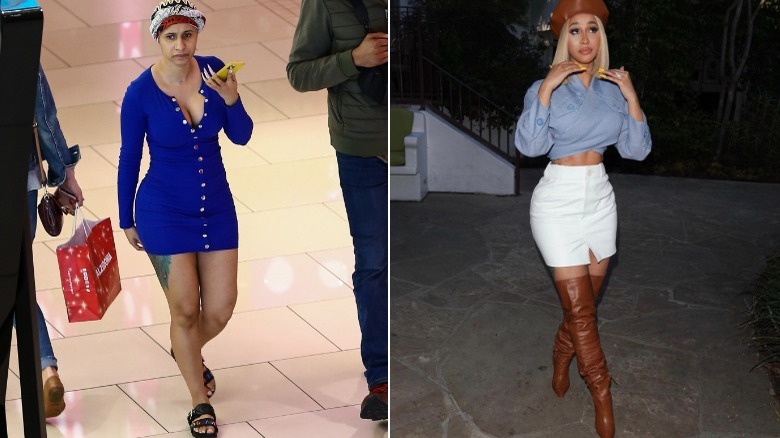 BACKGRID/Cardi B/Instagram
In 2019, Cardi B took to Instagram to share a glamorous selfie of her looking chic and suitably airbrushed (above right). However, a paparazzi shot taken around the same time (above left) captured the rapper makeup-free, wearing a hair bonnet and sandals, and looking slightly annoyed as she walks through a public space. 
It's unlikely that Cardi cares about being "caught out" in this way, though, since she subsequently shot back at critics of her clean face following accusations that she looked terrible without her glam on. As Yahoo! Life notes, Cardi stated, "Y'all take pictures or video of me with no makeup while I'm in motion and be like, 'Oh, look at Cardi, she looks weird without no makeup.' I feel comfortable in my skin ... I'm great ... I'm happy." She added, "You got so much hatred in your heart that when I do great y'all wanna put it down. You can't, I'ma stay on top with this face, with this natural face. Makeup or not, a bitch is doing good." 
Fans and celebrities alike rushed to shower Cardi with compliments about her makeup-free face, with Chloe Bailey commenting that she looked "beautiful" while Tamar Braxton noted simply "all the facts." It's easy to get lost on Instagram, scrolling through all the perfect images, but it's worth remembering that very little of what we see on there is actually real. Luckily, Cardi proved that being comfortable in your own skin is what's truly important.