What Does Cardi B Ft. Megan Thee Stallion's WAP Mean?
Theo Wargo/Getty Images
When Cardi B and Megan Thee Stallion dropped "WAP," the internet went absolutely wild. From the steamy music video with cameos from the one and only Kylie Jenner, and much-loved singers Normani and Rosalia, to the slightly explicit lyrics, people just could not stop talking about it. 
But the first question on everyone's lips was, "what does 'WAP' actually mean?" As Cardi B said herself during an interview on Hot97 (via Hot96.6), the NSFW "WAP" stands for "Wet A** P****y." She went on to say, "The song is really nasty," the "Bodak Yellow" singer admitted, adding, "The song always been nasty." Speaking about why she decided to ask Megan Thee Stallion to collaborate, she went on to explain, "My verses and the hook has been the same since before Megan was there. So it just always been a nasty song and it's like, 'Who's saying more nastier things than Megan?'"
And while the song may be, "nasty" as classified by Cardi, it's also empowering. An anthem celebrating women who aren't ashamed of being explicit in their sexuality, something men in the industry do regularly without any judgment.
Cardi B understands why people may not want their children to listen to her song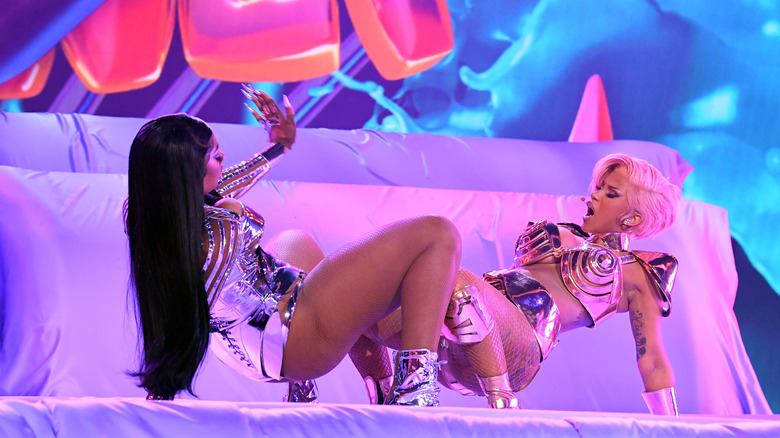 Kevin Winter/Getty Images
While some people are obsessed with "WAP," it's not surprising that there are just as many who think it's not appropriate for television or radio play. But, unsurprisingly, power woman Cardi B had something to say about that. "The people that the song bothers are usually, like, conservatives or really religious, big religious people," she told Australian radio presenters Kyle and Jackie O (via People). "But my thing is that... I grew up listening to this type of music, so other people might [think it's] strange and vulgar but to me it's like, really normal." She also explained that if their worried about children hearing the song, she actually completely agrees — after all, she's a mother too. "It's like no, of course I don't want my child to listen to this song and everything, but it's like... it's for adults!," she admitted.
That being said, she's neither ashamed or intimidated by the naysayers and proudly defends the hit. Telling Elle, "My music is always going to make a woman feel like a bad b****. When you make a woman feel like she's the baddest b**** in the room, to me, that's female empowerment."