How Upcycling Can Change Your Pantry Space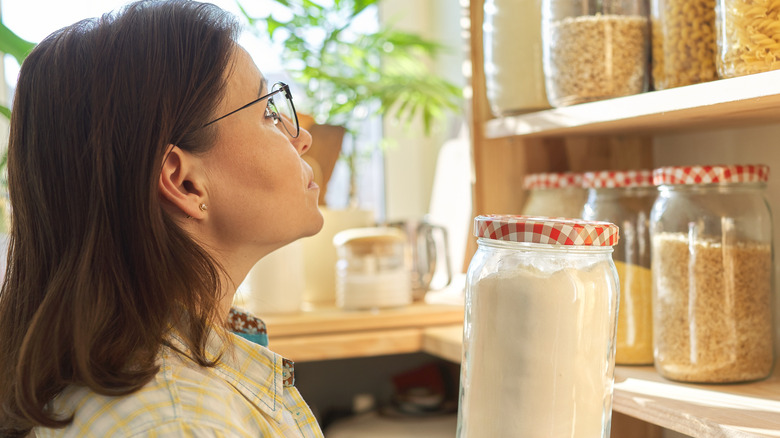 VH-studio/Shutterstock
If you're going to put extra effort into one space in your house, let it be your pantry. Every member of the family utilizes this space, and the pantry can serve a number of purposes, both practical and educational. In fact, many households organize their pantries in kid-friendly ways to help foster growth among their children, which can allow them to make healthy food habits from an early age. Outside of considering your family structure when working on your pantry, you should also consider the types of shelves you might want to use, as well as common mistakes that others run into.
No matter your approach when renovating your pantry, you should consider upcycling some materials around your house for pantry use. Upcycling is similar to recycling, except you're using something in a new way rather than putting it in the recycling bin (via Habitat for Humanity). Furthermore, upcycling means that you're creating less waste because you're giving various things around your house that are no longer in use new life. This practice is not only environmentally friendly, but also economically responsible, as it means you don't have to purchase as many — or any, if circumstances permit — new storage containers.
Committing to upcycling will change your whole house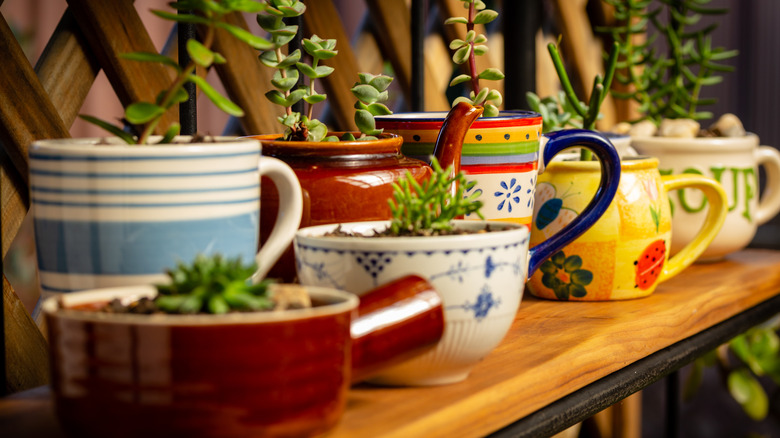 HollyHarry/Shutterstock
Upcycling in the kitchen means paying extra attention to your surroundings. Understanding what's around you, what's being used, and what can be elevated to a new life is a learned skill, but it can be gained rather easily. According to HGTV, once you've scouted what's no longer in use in your home, you can use a lot of these things as organization tools in your pantry. Take a magazine holder, for example. HGTV recommended turning these into produce holders. They're perfect for onions, potatoes, garlic, lemons, and more!
The possibilities of what you can upcycle are endless. According to Food52, jars from store-bought foods like sauces are perfect to use as drinking glasses or as storage containers in their own right. You can put utensils in them, or perhaps you have spices you want to store in a large glass container. At the same time, they recommended turning any loose wine crates into rolling storage bins. These can sit at the bottom of your pantry and hold quite a lot.
Ultimately, the key to upcycling is truly thinking outside of the box. This is what spawns ideas like FrugElegance's upcycling of liquid coffee creamer bottles. These plastic bottles typically get tossed in the trash, but they've found that they make excellent dispensers once cleaned and rid of their wrappers. They've used them for candies, nuts, and more, and they function brilliantly.
All of these ideas can help keep your pantry uncluttered while also alleviating the rest of your home of unneeded objects. It's a win-win, and you'll thank us later!