Why Did Brielle Biermann Just Have Major Surgery?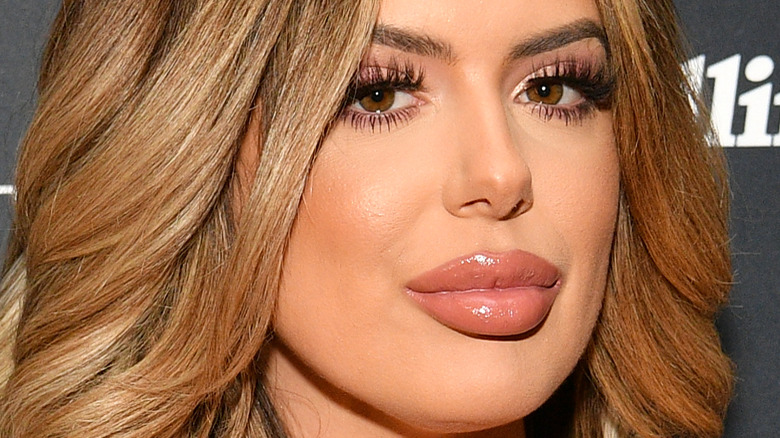 Dia Dipasupil/Getty Images
We are used to seeing reality star Brielle Biermann pepper her Instagram with beach photos and glam shots. But the daughter of former "Real Housewives of Atlanta" star Kim Zolciak-Biermann has shared a more serious update with her fans, opening up about a recent surgery that looks pretty major (via TMZ).
Taking to her Instagram Monday, the 24-year-old posted a series of raw hospital photos and videos of herself post-jaw surgery. Although the social media influencer has 'fessed up to getting plastic surgery on her lips, this operation was far from focused on changing up her look (via In Touch Weekly). "sooooo... i had double jaw surgery on august 23 to correct my tmj & 9 mm overjet overbite," Biermann captioned the images, adding, "this was NOT for aesthetics but for quality of life."
Biermann, who shared a video of her very-swollen face, and later updated fans on her progress at home, although her jaw was extremely black and blue, went on to share, "I sucked my thumb til i was 9 ishhh which made the roof of my mouth suuuuuper narrow and my excessive overbite cause my teeth to have no contact whatsoever."
As it turns out, this condition impacted her life more than fans may have known.
Brielle Biermann got even more real about why she got jaw surgery
Biermann went into great detail in her Instagram post about how her narrow mouth and overbite prevented her from doing things other people her age take for granted, with the star asking, "have you ever thought about what it's like to not be able to bite into pizza? or omg trying to bite into an onion on a burger? impossible for me. i had to use my tongue to help me chew and almost choked every time i ate."
The twentysomething went on to admit she was "so scared" about getting the surgery, adding, "thankfully with my positive mindset, strong family & friends support system," as well as her doctors, she "got thru the first two weeks, which are supposed to be the hardest."
Biermann said she "already feel more aligned and can breathe way better, especially at night." She admitted, "eating thru a syringe has really sucked," but that she is "counting down the days" until she can eat pizza in three months.
Star friends from Patti Stanger to "The Bachelor" alum Hannah Ann Sluss supported the reality star in the comments section of her post. Meanwhile, this has been quite a year for Biermann, as the star was also diagnosed with Covid-19 in January.