How A Pegboard Can Upgrade Your Pantry Space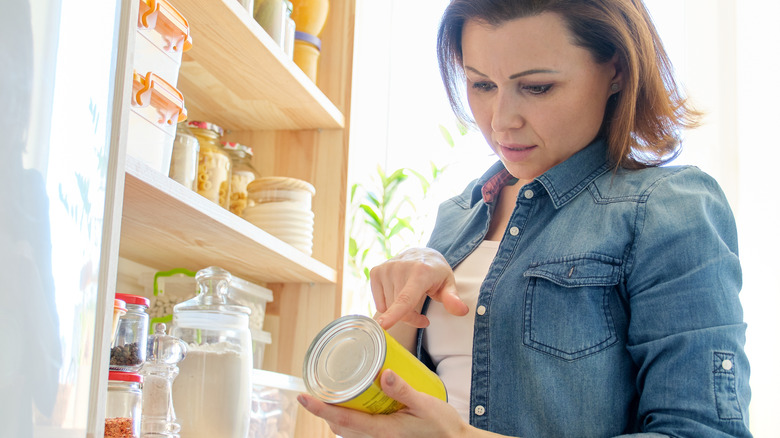 VH-studio/Shutterstock
Upgrading or renovating your pantry may not be the number one item on your to-do list, but it might be beneficial to do it sooner rather than later. The pantry is the cornerstone of the kitchen housing ingredients, kitchen wares, and more. Your pantry staples can even help your hair and skin, among other extra usages.
Because the pantry is so important, you're going to want to put effort into it. You can add a number of different shelves, but as long as you're avoiding the biggest pantry mistake, anything you do to your pantry in terms of renovation and organization will be an upgrade. An underrated approach to pantry renovation is the addition of a pegboard in your pantry space.
According to the Family Handyman, pegboards are traditionally employed in garages, craft rooms, and other spaces that require easy access to a lot of tools at any given time. In fact, the outlet notes that "every hand tool in the hardware store is hanging on [a] pegboard. Every bag of bolts, roll of duct tape and tin of Tic Tacs at the checkout counter — pegboarded. Even the pegboard hooks hang on pegboard hooks." This is because pegboards can hold a ton of items at the same time, and while they may not often be used in kitchens, this doesn't mean we shouldn't start using them there.
Pegboards may be able to greatly expand your kitchen storage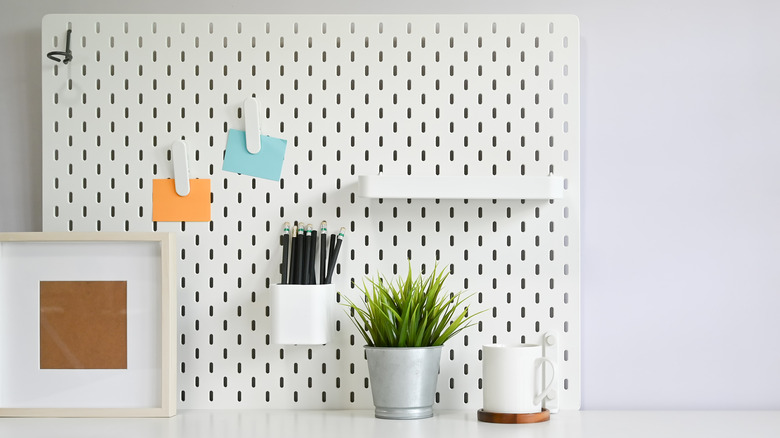 Mr.Whiskey/Shutterstock
Using pegboards in your pantry and kitchen is smart because they're excellent space savers. You can put one on the inside of your pantry door or on any free wall and instantly be able to put many, many of your pantry/kitchen items on it. Moreover, according to HGTV, they're great for storing your mops, brooms, dustpans, and other cleaning wares if you store yours in the kitchen. At the same time, they can hold pot holders, oven mitts, and other hangable items if need be.
Pegboards can also be used for smaller items that need to be kept within arm's reach. For example, you can use a pegboard to hold your cooking utensils to always have spatulas, whisks, and other cooking musts close by (via Delish). You could even create a really cute accent pegboard to house your coffee mugs. This would allow your mugs to hang freely and all be seen rather than being stashed away in a cabinet.
Finally, if you really want to go to the next level and use your pegboard as extra pantry space, you can hang baskets and other storage containers on it, creating more space for foods like fresh fruit and nonperishables to all be visible and easily accessible (via The Kitchn). The Kitchn even cleverly recommends mounting fashionable file holders on the pegboard to hold things like cutting boards and boxes of pasta. The options are truly endless!