Of All Of Chrissy Teigen's Blunders - This Stands Above The Rest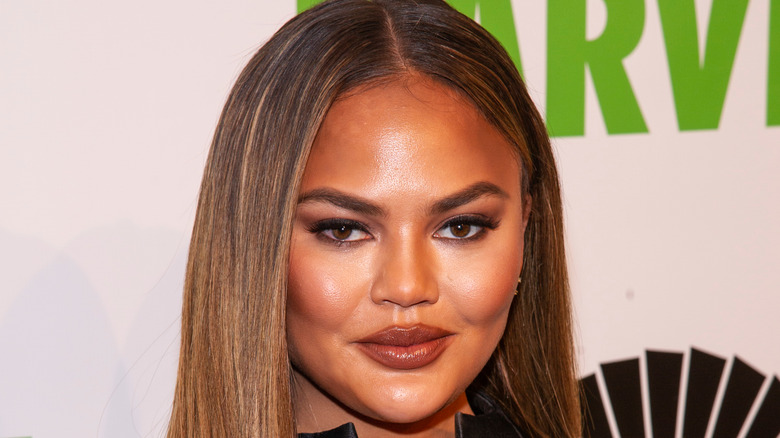 lev radin/Shutterstock
Chrissy Teigen has a lot of titles under her belt: cookbook author, Sports Illustrated swimsuit model, mother, queen of clapbacks, actress, producer, and host — just to name a few. And while the "Cravings" creator has been making headlines ever since she burst onto the modeling scene back in 2010, fans across the globe really started taking notice of Teigen's every move after she struck up a relationship with singer-songwriter John Legend, who she wed in a gorgeous Italian ceremony in 2013.
"We actually really love and respect and admire each other," Legend told Today in 2018 of why their marriage works so well (via Us Weekly). "I think that's the foundation of who we are as a couple and we actually enjoy each other's company ... [She] makes me laugh all the time ... She's so good. She's so attentive, she's so loving and she also has a great sense of humor about it all."
It's hard to argue with the fact that Teigen does in fact have a stellar sense of humor, and even though she's one of the most beautiful A-listers in all of Tinseltown, the former Sports Illustrated swimsuit model isn't afraid to poke fun at herself and some of her headline-making debacles, like the one blunder that solidified her status as a meme queen and will live on in pop culture history for years to come.
This is Chrissy Teigen's most famous blunder of all time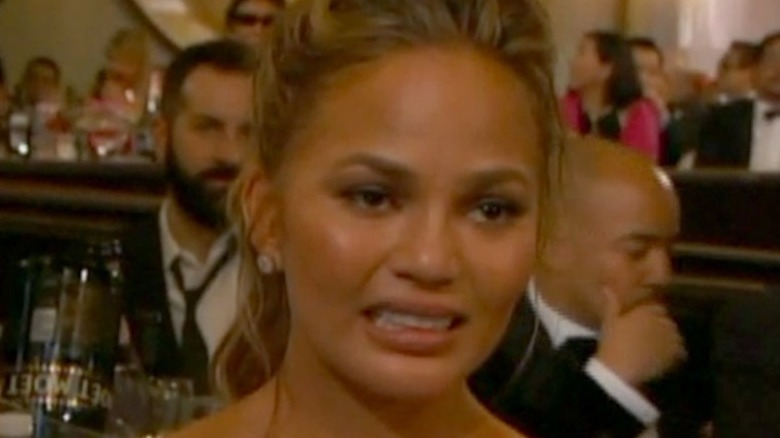 NBC
After John Legend took home the Golden Globe for Best Original Song for "Glory" from the movie "Selma" in 2015, all eyes were on Chrissy Teigen as she watched her hubby accept the coveted award. Unfortunately for Teigen, the camera panned over to her while she was making her now-iconic cringe/cry face, which is undoubtedly one of the most popular memes of all time. Within a few minutes, Teigen became a trending topic on Twitter, and the "Lip Sync Battle" host took to her own Twitter account to address her confusing facial expression, writing in a since-deleted tweet, "Sorry I don't practice my cry face okay," adding, "It's been 5 minutes and I'm a meme" (via Entertainment Tonight).
During an appearance on "The Tonight Show With Jimmy Fallon" in 2018, Teigen elaborated a bit more on her reaction to Legend's win, telling the late night talk show host, "That was me trying not to react at all. Because you know how it works at these things. The camera's, like, two feet in front of you, and the red light goes on, and as soon as that light goes on, I'm like, 'Be normal!' I can't help it. I swear, leading up to that red light, I'm okay. Like, I'm really good, and then, I don't know" (via Bustle).
Chrissy Teigen has become famous for her award show faces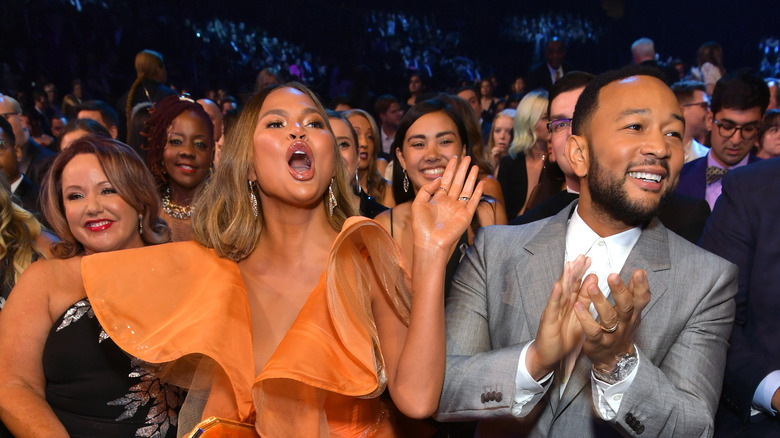 Emma Mcintyre/Getty Images
It shouldn't come as much of a surprise that ever since her 2015 Golden Globes blunder, music and entertainment fans are always on the lookout for Teigen's next meme-worthy face. In 2017, the "Chrissy's Court" star was caught taking a snooze on husband John Legend's shoulder, and while speaking with Jimmy Fallon on "The Tonight Show," Teigen explained exactly what had happened leading up to that moment, blaming alcohol on her mid-show cat nap.
"Red wine..." she revealed to "SNL" alum-turned-late-night-host (via Entertainment Tonight), adding, "That was early on in the show, too, so by the time they got to the whole 'La La Land' snafu, I was like, 'Oh, he won!' and I woke up a little bit, and then he lost, and I was like, 'This is the funniest thing I've ever seen happen in my entire life. I'm so glad I woke up for that.'"