The Best Podcasts For A Long Drive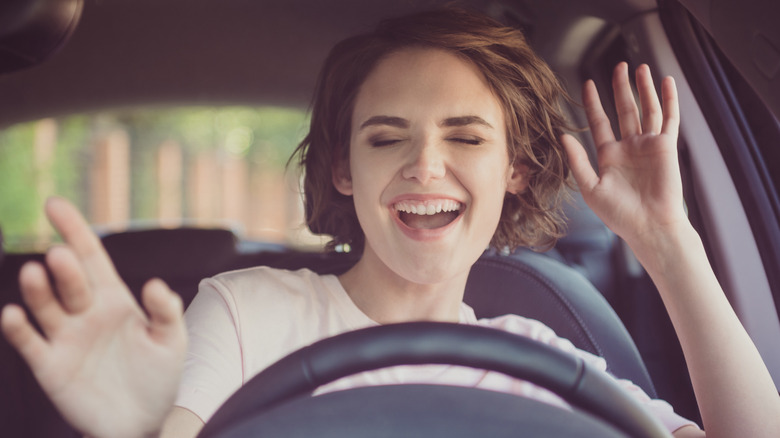 Roman Samborskyi/Shutterstock
The introduction of mass streaming has led us to easy access to millions of films, television series, music albums, songs, and more, and included in this sweeping reach is access to endless podcasts. The podcast art form has taken over the world. They help pass time, and they cover any and all topics, meaning there's quite literally a podcast for everyone. There are podcasts that help you with self-love, and some podcasts directly help new moms. There are even podcasts that tell true crime stories, which enrapture audiences like no other.
Today, though, we're here to talk about podcasts that are perfect for a long drive. Because podcasts cover so much territory, there's not only one for everyone but also any genre you could want when driving (or simply riding along). There are comedy podcasts, storytelling podcasts, murder mystery podcasts, talk show podcasts, and so much more, and the true beauty is that you can switch up what you're listening to if you get bored, meaning you should be able to always stay alert while driving.
Comedy isn't the only route to go when listening to podcasts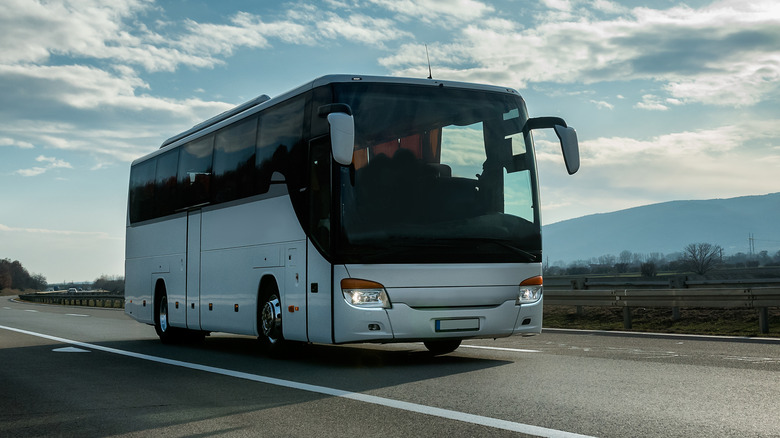 WR7/Shutterstock
When it comes to finding the best podcasts to listen to on a road trip, there's no better person to trust than The Road Trip Expert, right? The Road Trip Expert recommends listening to a variety of genres to keep your road trip interesting. For example, they recommend tuning in to "Culture Kings," a comedic podcast that covers everything pop culture. For comedy, they also recommend "If I Were You," a podcast whose hosts offer funny, unqualified advice to weekly submitters.
If you need a break from comedy, you can also try something factual. According to The Manual, the historical podcast "The Memory Palace" takes listeners through ancient civilizations like the Aztec Empire all while keeping the narration fresh and entertaining. It's part history and part entertainment, and it sounds like a great time. The Manual also recommends "My Brother, My Brother and Me," a podcast that offers "childlike euphoria." This podcast is hosted by three brothers who "cull questions from the existential dumpster fire that is Yahoo Answers, mix in some listener questions submitted via email, and spend the next 50 or so minutes turning it all into a sweet brew of totally unactionable advice."
Where "My Brother, My Brother and Me" leans back into comedy, "The NoSleep Podcast" is a horror podcast that tells scary stories in a way that makes them gripping and exciting, not just scary. This option would be especially good to listen to as a family, as each member will definitely have their own reactions to it.
One particular woman is causing a lot of podcasts to surface at the moment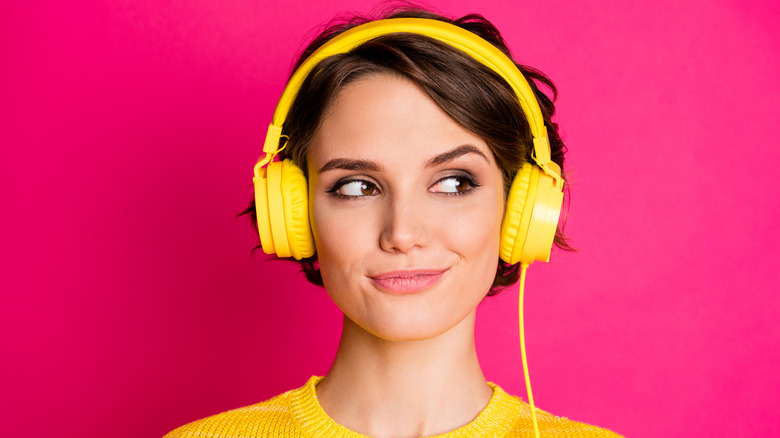 Roman Samborskyi/Shutterstock
Podcasts that cover current events and their origins are some of the best podcasts today, and the story of Elizabeth Holmes is currently making very craveable podcasts that are sure to keep you entertained on your next road trip. According to Paste Magazine, "The Dropout" is the premier podcast on Holmes and her failed company Theranos, and the story is told in a way that's just as intriguing as Holmes' story is.
Paste Magazine also recommends "Something Was Wrong," a podcast that details people's stories of how they didn't actually know the people in their life like they thought they did. And then there's "No Compromise," the illuminating podcast that depicts how America ended up with the gun culture it has today.
If you're into trivia, you'll want to turn on "The Atlas Obscura Podcast," which, according to Afar, spends roughly 10-minute episodes discussing fun facts about the world. For example, a toilet belonging to Hitler apparently resides in New Jersey today. Who would have known? Afar also recommends "TED Radio Hour." This podcast is hosted by Manoush Zomorodi, who goes through ideas that have been discussed by various TED Talk speakers. His topics vary greatly, and he narrates the podcast with grace and wit.
Of course, these are only a few of the many, many podcasts out there, but we hope these get the ball rolling for you!