Senator Amy Klobuchar Opens Up About Her Cancer Diagnosis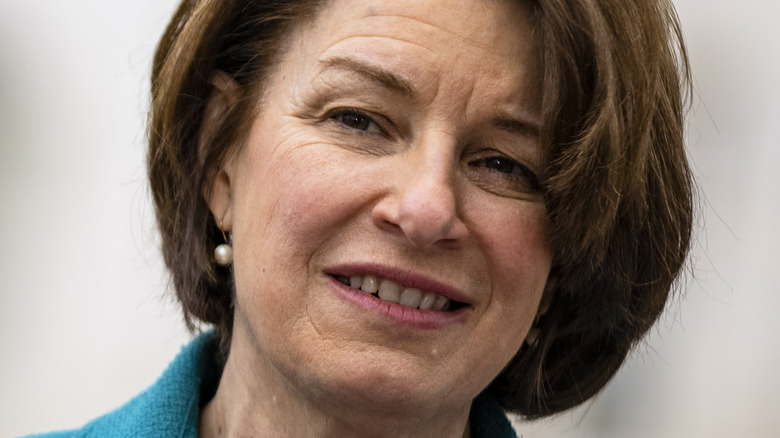 Bloomberg/Getty Images
For Minnesota Sen. Amy Klobuchar, the first eight months of 2021 have been nothing if not busy. Days into January, rioters supporting then-President Donald Trump breached the U.S. Capitol, forcing her and her colleagues to go into hiding for their safety. As chair of the Rules committee, she was part of a bipartisan Senate group that covered the security gaps that led to the insurrection (via PBS). She was also on the Senate floor to take an active part in Trump's second impeachment hearing (via The New York Times). But in September 2021, she revealed that for most of the year, she was also dealing with her own breast cancer.
In a statement released through Medium, Klobuchar charts her health scare, which began when doctors at Mayo Clinic found abnormalities during a routine mammogram. A subsequent biopsy revealed that she had Stage 1A breast cancer, which first needed to be removed before she was subjected to radiation treatment. In August 2021, she was told that the treatment had gone well.
Amy Klobuchar reminded the public to get health checkups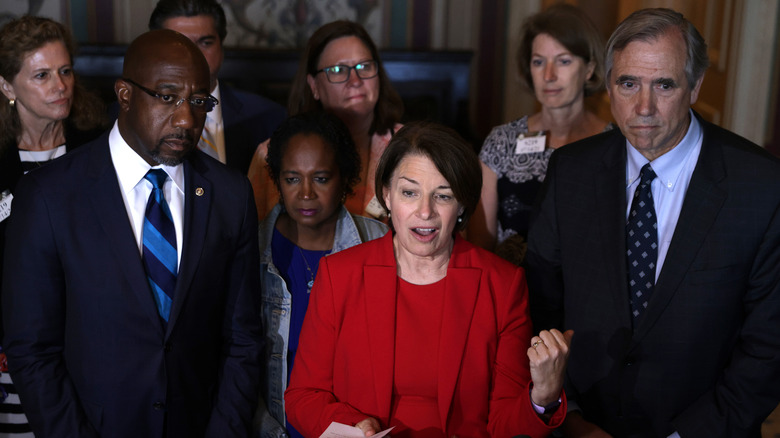 Alex Wong/Getty Images
Sen. Amy Klobuchar didn't make the revelations surrounding her health to gain any public sympathy, but to call on everyone not to skip physicals and examinations, even with a pandemic in full swing. "... many people have been delaying physicals and routine examinations because of the pandemic," she wrote on Medium. "I know that because I delayed mine. In fact, more than one in three adults reported delaying or forgoing health care because of coronavirus-related concerns ... Over and over, doctors are seeing patients who are being treated for more serious conditions that could have been caught earlier."
She added that she hoped her own experience would serve as a "reminder for everyone of the value of routine health checkups, exams, and follow-through." She recognized that she was also fortunate to catch the cancer early, so while she won't need to go through chemotherapy "or other extensive treatments," she understands that many other people aren't as fortunate. 
The internet was there for Sen. Amy Klobuchar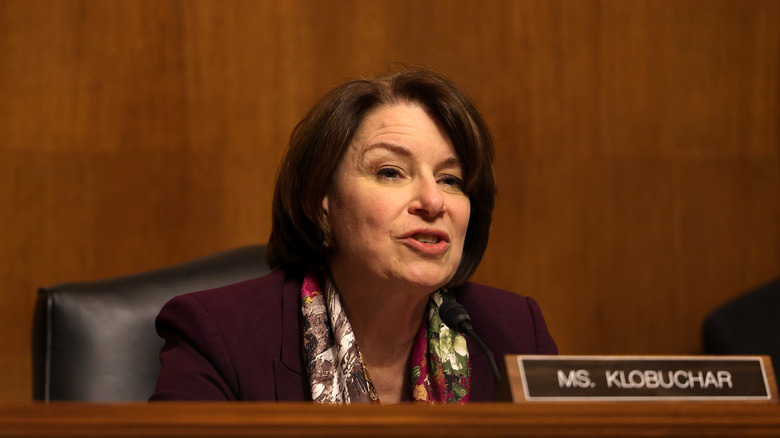 Anna Moneymaker/Getty Images
Sen. Amy Klobuchar's revelation, which was also shared on Twitter, inspired her fans and followers to send their well wishes, and others to tell their own stories too. "Thank you for sharing. My wife and I have such respect for you. When you came to Decorah and to Cresco you were so gracious to folks. They and we will never forget that experience. We pray for your continued health," one supporter tweeted.
"Thanks for the reminder. Things are so dire right now it seems I'm constantly putting off my mammogram waiting for things to get better. I'm making my appointment today," another Twitter user wrote. "I'm happy you are cancer free now, Senator. A friend also delayed her mammogram and is now fighting an aggressive stage 3 breast cancer. Please everyone, get your annual tests, be it cervical, colon, breast, testicular, whatever. Please," a third tweeted.