Why The Internet Is Taking Sides After Jennifer Aniston's Unusual Interview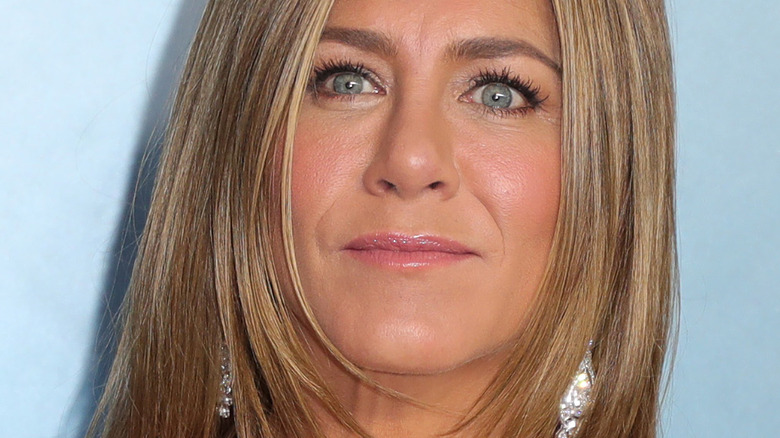 Leon Bennett/Getty Images
Most of the time, Jennifer Aniston can do no wrong. She may suffer an occasional misstep — anyone remember her controversial pandemic holiday ornament? — but for the most part, the "Friends" actress is one of the most beloved stars in American pop culture today.
That's why a new interview with Aniston and her "The Morning Show" co-star and friend, Reese Witherspoon has the internet talking. Many viewers are calling out an "awkward" moment between the "Marley and Me" star and the co-host of the British TV program "The One Show," Jermaine Jenas (via Fox News).
You can watch the remote interview yourself on Twitter, but in summary, after Aniston answers a question about shadowing a real morning show, Jenas declares, "Reese, I've got to be honest with you, Jennifer's pretty much sold it to me that she's not a morning person."
Aniston is taken aback, and squeaks, "Did I sell that to you?'" Jenas then breezily notes, "A little bit, a little bit." Luckily, the interview moves on — with the help of Witherspoon — after Aniston attempts to recover the moment by quipping, "Did I get a good deal?" (via Page Six).
Not everyone supported Jennifer Aniston after the viral interview
After the brief exchange went viral, not surprisingly, Twitter started weighing in on whether Aniston may have handled the live moment poorly, or if the host was in the wrong with his comments.
"Jermaine Jenas always trying to upstage #women," opined one viewer, with another tweeting, "She was obviously joking with him. Maybe he was the one being awkward and rude by cutting her off."
But other Twitter users sided with the host, with one person tweeting, "Jennifer Aniston is beautiful and has terrific comedic timing, but sheesh does anyone else think she's just a BIT precious?" Another viewer seconded that notion, citing the star's "attitude" toward the host.
Someone else simply tweeted, "I just watched the Jennifer Aniston interview after seeing that there was some supposed awkwardness... it wasn't at all awkward. No more than a normal video interview with delays, etc. More non-news."