The Truth About Jonah Hill's Relationship With Sarah Brady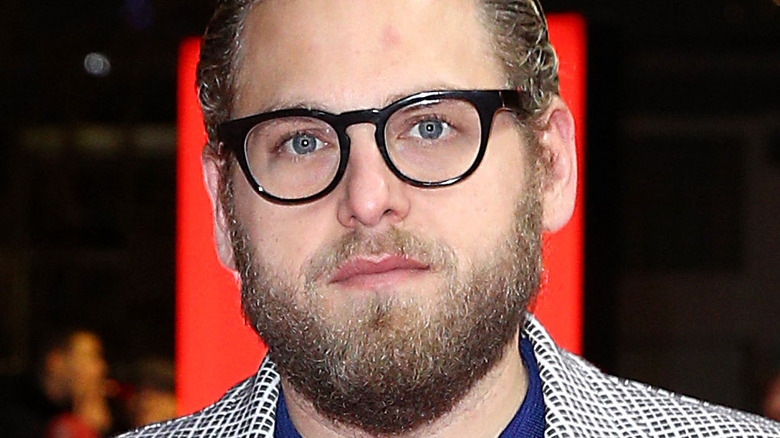 Brian Dowling/Getty Images
Anyone else catch the trailer for "Don't Look Up," which features a jaw-dropping repertoire of impressive A-Listers? The newly released trailer teased the impressive cast, which consists of Leonardo DiCaprio, Meryl Streep, Jennifer Lawrence, Ariana Grande, Cate Blanchett, and Jonah Hill, to name a few (via Elle). While fans are excited to see the film, cast members seem just as excited and are taking to social media to show it. 
On September 8, 2021, Jonah Hill shared a screenshot of the upcoming film on Instagram, which included himself, DiCaprio, Streep, and Lawrence walking indignantly down a hallway. The caption read, "Don't Look Up. Wait 'til you meet this a******," which is a pretty on-brand caption for the funny-man Hill. In another Instagram post with a screenshot of Hill's character, he wrote that while he doesn't want to give too much away, this character is "the grossest blast I've ever had."
But that's not the only Instagram post of Hill's that fans have been recently chatting about. Indeed, it would appear that Hill isn't only celebrating a brand new film, but a brand new relationship as well.
Jonah Hill's relationship is now Instagram official
In the past, Jonah Hill hasn't spoken much about his private life or relationships. He was previously engaged to Gianna Santos, a content manager at the beauty company Violet Grey, before they called it quits. Hill has also been linked to Erin Galpern, Jordan Klein, and Dustin Hoffman's daughter, Ali (via Us Magazine). But very few of his previous relationships ever made it onto his social media accounts — which is exactly why it's so exciting that he has taken to Instagram to share his current status.
Hill decided to make his relationship "Instagram official" on September 9, 2021, with a photo of himself and his girlfriend, Sarah Brady, smiling from ear to ear. The caption on the Instagram post read, "grateful for you @sarahhbrady" along with a series of heart emojis. While this is Hill's first time posting a photo like this, his girlfriend has posted a few couple shots of her own before. 
The first ever Instagram photo of the two together appears to have been posted on August 9, with Brady and Hill cuddling up on the beach. Throughout August and into September, a few more photos of the two have popped up on Brady's Instagram. One of the photos even had the sweetest caption, "Had a beautiful weekend with my person. Grateful for each and every day with you @jonahhill" (via Instagram).
Sarah Brady is an avid surfer
We don't know much about Sarah Brady other than the fact that she's a surfing instructor, which could be how she and Jonah Hill met. On Hill's Instagram, he often shares his greatest interests — one of which appears to be surfing. While the actor has spoken previously about his struggles with his body image, surfing seems to have led to a major boost in confidence for the actor and helped him accept and love his body. 
He wrote on Instagram, "I don't think I ever took my shirt off in a pool until I was in my mid 30s even in front of family and friends. Probably would have happened sooner if my childhood insecurities weren't exacerbated by years of public mockery about my body by press and interviewers," per Buzzfeed.
Regardless of how they met, it'll be cute to see where things lead for this new couple!