Candace Cameron Bure Makes Candid Confession About Why She Really Exercises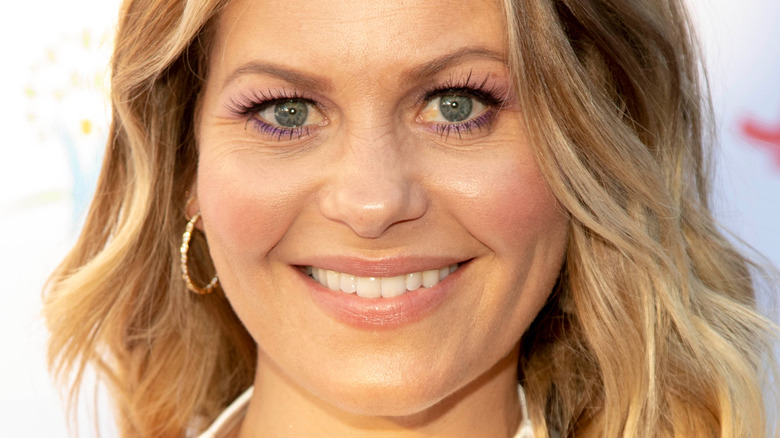 Eugene Powers/Shutterstock
Candace Cameron Bure has talked openly about her fitness routine for years, saying in March that she works with a trainer who "has really helped me sculpt my body" (via Cheat Sheet). The "Fuller House" star added that she enjoys non-traditional activities as well, like hula hooping, noting, "There's all kinds of little fun ways you can incorporate exercise."
In addition to fun and maintaining her fitness, fans might be surprised to learn there is another important reason the actress is devoted to exercise. As Cameron Bure said during a recent interview, working out benefits not just her body, but her mind as well.
"Really another big part why fitness is important for me is it's so beneficial to my mental health," she explained to The Salvation Army Midland Division (via ET Online). The former child star and mom of three noted that the many different hats she has to wear in life can feel overwhelming, adding, "It can get really difficult."
Candace Cameron Bure has talked about her mental health before
Talking about her fitness routine, Cameron Bure explained, "I need to keep my mental health clear. Just sweating that out and all those endorphins really help me a lot" (via ET Online).
The actress elaborated, "I notice a huge difference when I don't exercise, how much it can affect me mentally and kind of deal with depression. That's why I keep going. There are a lot of benefits I get. My mind is most important, and exercise definitely helps that."
This is not the first time that the "Full House" star has talked openly about her mental health, having written about her previous struggles in her book, "Balancing It All" (via Medical Daily). As she has admitted, once her stint on the sitcom that made her famous ended, Cameron Bure had a difficult time figuring out who she was, and ultimately turned to bulimia to cope (via Self).
"​​My eating disorder was not a result of body image issues by any means," she said in 2016. "For me, it all stemmed from emotional issues."
If you are struggling with an eating disorder, or know someone who is, help is available. Visit the National Eating Disorders Association website or contact NEDA's Live Helpline at 1-800-931-2237. You can also receive 24/7 Crisis Support via text (send NEDA to 741-741).