What He's All That Star Isabella Crovetti Loves To Do When She's Not Acting - Exclusive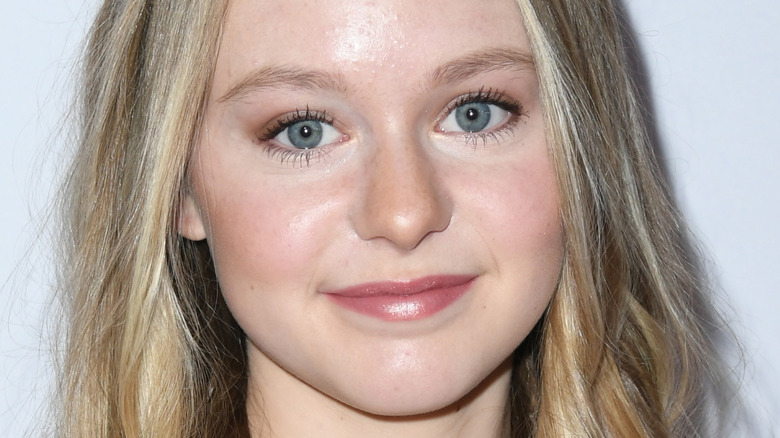 Jon Kopaloff/Getty Images
If you're a fan of the hit Netflix film "He's All That," based on the 1990s fan favorite "She's All That," you might be wanting to know a bit more about the remake's cast. For instance, leading star Addison Rae hit the (streaming) screen as Padgett Sawyer, an influencer turned makeover guru. Of course, most know Rae as the viral TikTok star who has taken the app by storm. Moreover, fans might want to know more about Tanner Buchanan, who brought Cameron Kweller to life on-screen — the actor has been in projects including "Cobra Kai" and "Designated Survivor," just to name a couple. And so many fans have wanted to know more about young breakout star Isabella Crovetti, who portrays Brin Kweller in the movie (via Netflix). Who is the preppy 16-year-old star? What does she love to do when she's not starring in hit Netflix, Disney, or Nick Jr. shows?
Luckily for fans everywhere, The List got the chance to sit down with Crovetti shortly after "He's All That" made it to the streaming platform. Ecstatic that the film she starred in made it to No. 1 on Netflix's top content, Crovetti brought a youthful energy and enthusiasm to the sit-down — the same passion that she undoubtedly brought to "He's All That." After chatting about all things film to her work as a voice actress and her takeaways from the movie, Crovetti was eager to share what she's passionate about. As such, she revealed what she loves to do when she's not acting — and before you read on, we just have to note that some K-pop fans out there will be thrilled to know that Crovetti is among their tribe. Here's everything that the young star shared with The List.
Isabella Crovetti's favorite hobbies include music and performing
Given that Isabella Crovetti has lent her skills to a number of different projects — full-length films, television shows, and voice acting — it's no surprise that her passions outside of acting run the gamut. In her exclusive interview with The List, Crovetti shared that as far as hobbies go, she loves singing and playing the guitar (she plays electric, which just makes her that much cooler) — and she's even taken to social media to share her passions. A big history fan, Crovetti said that it's her favorite subject in school, although she hates "memorizing dates for the test" (she's not alone in that). Crovetti revealed that as of publication, she's recently gotten into dancing, and it was in part thanks to a trip to Korea that she was inspired to pick up the performance art. 
"I love dancing, I love K-pop ... three days ago [I] came back from Korea. I stayed there for three months over the summer. So I just got into dancing," Crovetti revealed, sharing that other Asian-inspired art forms are also favorites of hers. "I love anime. I feel like this is such a touchy topic ... but there's such good anime and recently I've literally been so obsessed with it and K-dramas too," the budding actress revealed. She ensured The List that she's not "crazy obsessed" with the sub-genre of television, but dished a bit on her passion for watching. "I just think they're so good. That's just good entertainment right there."
This interaction made Isabella Crovetti's summer one to remember
Given how much Isabella Crovetti is into anime, K-pop, and K-dramas, it's no wonder that her summer spent in Korea was a game-changer. She dished about her three months in the country with The List and shared that while she was there with her father (who was working on an entertainment industry project at the time, as Crovetti comes from a film family), she had an interaction that brought her off-screen passions to the forefront. Thanks to some of her father's connections, Crovetti was able to get a signed autograph from one of her favorite K-pop groups, Stray Kids. As she recalled, one of the group's members, Bang Chan, took time out of his day to take the autograph to a mutual connection's home in order for Crovetti to pick it up — it was a gesture that went a long way for the up-and-coming star. 
"One of my favorite members, Bang Chan, literally brought it to someone's house, to give it so that they could give it to me," Crovetti recalled with excitement. "And he personalized it. I got all the members' signatures. I freaked out ... I was very excited about that." Given how passionate the K-pop fan base can be, it's no surprise that Crovetti was touched by the gesture. It is true when they say that K-pop fans are some of the most dedicated in the world.
"He's All That" is now streaming on Netflix.