Isabella Crovetti Reveals What's Next For Her After He's All That - Exclusive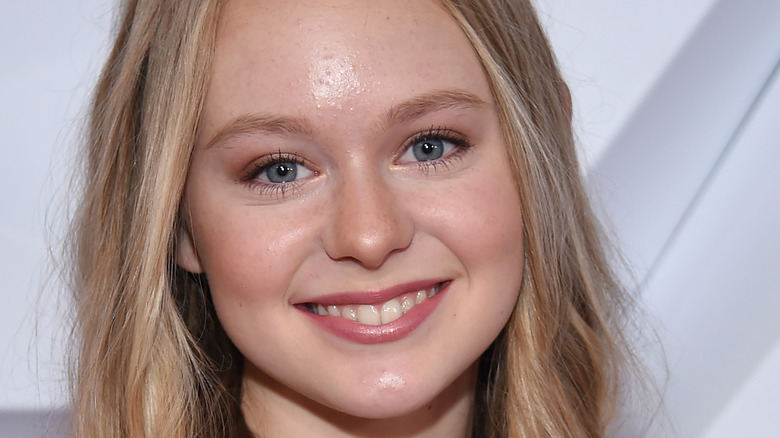 DFree/Shutterstock
It seems that when Netflix drops a new original movie, the world sort of stops turning until we all get a chance to watch it. Just think of the likes of "The Kissing Booth" and "To All The Boys I've Loved Before" — these feel good movies are the ones that we watch over and over again, and until our worlds start turning again (i.e. the next work day when we have to get up and be productive), these feature films can just about take over. Another film has entered the chat, and this time, it's a reimagined take on a hit 1990s film. "He's All That," starring TikTok star Addison Rae, actor Tanner Buchanan, Disney queen Madison Pettis, and breakout star Isabella Crovetti took Netflix by storm and hit No. 1 on the streaming service shortly after its release, according to Pop Culture. What does this mean for Crovetti and her blooming career? We got the chance to ask her.
Crovetti brings character Brin Kweller to life. Based off of the character Simon Boggs from the original "She's All That," Crovetti's role allowed her to not only contribute to the film, but she took a number of lessons and memories from set. In a sit down with The List, Crovetti spilled on so many topics, ranging from her favorite on-set memories to her passions outside of acting to her life as a high school student. When it came to chatting about her career, Crovetti had a lot to say about what she is hoping to accomplish, and what she expects acting to bring to her life. So strap in, because Isabella Crovetti revealed to The List what's next for her after "He's All That."
Isabella Crovetti will be returning to voice projects
Isabella Crovetti may have striked viewers of "He's All That" as the film's young newcomer, but Crovetti has been in and around the entertainment industry for years. She shared with The List that not only does she come from a film industry family, but that she's been working for some time. Specifically, Crovetti voiced the main character of Disney's hit show, "Vampirina," and the blossoming actress told The List that she will be returning to voice acting work after "He's All That." 
Previously, Crovetti also lent her voice acting skills to the Nick Jr. show, "Shimmer and Shine." With a number of voice acting episodes under her belt (over 150, as shown on her IMDb), it should come as no surprise that she's picked up another animated gig. "I just booked another Disney Jr. project. It's a little different, my character. I actually play a villain. So I'm pretty excited about it," Crovetti shared with The List. Talking about working under the Disney umbrella, Crovetti revealed that one of her favorite aspects of voice acting, specifically with Disney, is the musical component that is often included in Disney projects."I'm also so excited to sing again. That's one of the most fun parts," Crovetti said. "It's like singing these very dramatic songs — it's so much fun."
What is Isabella Crovetti hoping to accomplish within her acting career?
When chatting with Isabella Crovetti, we couldn't help but remember that the impressive actress, voice talent, dancer, and K-pop mega-fan is only 16 years old. "He's All That" might be the exposure that many fans of Crovetti's were hoping for her career, but the project marks one of 31 credits to date. When we were 16, we were far too busy worrying about the perfect outfit or the latest hair trend. But Crovetti has her sights set on far bigger things, and when we sat down with her for an exclusive interview, we couldn't help but ask where she hopes her thriving acting career will take her. She shared that not only is she hoping to be in another movie — specifically a feature film — but that she'd love to shoot for the lead. In five years time? The young actress is hopeful that perhaps a Marvel movie will be in her future. 
"I've always wanted to do a Marvel movie. I feel like everybody wants to, but that's just always been something — at least like a very big budget, like action film — [that] I want to do," Crovetti shared. We're all here for setting your sights high, and given how much Crovetti has accomplished in her short career, we can see her reaching those big goals. And when it comes furthering her education once she's done with high school? Crovetti shared that she's hoping to see where acting takes her, and college applications aren't on her radar. We can't wait to see where her career takes her, and for now, you can watch her take on Brin Kweller in "He's All That."
"He's All That" is now streaming on Netflix.