How To Style Your Hair Like Mary Kate And Ashley Olsen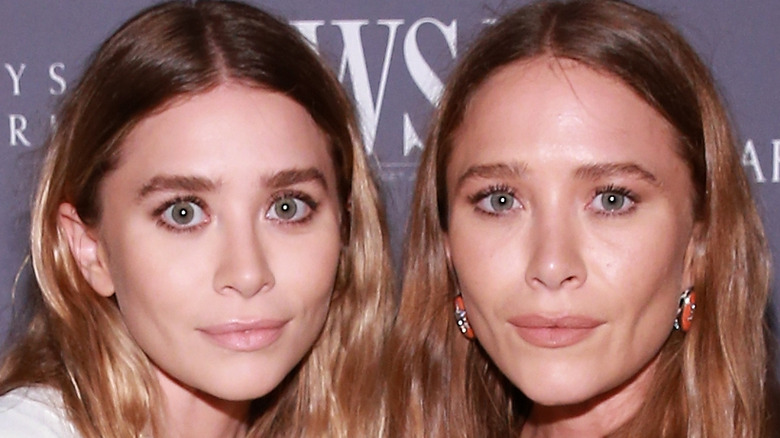 Bennett Raglin/Getty Images
Mary-Kate and Ashley Olsen were two of the biggest stars in Hollywood throughout the 1990s and early 2000s. The twins rose to fame after being cast in the sitcom "Full House," on which they jointly played Michelle Tanner. From there, the Olsens went on to star in numerous video shorts like "The Adventures of Mary-Kate and Ashley: The Case of the Fun House Mystery" and their own feature-length films like "Passport to Paris" and "New York Minute" (via IMDb).
The Olsens eventually pivoted away from acting to channel their creative energy into other projects, like the creation of their fashion brand, The Row, in 2006. Since then, the two have established themselves as trendsetters, and fans across the country are always trying to find ways to emulate their famous boho-chic vibe. From the clothes they wear to the way they style their hair, the Olsen twins are the epitome of cool.
If you've always been envious of their beachy tresses, you can learn how to style your hair like Mary-Kate and Ashley Olsen with these quick tips and tricks straight from their personal stylist.
Less is more when styling your hair like the Olsen twins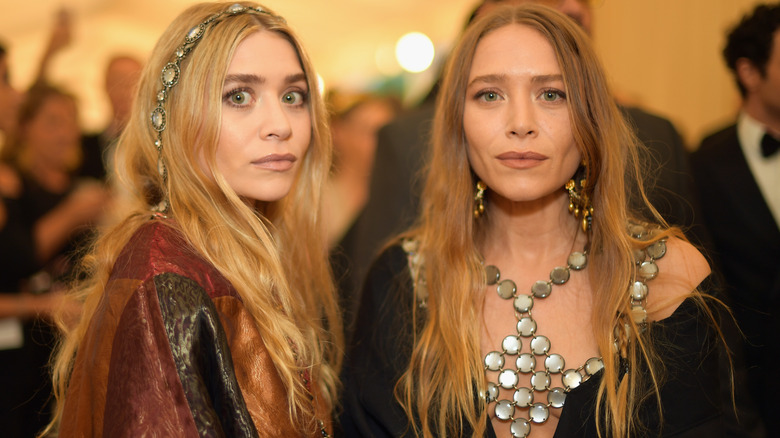 Matt Winkelmeyer/mg18/Getty Images
Celebrity hairstylist Mark Townsend is responsible for the gorgeous waves worn by Mary-Kate and Ashley Olsen, and he's worked with several other notable clients like Riley Keough and Dakota Johnson, too. Townsend gave Bustle a complete breakdown of how he creates the Olsens' signature look and explains how people can recreate this style at home.
First, wash your hair, and apply a defining mousse when it's still soaking wet. If you have naturally straight hair, loosely braid your tresses into two sections, and let them air-dry after the mousse has been applied. Townsend recommends blow-drying your hair straight if you have naturally curly hair after the mousse application, as this provides you with the proper base needed to rock this particular look.
Next, you'll need to part your hair properly before any styling tools are used. "The style is usually seen with a middle part but can be done on a side part — just expect more volume," Townsend said. Next, apply a heat protectant spray to your hair, and grab a double-barrel curling iron. "Take the double-barrel iron and create an uneven bend to create waves on 2 to 4-inch sections of hair," he said (via Bustle). You don't need to worry about creating symmetry — the key to this look is to make it look messy and natural.
Complete the Mary-Kate and Ashley look with these final steps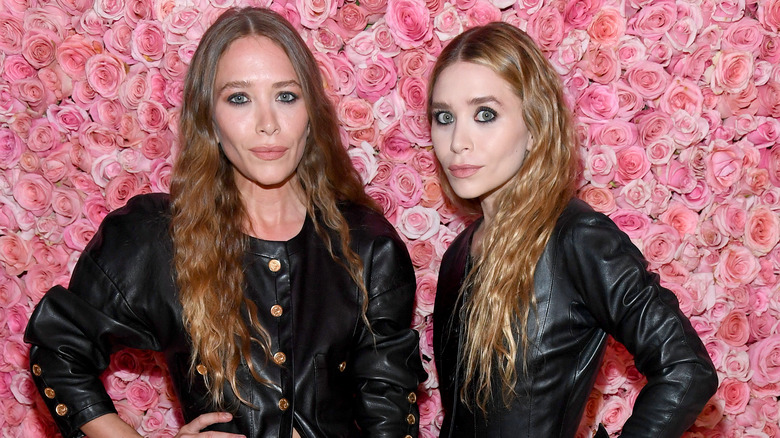 Kevin Mazur/mg19/Getty Images
Once you've curled your hair according to Mark Towsend's instructions, you're just a few steps away from achieving the ultimate Mary-Kate and Ashley Olsen look. These final steps vary depending on how you want the finished effect to come across. "If you want some lift at the roots, apply a dry shampoo to the crown and backcomb," he said (via Bustle). "If your hair needs some added treatment, whether with a smoothing serum or finishing cream, you can work that into your strands."
Finally, using a flexible-hold hairspray and a natural bristle brush, tame down any flyaways on the hairline throughout the day to maintain the desired appearance, he instructs. If you want to skip the heat styling and go for an even easier version of this style, allow your hair to air dry completely in two loose braids, and then spritz some sea salt spray over your tresses once you've taken the braids out (via Elle).