Meghan And Harry's Oprah Interview Lost A Huge Award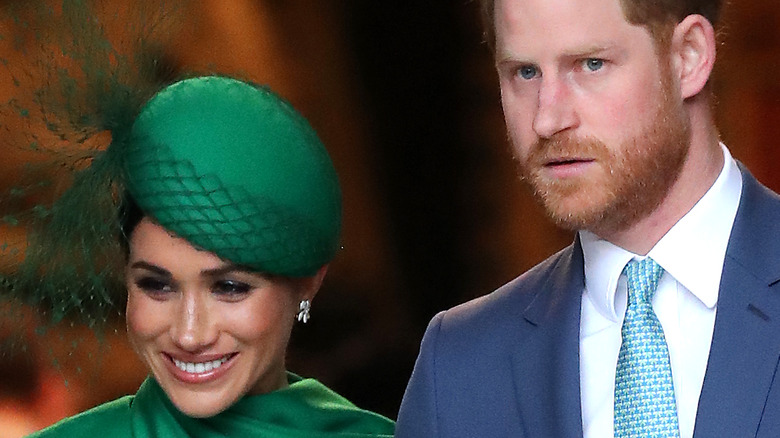 Chris Jackson/Getty Images
Back in March, Prince Harry and Meghan Markle sat down to their first interview since leaving their royal duties behind in 2020. In the two-hour interview with Oprah Winfrey, Prince Harry and his wife made several shocking claims about the royal family. Perhaps the most shocking of these claims was that the British monarchy was concerned about the color of their first child's skin prior to his birth, per the Daily Mail. Markle also said that the stress of her life as a royal newlywed had caused her to contemplate suicide. However, according to Meghan, she was not permitted to seek help or treatment for her suicidal thoughts because "it wouldn't be good for the institution," according to CNN.
When Prince Harry joined the interview, he spoke about the fractured relationship that he now shares with his father, Prince Charles, and brother, Prince William. Prince Harry openly admitted that Prince Charles had stopped taking his phone calls after he decided to step away from his royal duties. The comments that he made regarding his relationship with his brother initiated an alleged feud between the pair that seems to have lasted to this day. "I love William to bits, he's my brother, we've been through hell together ... but we're on different paths. The relationship is space at the moment," Prince Harry told Winfrey during their special on CBS, per CNN.
This interview has sparked a debate about the ethics of the royal family and Prince Harry and Markle that still makes headlines months later.
Meghan and Harry's Oprah interview didn't win an Emmy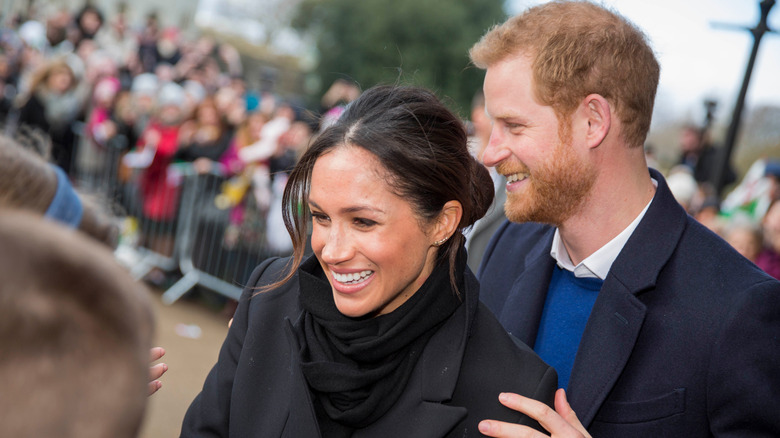 ComposedPix/Shutterstock
In July, "Oprah With Meghan And Harry: A CBS Primetime Special," was nominated for the Outstanding Hosted Nonfiction Series Or Special Emmy Award alongside "My Next Guest Needs No Introduction With David Letterman," "Stanley Tucci: Searching For Italy," "United Shades Of America With W. Kamau Bell," and "Vice," per the Television Academy. At the time of its broadcast in March, more than 49 million tuned in from around the world to watch the couple speak about their issues with the royal family, according to AP News.
Despite facing fairly steep competition, Stanley Tucci's special on CNN inevitably earned the Emmy Award during Sunday's Creative Arts Ceremony, beating out Prince Harry and Meghan Markle's special for the win, per Deadline. In years past, the Outstanding Hosted Nonfiction Series Or Special Emmy Award has been dominated by wins for Anthony Bourdain's CNN special "Anthony Bourdain: Parts Unknown." Throughout a series of six episodes, Tucci explores the secrets behind Italian culture and food. This trip around Italy to uncover the intricacies in the country's cuisine is made all the more poignant given the fact that, as he recently revealed in an interview with Vera, Virgin Atlantic's inflight magazine, he was treated for cancer found on the base of his tongue just three years ago.